April 17, 2013
Mayor Rahm Emanuel Unveils Exhibit Honoring the 70th Anniversary of the Warsaw Ghetto Uprising
Mayor's Press Office 312.744.3334
---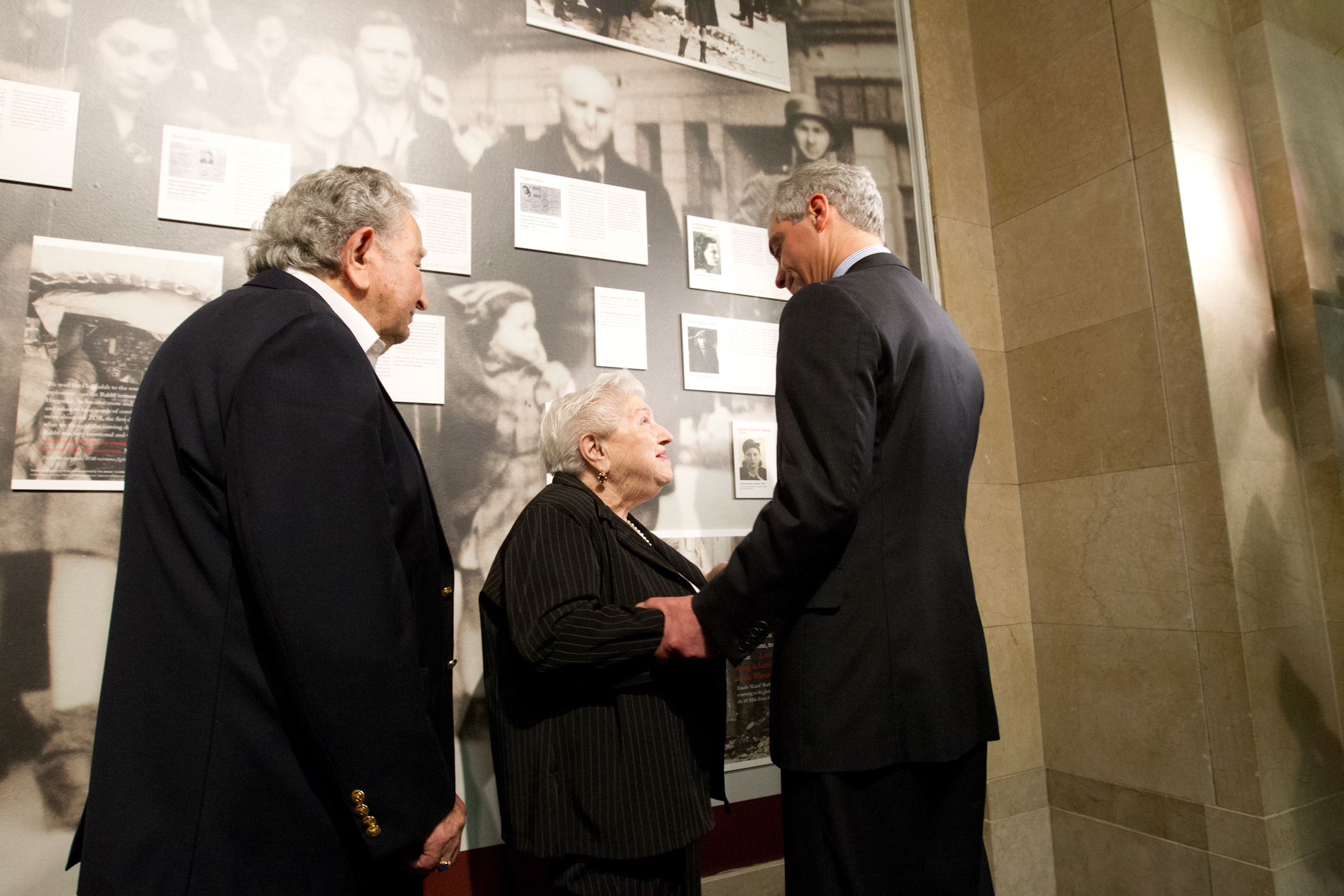 Today, Mayor Rahm Emanuel unveiled City Hall's historical photo exhibit paying tribute to the 70th Anniversary of the Warsaw ghetto uprising. With approximately 750 Jewish fighters joining together in resistance, the Warsaw ghetto uprising was the largest and symbolically the most important Jewish uprising in German-occupied Europe. Mayor Emanuel was joined by two Chicago area survivors who took part in this somber and historic movement, David Figman and Barbara Steiner. As a 17 year old young man, David Figman fought with the ZOB resistance organization against the occupation and Barbara Steiner trained as a medic and tended to the wounded of the uprising.
"Seventy years ago, these young people decided to fight for their future in the face of insurmountable odds, only to later come to this country to live a life that was dearly won and highly treasured," said Mayor Rahm Emanuel. "This memorial will remind all Chicagoans of their sacrifice and of our obligations to those who gave their lives in defiance of evil and injustice."
The photo exhibit contains biographies of several leaders of the uprising and Chicago area survivors. Public viewing of the exhibit is scheduled through beginning of June. The photo exhibit is presented by the Chicago Department of Cultural Affairs and Special Events and curated with contributions from the Illinois Holocaust Museum and Education Center and the United States Holocaust Memorial Museum.
Today's announcement comes as President Obama named a Presidential Delegation to Poland to attend the 70th anniversary commemoration of the Warsaw Ghetto Uprising on April 19, 2013. Two Chicagoans will be part of the delegation. Joseph D. Gutman, a Chicagoan and member of the United States Holocaust Memorial Council, will be joined by Estelle W. Laughlin, a Warsaw Ghetto Survivor. They will make up half of the delegation that is travelling to Poland this week.
The display will be active on the 5th floor of City Hall into the summer.
###
Photo Caption: Mayor Emanuel joined by Barbara Steiner and David Figman at the unveiling of the 70th Anniversary of the Warsaw Ghetto Uprising exhibit
Photo Credit: Brooke Collins // City of Chicago