February 11, 2013
Mayor Emanuel Attends Annual Chinese Lunar New Year Assembly
Year of the Snake Off to a Great Start
Mayor's Press Office 312.744.3334
---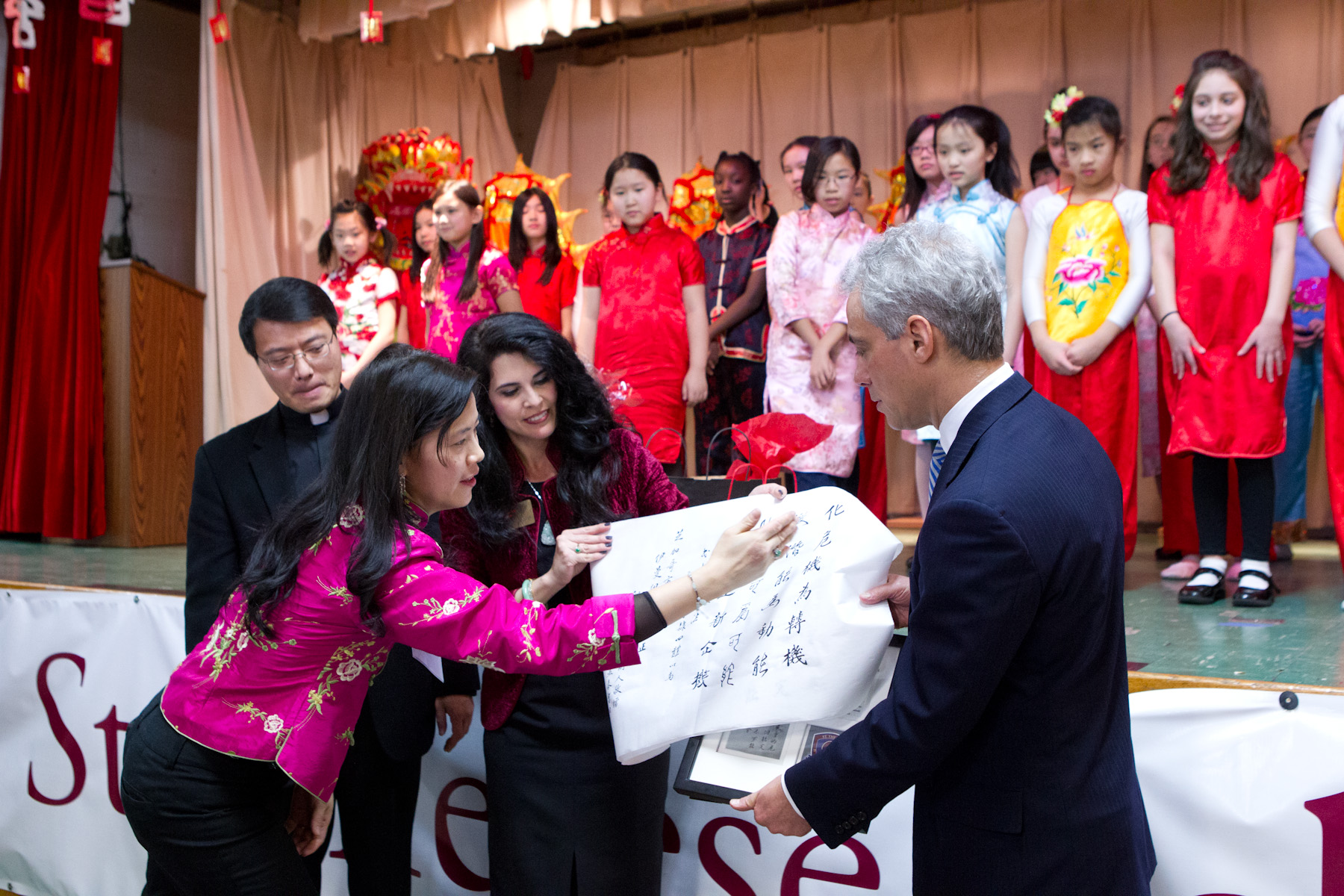 Monday morning, at St. Therese Chinese Catholic School, Mayor Rahm Emanuel attended the annual Chinese Lunar New Year school assembly.
"I am always grateful for the opportunity to visit our neighborhoods and help celebrate their cultures, and the annual Chinese Lunar New Year assembly is a wonderful event that I always enjoy," said Mayor Emanuel.
This year, Chinese New Year fell on Sunday, February 10, and this is the year of the Snake. The program this morning included performances of songs, dances and poems by the students.
The Mayor was joined at the event by Phyllis Cavallone-Jurek, the principal of St. Therese Chinese Catholic School; Chinese Consul General Weiping Zhao; Raymond M. Chin, President of the Chicago Chinatown Chamber of Commerce; and Ald. Daniel Solis (25th), whose ward includes Chinatown.
"I offer my best wishes to the Chicago Chinatown community in celebrating the Chinese Lunar New Year," said Alderman Solis. "I would also like to express my sincere gratitude to the Chinatown community for their input and support of my work as the Alderman of the 25th Ward for the past 17 years and I look forward to continuing our partnership in building upon the ever-growing vitality of Chicago's Chinatown."
St. Therese is a Catholic elementary school in the Archdiocese of Chicago, focused on Chinese language, culture and STEM initiatives. St. Therese is a 2011 U.S. Department of Education National Blue Ribbon Winner and a 2012 School of Distinction Middle School Mathematics Finalist.
###
Photo Caption: Mayor Emanuel Celebrates the Chinese Lunar New Year at St. Therese Chinese Catholic School
Photo Credit: Brooke Collins - City of Chicago