October 15, 2013
Mayor Emanuel, State's Attorney Alvarez, Superintendent McCarthy And Victim's Families Call For Passage Of HB2265 To Strengthen Gun Laws
City Council Public Safety Committee Hears Testimony on Resolution to Support Stronger Penalties
Mayor's Press Office 312.744.3334
---
Mayor Rahm Emanuel, Cook County State's Attorney Anita Alvarez, Alderman James Balcer (11th), State Representative Michael Zalewski (21st), State Senator Tony Munoz (1st), Chicago Police Superintendent Garry F. McCarthy and families who have suffered from gun violence urged the Illinois General Assembly to pass House Bill 2265, which increases penalties for several gun crimes, including a 3-year mandatory minimum for aggravated unlawful use of a gun and a requirement that offenders serve at least 85 percent of their sentence.
"We cannot continue to allow criminals to escape with light punishment for committing violent crimes with guns," Mayor Emanuel said. " The current penalties for illegal gun possession do not deter criminals and allow convicted gun offenders to quickly return to the street to commit violent crimes or be injured or killed. I urge the General Assembly to pass this legislation and help prevent violent crime in Chicago and throughout the state."
"From a prosecutor's perspective, it is obvious that our existing gun laws are not effectively deterring criminals who continue to open fire at random on the streets of Chicago and who revolve in and out of our criminal justice system," said State's Attorney Alvarez. "We have to take a harsher approach and this legislation will help to ensure that criminals who choose to shoot guns on our streets will be held accountable for a term that actually enhances public safety."
More than 100 people involved in shootings and murders this year in Chicago would have been in prison if tougher sentencing policies were already in place. That includes at least 15 murder victims whose lives would have been saved if they were incarcerated.
"By adopting this law, we will keep potential offenders from committing crimes, but also keep potential victims from becoming the target of gun crime," said Superintendent McCarthy. " It's clear that we have to treat illegal gun possession as the violent crime that it is."
Last month, 13 individuals, including a 3-year old boy, were shot at Cornell Square Park. One of the accused offenders was convicted of felon in possession of a weapon who had already been sentenced to boot camp and released.
Elected and city officials were joined by community members who have lost a family member to gun violence, including Nathaniel Pendleton and Cleo Pendleton, Thomas Wortham III and Carolyn and Sandra Wortham, Ronald Holt and Annette Nance-Holt, Pam Boseley and Stephanie Brown.
Children and youth are among the tragic victims of gun violence by offenders who should have been in prisons. For example, 5-year-old Jaden Donald and 15-year-old Hadiya Pendleton were both allegedly shot by offenders who would have been in prison for prior gun crimes.
The support was offered prior to hearing from the Public Safety Committee of the City Council on a resolution urging the General Assembly to adopt the tougher penalties.
"Gang violence is being fueled by easy access to guns and the lack of real punishment for illegally carrying a gun," said Alderman Balcer, Chair of the Public Safety Committee. "I wrote this resolution to show Chicago's support for tougher gun penalties and hope that our legislative partners in the General Assembly pass House Bill 2265."
Under current law, illegal gun possession carries the same penalty as possessing unstamped cigarettes or repeated retail theft. As a result, every year more illegal guns are recovered in Chicago than in any other city in the country. CPD has recovered more than 5,500 guns year to date, and for the first six months of 2012, the Chicago Police Department collected 9 times as many guns as NYPD and 3 times as many as LAPD (per capita).
Despite claims of exorbitant costs, HB2265 will pay for itself five times over by preventing violent crime and saving lives. According to an analysis completed by the University of Chicago, in one year the bill would have prevented over 400 violent crimes by keeping the offenders in prison – saving $700 million associated with those crimes – or 5 times the costs of incarcerating those individuals.
HB2265 would increase sentences for several, common gun crimes and require that individuals convicted of those crimes serve at least 85% of their sentences: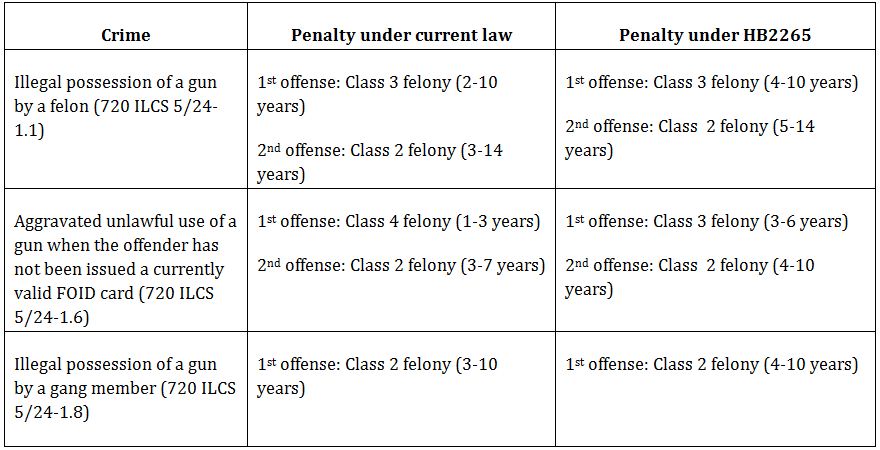 # # #