Mayor Rahm Emanuel and the Chicago Film Office at the Department of Cultural Affairs and Special Events (DCASE) are pleased to announce that 2013 was another record year for Chicago film and television activity – citing a 20 percent increase in overall production activity, with a total of 2,198 filming days. 2012 set the previous record with nearly 40 percent growth over 2011.
"This past year has been an outstanding year for film in Chicago – with major films and six full-time TV shows in production," said Mayor Rahm Emanuel. "Our success can be attributed to Chicago's highly-respected crews and talent, world-class facilities, distinctive cinematic urban landscape, affordability and hands-on City support via the Chicago Film Office team, with a sophisticated understanding of the industry and its needs."
Not only do the year-end numbers reflect record high production volume, the scale and duration of these projects was extraordinary: six simultaneous full-time TV series, three studio features shot back-to-back and an unprecedented 137 commercials.
"The most impressive growth was in episodic television," said Rich Moskal, Director of the Chicago Film Office. "Scripted one-hour dramas see Chicago as a versatile, cinematic and affordable destination. The expansion of Cinespace Studios and the influential endorsement of two Dick Wolf series ('Chicago Fire' and 'Chicago PD') have sent the entire industry a powerful message: Chicago is full service, highly functioning and open for business."
TV series shooting in Chicago during 2013 included "Betrayal" (ABC), "Chicago Fire" (NBC), "Chicago PD" (NBC), "Crisis" (NBC), "Mind Games" (ABC) and "Sirens" (USA). Studio features filmed in Chicago in 2013 included "Divergent," "Jupiter Ascending" and "Transformers 4."
"These record stats reflect our city's greater capacity and maturity as a true production center," continued Moskal. "The past two years have been an important step forward in establishing Chicago as an industry hub."
The film industry's interest in Chicago is expected to continue this year, fueled by blockbuster releases. The 2014 theatrical releases of "Jupiter Ascending" (by Chicago's own Lana and Andy Wachowski, makers of the "Matrix" films), "Divergent" (the film adaptation of the popular young adult series by Chicago author Veronica Roth) and "Transformers 4" will showcase the city to industry decision makers – as well as audiences around the world.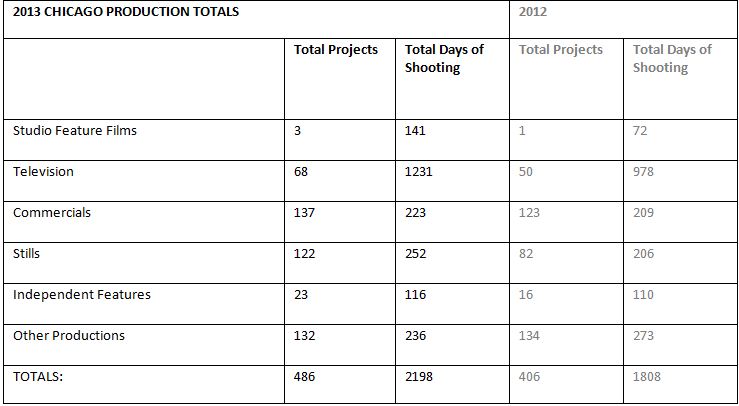 Chicago Film Office
The Chicago Film Office, a division of the Department of Cultural Affairs and Special Events, leads the City's efforts to attract and enhance the production of feature films, television series, commercials, documentaries and all forms of local screen entertainment. For filmmakers, it is a one-stop liaison for all City of Chicago production needs including permits, City services and logistical support.
Chicago Department of Cultural Affairs and Special Events
The Department of Cultural Affairs and Special Events (DCASE) is dedicated to enriching Chicago's artistic vitality and cultural vibrancy. This includes fostering the development of Chicago's non-profit arts sector, independent working artists and for-profit arts businesses; providing a framework to guide the City's future cultural and economic growth, via the 2012 Chicago Cultural Plan; marketing the City's cultural assets to a worldwide audience; and presenting high-quality, free and affordable cultural programs for residents and visitors.
# # #