October 30, 2014
Mayor Emanuel, Governor Quinn, Senator Durbin and UI Labs Break Ground on Chicago's Digital Manufacturing and Design Innovation Institute
94,000-Square-Foot Facility Will House First-of-its-Kind Research Institute for Digital Manufacturing; Transforming Chicago into a World-Class Advanced Manufacturing hub is a Key Tenant of the Plan for Economic Growth and Jobs
Mayor's Press Office 312.744.3334
---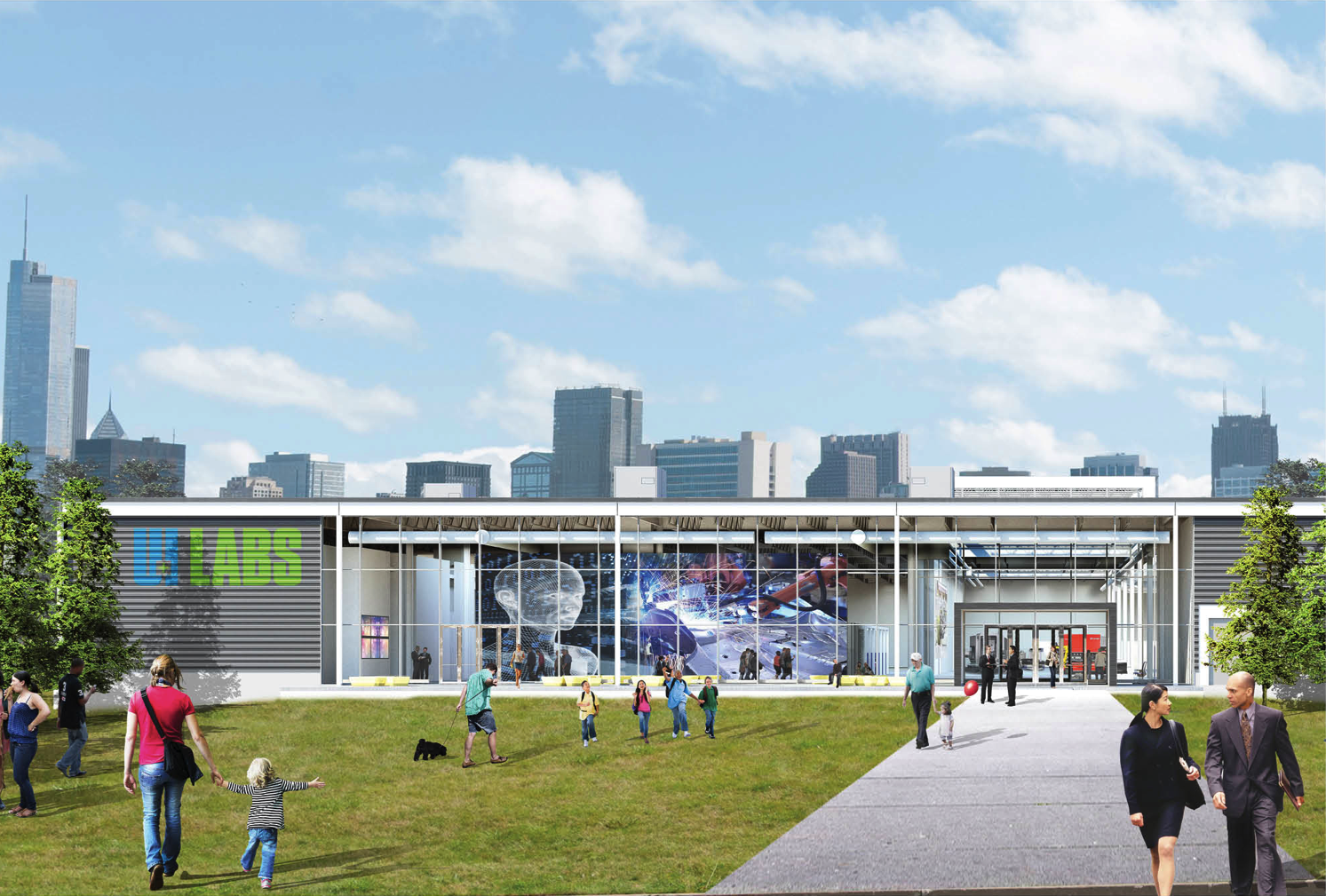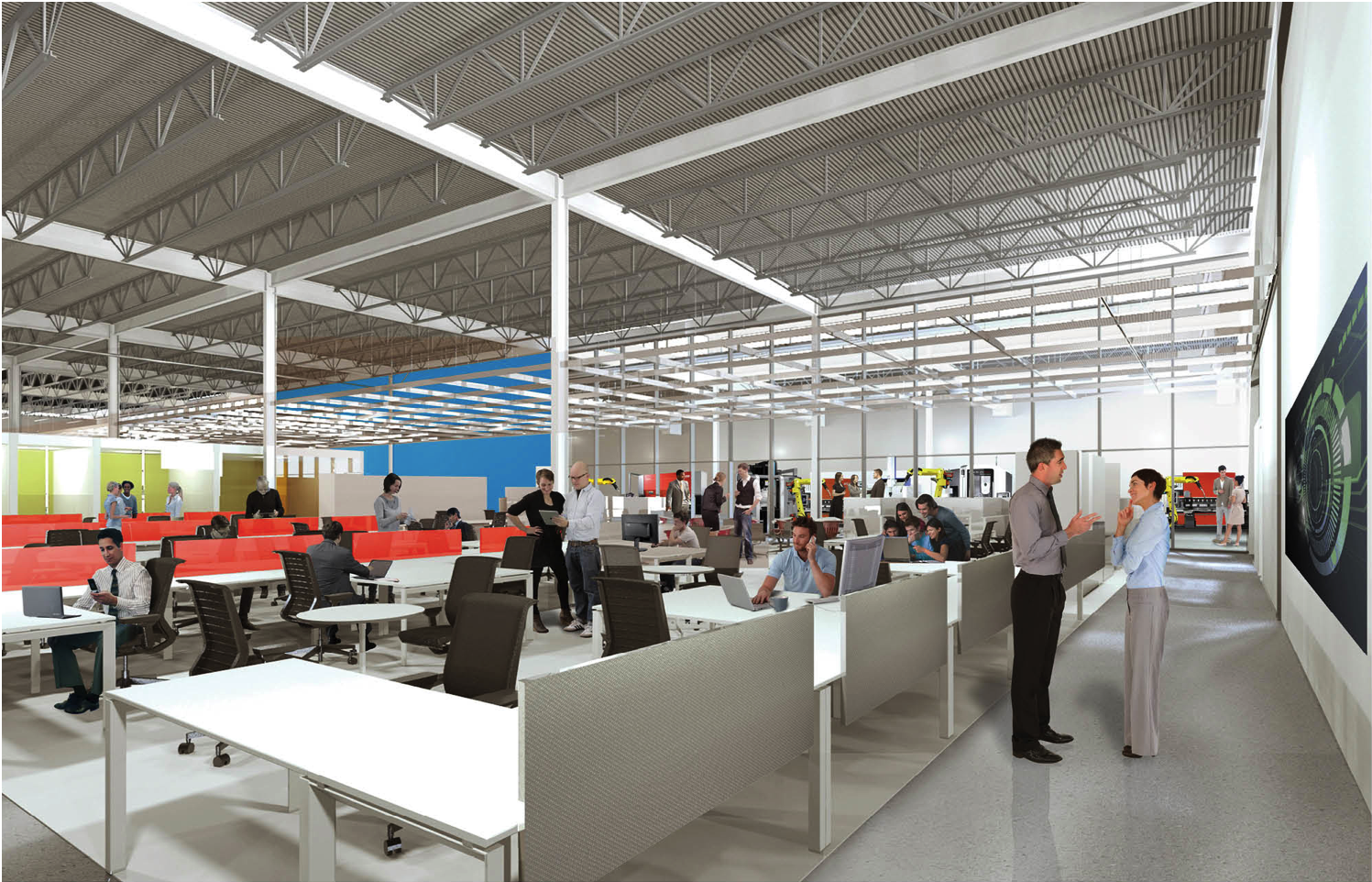 Mayor Rahm Emanuel, Governor Pat Quinn, Senator Dick Durbin, UI LABS today broke ground on the future headquarters of UI Labs and the new Digital Manufacturing and Design Innovation Institute (DMDII). DMDII will reduce development and deployment costs for U.S. manufacturers, create billions of dollars in value for the industrial marketplace and spur long-term economic growth and job creation in Chicago. The facility, a cornerstone of the City's efforts to become a national leader in advanced manufacturing, is located at 1333 Hickory Avenue on Goose Island and is scheduled to open in the first quarter of 2015.
"Manufacturing has been an important part of Chicago's past and we are making sure that the next generation of advanced digital manufacturing will play an even greater role in our future. This is an important milestone in a long effort and a larger strategy to put the City of Chicago front and center of the digital manufacturing revolution," Mayor Emanuel said. "The research that comes out of DMDII will underpin the products, the patents, and the production of so many new technologies, create new companies and help us attract existing companies to Chicago, and most importantly, create and sustain a new generation of good-paying jobs right here in the City of Chicago."
Renderings of the soon to be completed space were also released today. Designed by architecture firm Skidmore, Owings, and Merrill, the DMDII space plays on the idea of transparency by adding glass storefronts and window bays to the existing building's exterior. Glass walls, exposed plumbing and mechanical systems reinforce the theme and foster an open, collaborative environment. The completed building will include a manufacturing floor for demonstrations, classrooms, a lecture hall and collaborative meeting rooms. The City of Chicago has committed $10 million towards facility design and construction.
Leveraging a co-investment of $70 million from the U.S. Department of Defense matched by investment from industry, university, and state and local government partners, DMDII will help U.S. manufacturers increase productivity through a more effective use of data across every stage of the manufacturing process.
"DMDII will enable Illinois to lead the nation in a 21st century manufacturing renaissance, which is precisely why I worked hard over the past two years to help bring the Institute to our state," said Senator Durbin. "World-class partners from around the state and across the country—including General Electric, John Deere, Caterpillar and Boeing—will work to improve manufacturing efficiency to create new opportunities for businesses and workers. DMDII will make our small and midsize manufacturers more competitive globally by allowing them to integrate computing capabilities throughout design, testing and production. But most importantly, the Institute will be a great source of innovation, development and economic growth in our state and position us as a leader in the field for years to come."
"I've made this facility a major priority for Illinois by personally making our case to both the White House and Secretary of Defense, as well as securing key private sector partners because I know how important this institution will be to revitalizing our manufacturing industry," Governor Quinn said. "The Digital Manufacturing and Design Innovation Institute will help keep Illinois' economic comeback going. I'm pleased to break ground on this facility that will solidify Illinois' position as a high-tech manufacturing hub, support our growing technology and innovation sectors and create jobs across the state."
DMDII demonstrates Chicago's increasing prominence as a national leader in advanced manufacturing. The Digital Manufacturing and Design Innovation Institute is a public-private consortium that brings together over 40 leading manufacturing and technology companies with more than 30 university, government and community partners, including Boeing, Caterpillar, Dow Chemical, General Electric, Illinois Tool Works, Iowa State University, John Deere, Lockheed Martin, Microsoft, Northwestern University, Northern Illinois University, PARC, Purdue University, Procter & Gamble, Rochester Institute of Technology, Rolls Royce, Siemens, University of Chicago, University of Iowa, University of Illinois at Urbana-Champaign, University of Louisville and University of Texas at Austin.
"Advances in digital manufacturing are already improving companies' performance all across America," Dean Bartles, Executive Director of DMDII added. "DMDII is going to take these advances to the next level by bringing technical expertise and connecting the dots across America's supply chain."
DMDII will become the permanent home of UI LABS, a Chicago-based research and commercialization collaborative that brings together industries, universities and government to apply real solutions to tomorrow's business, economic and cultural challenges. UI LABS is an independent non-profit applied research institute with plans to launch a portfolio of programs that leverage the Midwest's concentration of leading research universities.
"We are building the factory of the future – where business and academia will convene to tackle important manufacturing challenges," said Caralynn Nowinski, Executive Director of UI LABS. "At the same time, this facility will be the place where American workers – and the next generation of workers – will have an opportunity to see, learn and participate in the transformation of U.S. manufacturing."
# # #

UI LABS solves large-scale industrial challenges by forming consortia of academic, corporate and civic partners who innovate and commercialize new technology solutions. UI LABS is developing a portfolio of applied research and commercialization programs that lead to a return on investment for its partners and improve local, regional and national competitiveness.
Rendering Credits:
DMDII Exterior:
The exterior of the 94,000-square-foot Digital Manufacturing and Design Innovation Institute on Goose Island will convey a sense of transparency by incorporating glass storefronts and window bays. Rendering by Skidmore, Owings & Merrill.
DMDII Interior:
Inside the Digital Manufacturing and Design Innovation Institute, glass walls and collaborative meeting spaces will foster an open environment where the best and brightest minds in industry, academia and government can exchange ideas and transform American manufacturing. Rendering by Skidmore, Owings & Merrill.