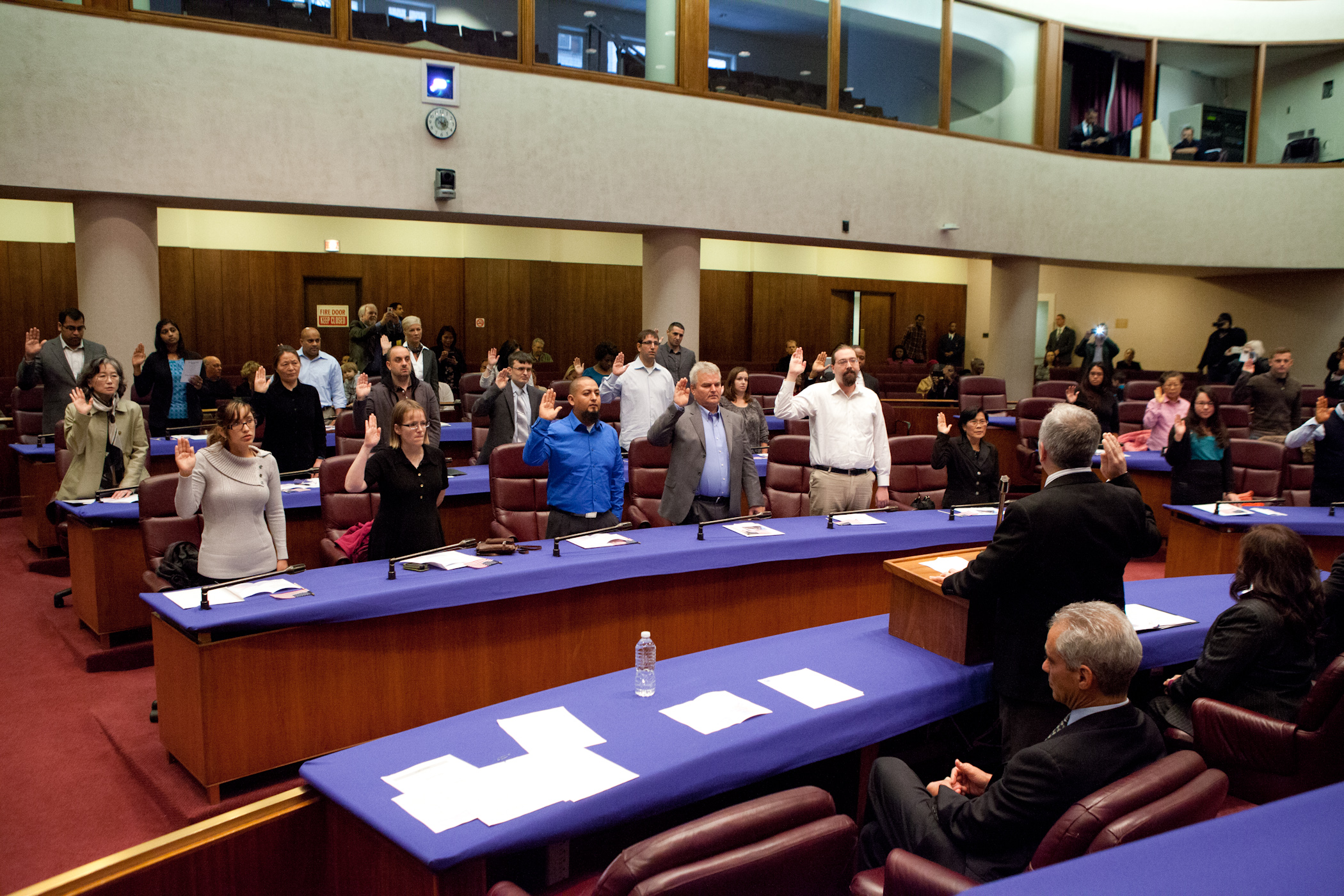 As part of Chicago's New Americans Initiative, Mayor Rahm Emanuel and the U.S. Citizenship and Immigration Services (USCIS) today hosted the seventh naturalization ceremony at City Council Chambers to administer the Oath of Allegiance and distribute citizenship certificates to 45 individuals representing 24 countries.
"Immigrants who become naturalized citizens make significant contributions to our communities, our city, and our country," said Mayor Emanuel. "Congratulations on being Chicago's newest Americans, we are proud to host naturalizations at City Council Chambers."
Mayor Emanuel was the keynote speaker for the ceremony. Alderman Pawar and Dr. Thomas M. Cioppa also offered congratulatory remarks.
The Oath of Allegiance was administered by USCIS District Director Dr. Thomas M. Cioppa. The presentation of colors was conducted by the Westinghouse College Prep Navy JROTC , and the National Anthem was performed by Katie Martin, Immigration Services Officer, USCIS.
This is the seventh naturalization ceremony hosted by Mayor Emanuel and the City of Chicago as part of the New Americans Initiative, and during these ceremonies 45 new Americans have achieved their dream of citizenship. The first took place in City Council Chambers at City Hall in June of 2012, during the launch of the Chicago New Americans Initiative. The Chicago New Americans Initiative is a comprehensive municipal effort to assist eligible immigrants to become U.S. Citizens.
Mayor Emanuel recently met with 30 naturalization service and immigration rights group to discuss Cities for Citizenship, a national initiative to aid eligible permanent residents become citizens.
On September 17, Mayor Emanuel, Los Angeles Mayor Eric Garcetti, New York City Mayor Bill de Blasio, and Citi jointly launched Cities for Citizenship to enable cities to expand naturalization and financial capability programs, access to legal assistance, microloans and financial counseling, boosting economic opportunity for immigrants and communities nationwide.
"Many of us in Chicago understand the contributions of immigrants because we are the children or grandchildren of immigrants," said Mayor Emanuel. "Because of their hard work and sacrifice, we have achieved dreams in this City that our parents and grandparents never thought possible."
The Chicago New Americans Initiative works to offer assistance to thousands of eligible, law abiding, permanent residents in becoming naturalized, U.S. citizens. Over the next three years, the Chicago New Americans Initiative will directly assist 10,000 immigrants in Chicago to become U.S. citizens; encouraging immigrants to independently initiate their naturalization process; and helping new citizens become fully active participants in the civic life of the city and state.
###
Photo Caption: Mayor Emanuel congratulates 45 newly naturalized citizens representing 24 countries at City Council Chambers.
Photo Credit: Brooke Collins//City of Chicago