Chicago Energy Benchmarking: Taking Action to Improve Energy Efficiency
Have you benchmarked one or more buildings, and are looking to take the next steps on energy efficiency? Below are suggestions for starting to improve the energy performance of your property(ies):
Return to the Chicago Energy Benchmarking Homepage.
---
1.) UNDERSTAND YOUR PERFORMANCE: Review Your Property's Results
Review the building's energy benchmarking results, starting with three key metrics – energy use intensity (EUI), the 1-100 ENERGY STAR Score, and the Chicago Energy Rating your building has received. If you are responsible for benchmarking a building, simply log into the ENERGY STAR Portfolio Manager tool to view the EUI and the 1-100 Score - see the sample screen shot of the Portfolio Manager Metrics Summary to the right. The 1-100 score is also shown on the annual Chicago Energy Rating Placard sent by mail to each reporting property. Otherwise, you may need to review publicly-available information (online here at the City's Data Portal) or ask the property owner or manager for the information.
Next, understand your property's performance in light of results from similar properties:
Local Results:
National Results:
---
2.) DIVE DEEPER INTO DATA: Understand Energy Use in the Building
Conduct an Energy Assessment
Comparisons of monthly or annual usage from different time periods can start to provide more insights into your property's energy use. For example, a spike in usage at a specific time could be a red flag that building equipment is not performing correctly.
In addition, more detailed reviews of energy-consuming equipment and operations can help you gain a better understanding of possible improvements. Start by conducting an energy assessment if you have not done so in the last two to three years. The process will help you identify low-cost and no-cost opportunities specific to your property. Both of the local utilities, ComEd and Peoples Gas, offer FREE energy assessments to qualifying buildings.
To find out more, contact the utilities today:
Utility incentive and rebate programs
If you have already conducted an assessment or audit, or you have already identified specific projects to retrofit your property, be sure to consider using one of the utility rebate and incentive programs to help finance your project:
Commercial, Institutional, and Public Buildings:
Multifamily Residential Buildings:
ComEd and Peoples Gas offer building managers and owners energy efficiency upgrades and incentives through the Multi-Family Energy Savings offering.
ComEd's new Marketplace Website: Current listings of product offerings and discounts
Financing: If financing is needed to implement retrofits, consider the City's new Property Assessed Clean Energy (PACE) financing program, which can help finance energy efficiency, renewable energy, water efficiency, and electric vehicle charging infrastructure. To learn more, visit: www.ChicagoPACE.org
---
3.)TRAIN YOUR TEAM: Learn How to Capture Savings Through Energy Efficient Operations
City-Recognized Trainings for Energy Benchmarking Data Verification
Numerous courses are available to provide training on how to identify and implement energy-saving projects. The City-recognized trainings for energy benchmarking data verification are chosen to focus not just on how to complete benchmarking and verify data, but also how to identify and implement energy saving improvements and technologies. Click here to see the full list of credentials accepted for energy benchmarking data verification.
Additional resources for energy efficiency:
---
4.) TAKE THE CHALLENGE: Develop a Longer-Term Commitment to Energy Savings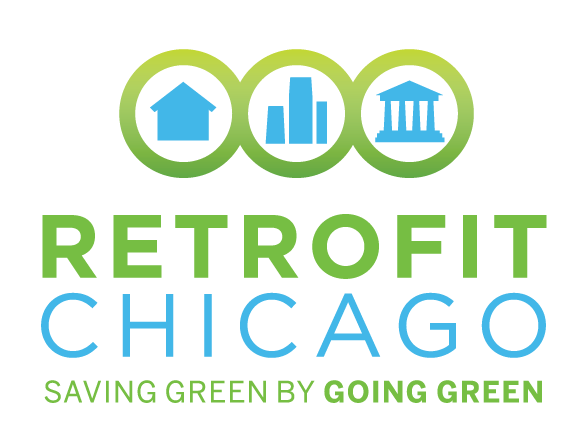 The Retrofit Chicago Energy Challenge is a free, voluntary program available to any property owner or manager in the City of Chicago. The Energy Challenge is designed to provide recognition and support to those who are leading the way on energy efficiency efforts in Chicago. Current participants have reduced energy use by nearly 12%, saving approximately $6.4 million in energy costs per year.
Upon joining the Energy Challenge, participants agree to:
Reduce energy usage in one or more buildings by 20% over five years;
Begin actions to improve energy efficiency within six months (if not already started);
Track progress and share successes;

Serve as an energy efficiency ambassador
Participants have access to several benefits, including increased recognition and promotion of their efforts, peer-to-peer learning exchanges, and support for utility incentive and rebate program applications.
If you would like to learn more, please visit: www.RetrofitChicago.net
---
Questions? We Can Help!
Call the Chicago Energy Benchmarking Help Center at (855) 858-6878 (M-F, 9am-5pm) or email Info@ChicagoEnergyBenchmarking.org.
...or return to the Chicago Energy Benchmarking Homepage (www.CityofChicago.org/EnergyBenchmarking).
Additional Information
CHICAGO ENERGY BENCHMARKING
SHORTCUTS:
Chicago Energy Benchmarking Home
Instructions & Guidance Materials
Free Training & Building Support
Request Forms (IDs, exemptions, & pro-bono support)
Previous Results, Analysis, & Building Data
Additional Information & Resources
---
INDUSTRY SUPPORT FOR ENERGY BENCHMARKING & TRANSPARENCY
"This ordinance will help to capture the information to enable better informed real estate decisions and unlock the market for energy efficiency. We believe that this ordinance addresses key business and policy priorities in our sector, including saving money, creating local jobs, protecting our health, and promot[ing] Chicago's position as a leading sustainable city to attract new business and succeed in the global market place."
– Commercial and Residential Real Estate Management Executive
"Energy efficiency is not a passing fad; it has become a core value and operating principle for many of Chicago's largest corporate tenants, condo owners, and residential tenants."
– Commercial and Residential Real Estate Manager
"Energy [benchmarking and] disclosure [across our management portfolio of more than 1,000 buildings] has helped [condominium] board members feel comfortable making decisions to improve efficiency because they have more accurate data on which to base their decision. They are also able to better quantify the investment and return they will generate. We have found that the more informed owners are about their building's environmental impact, the more empowered they are to improve it."
– Residential Portfolio Director of Operations