Mayor's Office Fellowship Program
The Mayor's Office Fellowship Program is the premier opportunity for bright, motivated, and civic-minded graduate students from all disciplines to apply their coursework to the greatest municipal laboratory in the world: the City of Chicago. Fellows serve the people of Chicago by supporting policy, legislative, data, communications, and public engagement initiatives within city government. By working hand-in-hand with senior staff in the Office of the Mayor and leaders from various departments and sister agencies throughout the City, Fellows deliver recommendations and implement programs that improve the lives of Chicago's 2.7 million residents.
Applications for the 2023 Mayor's Office fellowship are now closed. Please check back in Fall of 2023 for information on the 2024 Mayor's Office fellowship.

By clicking the "Apply Now" button, you will be directed to Taleo, the City of Chicago's jobs website. Search the keyword "Fellows" to find the application for the 2022 Mayor's Office Fellowship Program.
Why Apply?



The City of Chicago Mayor's Office Fellowship Program provides an in-depth view of how city government operates. Fellows will have the opportunity to:
Work directly with the Mayor's senior staff
Research policies and evaluate their potential benefit to Chicago
Meet with Commissioners, Aldermen, senior-level staff from various City departments and sister agencies, community partners, and experts in a variety of policy fields
Draft memoranda on upcoming issues and new initiatives
Learn about the work and mission of the City's departments through weekly presentations by department commissioners and senior level staff, and via guided tours of City facilities
Attend press conferences, City Council meetings, staff meetings, and strategic planning sessions
Develop "New Ideas" for City policies and initiatives


Through the Mayor's Office Fellowship Program, you may accomplish the following:
Develop new initiatives that keep Chicago green

Research ways to keep Chicago affordable

Work on workforce development initiatives targeting specific industries

Build a new technology product that impacts residents' lives

Outline best practices in public safety programs and youth engagement

Research and compare housing-related policies in U.S. cities

Create innovative solutions to traffic and infrastructure challenges

Recommend ways to better integrate technology with City functions

Integrate human-centered design practices into digital services for residents

Analyze information on regional issues and Great Lakes policies

Create new programs that connect City residents with the great cultural resources of Chicago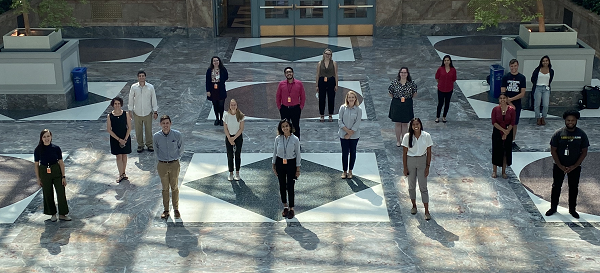 (Note: In-person tours, speakers, and events may be limited based on COVID-19 restrictions)

Mayoral Fellows will earn $20/hour working full-time for 11 weeks.
Download the flyer to learn more.
View the "New Ideas" books generated by previous classes of fellows.
Eligibility Criteria
The Chicago Mayor's Office seeks a well-rounded cohort comprising Fellows with expertise in areas such as public policy, urban planning, public health, law, business, social work, or computer science. Graduate students from all disciplines are encouraged to apply.
Required qualifications:
Be a currently enrolled graduate student at the time of employment
Have a cumulative GPA of at least 3.0 on a 4.0 scale
Reside within Chicago during the 11-week fellowship
Desired qualifications:
Demonstrate a strong commitment to excellence as evidenced by professional success, academic honors, leadership ability, extracurricular activities, and involvement in community or public service
Be enthusiastic about public service and city government
Embody strong personal character and conviction


International students must have an F1 Student Visa and be a full-time student in order to qualify. You are required to have a social security number/card which states: "VALID FOR WORK ONLY WITH DHS [Department of Homeland Security] AUTHORIZATION." The college or university can assist international students with obtaining authorization.
Students who are Deferred Action Recipients are eligible and encouraged to apply. You must provide your Employment Authorization Document at the time of hire. In addition, if you are selected for a Fellowship Position, you must also have a social security card. If you do not have a social security card, you can obtain one by following the instructions here.
How to Apply
Applying to the Summer 2023 Mayor's Office Fellowship is a two-step process. All prospective fellows must complete Step 1 of the application process. Short-listed fellows will advance to Step 2.
Step 1 (Due Monday, November 7, 2022): Prospective fellows must complete an initial application screening through the City of Chicago's Department of Human Resources CAREERS website. Applicants will be asked to provide:
Cover letter and resume
A letter of enrollment from their current graduate school
An official transcript from their current graduate school (For graduate students in their first year of study who have not yet received grades, an official dated letter of acceptance to your current school AND a current class schedule will be accepted in place of an official transcript)
Step 1 of the application process will close on Monday, November 7, 2022 at 11:59 pm CT. No late applications will be accepted. Applications will be screened for eligibility and qualifications. A short-list of applicants will be selected for interviews and move on to Step 2.



By clicking the "Apply Now" button, you will be directed to Taleo, the City of Chicago's jobs website. Search the keyword "Fellows" to find the application for the 2023 Mayor's Office Fellowship Program.

Step 2: Applicants selected for the interview process will be required to provide the following supplemental documents to the Mayor's Office:
Personal Statement: Why are you interested in a fellowship in municipal government? What qualities or attributes will you bring to the City of Chicago Mayor's Office Fellowship Program? What do you hope to gain from this program?
Policy Problem: Please state a current public policy problem that you believe has an impact on the City of Chicago. State the issue clearly and factually, along with any proposed policies, programs or initiatives that will address the problem. Please be sure to state your opinion of the issue as well as supporting arguments.
Supplemental documents will be due on Friday, December 2, 2022 by 11:59 pm CT. No late materials will be accepted. Supplemental documents should be no more than a maximum of two pages each (four pages total). Documents should be 12-point font and have one-inch margins.
Interviews: The Mayor's Office will then contact the short-listed applicants to schedule a 30-minute interview with Mayor's Office staff, either at Chicago's City Hall or virtually.
Notification: Selected Fellows will be notified by late February/early March 2023.
Supporting Information Facts
People We Serve:
Additional Information