Capital Improvement Program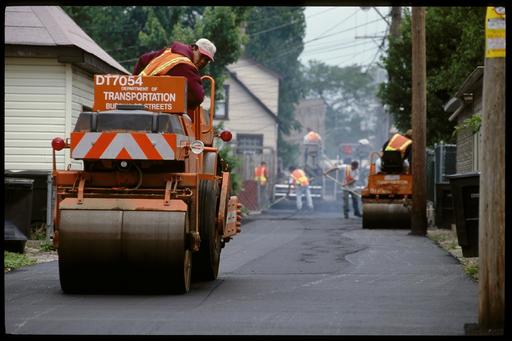 Capital Improvements are the building or upgrading of city infrastructure such as streets and alleys, water mains and police stations. These investments are essential elements of providing quality government service, and they create the conditions for a safe and economically viable city.
Capital Improvement Program (CIP)

The City's CIP Program deals with the physical improvement or replacement of City-owned infrastructure and facilities. Capital improvements are projects with long useful lives that maintain, upgrade or replace public infrastructure and public service providing facilities. Each year, the City of Chicago produces a CIP, a spending "blueprint" based upon the most current revenue projections and project priorities. Continued investments in infrastructure and facilities are critical to support and enhance neighborhoods, stimulate the economy and improve services.
Planning for capital improvements is an ongoing process. As the City's infrastructure ages and as needs change, capital programs and priorities must be adjusted. New construction may be required to accommodate increased demand or replace aging facilities while existing infrastructure requires periodic rehabilitation, replacement or other improvements to protect the City's previous investments.
The CIP is not intended to be an all-inclusive inventory of the City's capital needs for the upcoming five years. It is a document that outlines planned capital improvements, given available financial resources. The revenue for the CIP is generated from general obligation bond issues, revenue bonds in the case of Water, Sewer and Aviation improvements and state and federal funding for transportation improvements. Funding is also provided from private sources that utilize special assessments such as the shared sidewalk program.
Funding Sources for Capital Improvements
The five year Capital Improvement Program is updated every year to reflect the most current program information and funding projections. The City uses an array of funding sources to pay for these projects. City funds include proceeds from user fees, bonds, and taxes. Federal and state funds can be used for upgrades to roadways, etc. Some projects are funded by special assessments, such as the Shared Cost Sidewalk Program, in which the City and owners share the cost of replacing sidewalks.
Aldermanic Menu Program
Every year, each of Chicago's 50 wards can address their own specific local infrastructure needs through the Aldermanic Menu Program.
In 2012, $1.32 million per ward was allocated from the CIP general obligation bonds to provide a menu of infrastructure project options for the aldermen to select and prioritize.
Projects chosen by the aldermen include the repair and upgrade of streets, alleys, curbs, sidewalks, traffic signals, street and alley lighting and street pole painting.