The National Weather Service in Chicago Has Issued an Excessive Heat Warning for Wednesday, August 23 from 11 a.m. to 9 p.m.
August 22, 2023
The Excessive Heat Watch is still in effect from Wednesday, August 23 through Thursday, August 24 with a possible heat index of 110˚-115˚. The City of Chicago will open additional Cooling Centers–27 total citywide–in addition to Park District facilities and Chicago Public Library Locations.
An Excessive Heat Warning has been issued by the National Weather Service in Chicago for Wednesday, August 23 from 11 a.m. – 9 p.m. This is in addition to the Excessive Heat Watch beginning Wednesday morning, August 23 through 8 p.m. on Thursday, August 24 due to an expected period of dangerous heat and humidity with possible heat index values of 110˚-115° degrees for at least two consecutive days.
The Chicago Office of Emergency Management and Communications (OEMC) will continue to monitor conditions with the National Weather Service in Chicago and will issue alerts for additional advisories, watches, and warnings.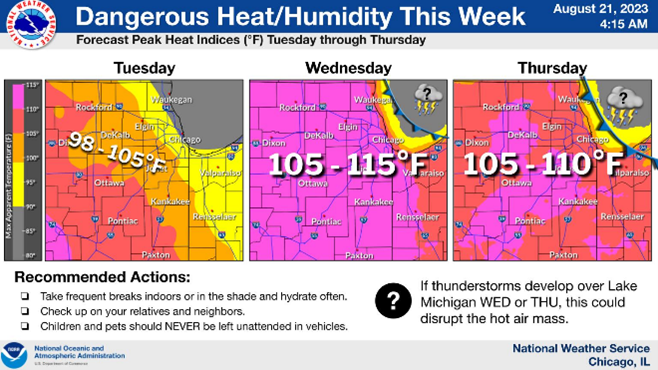 EXCESSIVE HEAT
Excessive heat or extreme conditions can lead to unhealthy impacts – especially over a duration of time. Public safety is the top priority of the City of Chicago and residents are also reminded that hot temperatures and high humidity may cause heat illnesses to occur. OEMC and city departments are reminding residents and visitors of the resources available to help alleviate the effects so everyone can stay healthy and safe.
City of Chicago Cooling Centers
27 Locations Citywide + Park District Facilities and Chicago Public Library locations.
The City of Chicago's cooling areas located at the City's six community service centers are activated from 9 a.m. to 5 p.m., Monday – Friday. NOTE: Hours will be expanded on Wednesday, August 23 and Thursday, August 24 from 8:30 a.m. to 7 p.m.
Englewood Center – 1140 W. 79th Street

Garfield Center – 10 S. Kedzie Ave. (24 Hours)

King Center – 4314 S. Cottage Grove

North Area Center – 845 W. Wilson Ave.

South Chicago Center – 8650 S. Commercial Ave.

Trina Davila Center – 4312 W. North Ave.
Additional locations activated from 8:30 a.m. to 4:30 p.m. on Wednesday, August 23 and Thursday, August 24:
Regional Service Centers
Southeast - 1767 E. 79th Street

Southwest - 6117 S. Kedzie Avenue

Central West - 2102 W. Ogden Avenue

Northeast - 2019 W. Lawrence Avenue

Northwest - 3160 N. Milwaukee Avenue

Renaissance Court - 78 E. Washington Street

(10 a.m.- 5 p.m.)
Satellite Senior Centers
Pilsen - 2121 South Morgan

West Town - 1615 West Chicago Ave.

North Center - 4040 North Oakley

Norwood Park - 5801 North Natoma

Portage Park - 4100 North Long

Abbott Park - 49 East 95th St.

Chatham Park - 8300 South Cottage Grove

Roseland - 10426 South Michigan

Garfield Ridge - 5674-B South Archer

Kelvyn Park - 2715 North Cicero

Auburn Gresham - 1040 West 79th St.

Englewood - 653-657 West 63rd St.

Austin – 5071 West Congress Parkway

Edgewater – 5917 North Broadway

South Chicago – 9233 South Burley
For additional details on the Senior Centers, visit the Chicago Department of Family and Support Services at Chicago.gov/DFSS/Senior Centers
During hours of operation, residents can also find relief in one of the City's Chicago Public Library locations and Chicago Park District fieldhouses as well as splash pads located throughout the city. For a map of locations, visit Cooling Centers - Map | City of Chicago | Data Portal. NOTE: The Legler Library at 115 S. Pulaski and Austin-Irving Library at 6100 Irving Park Road will be closed all week.
Tips to Beat the Heat
Stay hydrated – drink lots of water, AVOID alcohol, caffeine, sodas.

Stay inside, if you do not have air conditioning, keep shades drawn and blinds closed, but windows slightly open.

Keep electric lights off or turned down.

Minimize use of your oven and stove.

Apply sunscreen and wear loose, light, cotton clothing and hats with visors if you must spend time outside.

Take cool baths and showers.

Do not leave anyone (including pets) in a parked car, even for a few minutes.
To receive the latest updates on heat advisories and weather emergencies residents can register for the City's emergency alert notifications at NotifyChicago.org, check OEMC's social media pages, tune to local media or download the Chicago OEMC App.
When the temperatures climb to extreme levels, Chicagoans should monitor themselves and others for the telltale signs of heat-related illness. Extreme sweating, intense thirst, nausea, fatigue or weakness, and dizziness or confusion can all be indicators of heat exhaustion or heat stroke. It's also important to check on relatives, neighbors, seniors, and our vulnerable population. If you are unable to make contact, you can request a well-being check by downloading the CHI311 app, visiting 311.chicago.gov, or calling 3-1-1. If there is a medical emergency due to a heat-related illness, call 9-1-1.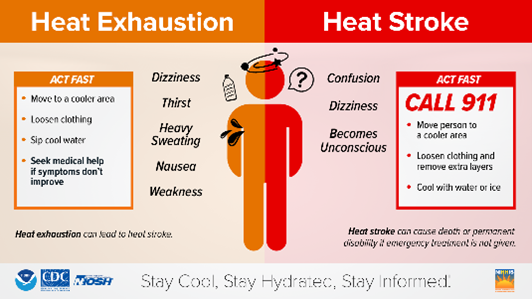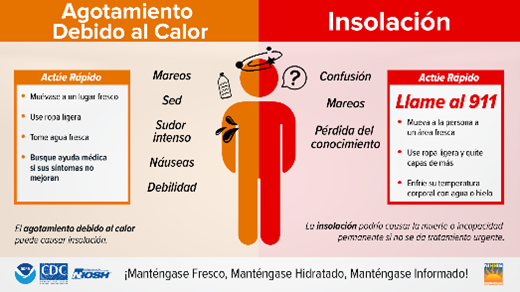 The Chicago Department of Buildings(DOB) advises property owners and building managers to check their electrical and cooling equipment to make sure it is in working order. On days when the heat index exceeds 80°F certain residential buildings must provide air conditioning in all apartments or have an air-conditioned indoor common gathering area known as a cooling center. For additional information on the 2022 Cooling Ordinance visit Chicago.gov/cooling.
Chicago OEMC App
For safety and preparedness at your fingertips, residents and visitors are encouraged to download the new Chicago OEMC App. The public safety tool provides safety information, preparedness tips, emergency alerts, weather information and more in the palm of your hand. Users will also have access to current forecasts, radar, and other weather-related information as well. The app is now available through the Apple App and Google Play stores or download by visiting the OEMC website Chicago.gov/OEMC.
Smart911
Create a Smart911 profile now to include vital information to share with first responders if needed. A new feature has been added to include if you have air conditioning in your home or apartment for heat emergencies. This is useful information for first responders if they are responding to vulnerable residents, particularly seniors. The edit your profile or sign-up, visit Smart911.com.
Sign up for NotifyChicago alerts at NotifyChicago.org. OEMC also issues TEXT alerts for lakefront notices, issues affecting businesses or events:
CHILAKE: For lakefront notices, TEXT "CHILAKE" to 7-8-0-1-5

CHIBIZ: For alerts affecting businesses, TEXT "CHIBIZ" to 6-7-2-8-3
For additional information on emergency preparedness information, visit the OEMC website at Chicago.gov/OEMC. Follow the Office of Emergency Management and Communications on Facebook (@coemc), Twitter (@ChicagoOEMC) and Instagram (chicago_oemc_911).