Are You Ready Chicago? The New Chicago OEMC APP puts emergency preparedness and safety in the palm of your hand
February 9, 2023
The App provides residents with preparedness tips, safety information, alerts and the CHI Safe Walk, a feature to use when traveling alone to share your location with a friend or family member in the event of an emergency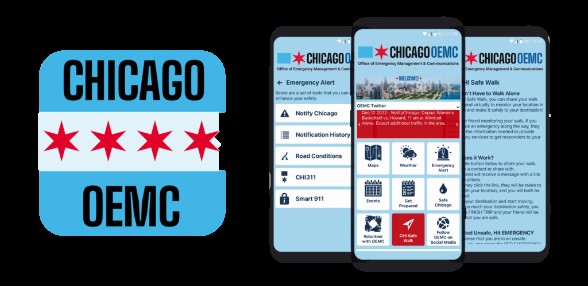 The Chicago Office of Emergency Management and Communications (OEMC) is now providing preparedness in the palm of your hand with the NEW Chicago OEMC App.
"We developed the Chicago OEMC App to provide preparedness information directly to residents by tying together our multiple notification platforms and services into an easy-to-use public safety tool," said Rich Guidice, OEMC Executive Director. "Notable features include CHI Safe Walk, interactive City maps, access to current weather conditions, road closures, special events safety information along with emergency management related services at your fingertips."
The app is now available through the Apple App and Google Play stores. To immediately download, click HERE or use the QR code below.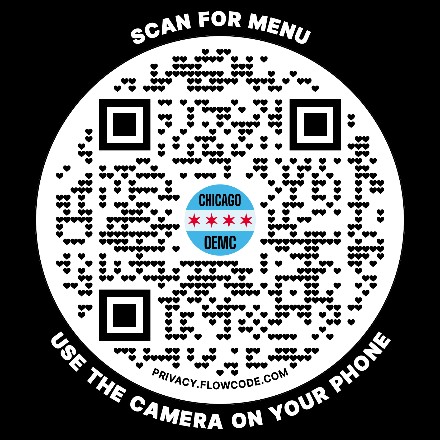 CHI Safe Walk and Notable App Features
The app offers a variety of features to keep residents aware and prepared. A prominent feature of the app is the CHI Safe Walk safety tool. This tool gives users the option to share their live location with a trusted contact if they are traveling alone to a destination. The user can invite a friend or family member to "virtually" walk with them from point A to B.
If an emergency occurs along the user's route, they can click the panic button which will notify the trusted contact of the user's current location, and the user will also be prompted to dial 911. If the user does not experience an emergency along their route, the trip can be ended when the user arrives safely. A notification will be sent back to the trusted contact to inform that the user has arrived safely to their destination.
Additional OEMC App features include:
• Maps – This feature provides residents with a variety of Chicago centric maps, such as find my ward, live traffic maps, CPD beat & district maps, CTA line information, and much more.
• Weather – Access to current weather conditions, forecasts, weather radar and more from the National Weather Service in Chicago.
• Get Prepared – The Emergency Management Team at OEMC designed the guides and preparedness tips included in this section. The information is broken down by disaster type and what to do before, during, and after. This section has all the information residents need to kickstart their preparedness journeys.
• 911 and 311 – Information on calling 911, Smart911, CHI311App, and more.
• Emergency Alerts – Receive NotifyChicago, and other alerts offered by OEMC to notify residents of impending severe weather, traffic disruptions, large events, emergencies and more that can affect public safety.
For additional information on emergency preparedness information, visit the OEMC website at Chicago.gov/OEMC. Follow the Office of Emergency Management and Communications on Facebook (@coemc), Twitter (@ChicagoOEMC) and Instagram (chicago_oemc_911).

# # #

About OEMC
Chicago's Office of Emergency Management and Communications (OEMC) oversees several functions that support public safety and provides assistance to residents 24 hours a day, 365 days a year. The OEMC manages the following operational areas for the city: 9-1-1 call taking and dispatch; the 3-1-1 city services call center; Office of Emergency Management; and Traffic Management Authority. The OEMC coordinates with departments citywide, including the Chicago Police Department and Chicago Fire Department, in addition to various other local, state, and federal agencies as it relates to public safety planning and coordination for everything from large-scale special events to public safety emergencies and disasters.