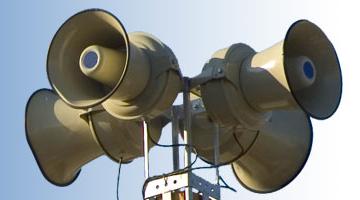 The City of Chicago's Emergency Warning System (EWS) is an outdoor, all-hazards siren system that is used to warn the general population of a potential danger in a short amount of time and to notify them that the emergency has passed.

Chicago currently has 112 sirens located strategically on poles 1 to 2 miles apart throughout the City to ensure total citywide coverage. EWS may be activated by individual siren, by siren zone (there are 12 siren zones in Chicago), or citywide.
What Do the Sirens Mean?
The system uses two siren tones only. When they are activated during an emergency, the sirens will be activated for 3 minutes.
Alert

: An up-and-down, rising and falling tone to signify an emergency alert. This signal may be used to signify a major emergency or disaster, including a severe storm, tornado warning (not a tornado watch), earthquake, chemical hazard/hazardous material incident, extreme winds, biological hazard or event.

All Clear

: Please tune into your local news agencies and listen for notification from City officials regarding the emergency.
Siren Test:
Please note that the City does perform a monthly siren test to ensure all sirens are functioning. The entire system is tested for 30 seconds at 10:00am on the first Tuesday of every month.
What Should I Do if I Hear the Sirens?
If the sirens are activated - and it is not our monthly 30-second siren test - the public should see it as a signal to:
Seek immediate indoor shelter inside a sturdy building away from windows and glass
Tune into radio or television to get information about:

Type of Emergency
Instructions & Recommendations

When the threat has passed, the siren will emit a steady wailing signal for three minutes.
Wait for the All Clear
When a Tornado Watch is issued by the National Weather Service, tornados are possible in our area. Remain alert for approaching storms.

When a Tornado Warning is issued by the National Weather Service, it means that a tornado has been spotted or indicated by weather
Supporting Information Facts