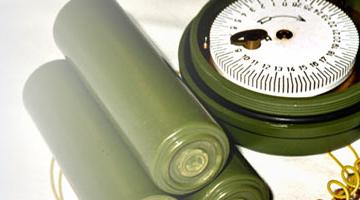 1. Explosive Threats
Globally, the use of explosives and bombs continues to be the mainstay of terrorist groups. The City of Philadelphia uses highly trained explosives specialists to rapidly assess, mitigate and render safe any and all explosive threats found within our City.
How can you prevent someone from using explosives?

Be vigilant. Be aware of suspicious behaviors or out-of-place activities around you. Examples of things to notice may include:
People -Look for strange behavioral traits-not appearance, because a terrorist can come from any ethnic group or walk of life.
Places - Targeted buildings or infrastructure are often checked out before an actual attack. Pay attention to:
Someone wearing clothing that is not consistent with the season or the surroundings
A person with a tightly clenched grip onto a bag, suitcase or backpack
Wires or switches sticking out from carried bag or items
Someone looking unusually anxious or calm
Individuals taking significant interest in the outside of a building, delivery gates, doors and entrances Individuals taking significant interest in security cameras and controlled areas
Individuals taking photos and notes of building security measures
A person attempting to disguise their identity, such as wearing a motorcycle helmet, a hood, etc.
Vehicles parked outside a building for long periods of time
The same vehicle with different drivers returning to a building on several occasions
Activity inconsistent with the location
Unusual activity by contractor vehicles
In today's environment, a backpack left on a train filled with commuters is taken much more seriously than one found in an empty park.
Err on the side of caution. If you think something is suspicious, treat it as such until experts have determined that it is harmless.
Suspicious objects may include:
Large container-type items (such as suitcases, backpacks, bags, etc.) left in areas with a high volume of pedestrian traffic or an area/building of symbolic nature
Parcels or packages shipped with strange indicators such as misspellings, incorrect titles, no return address, or instructions for a specific person to open, etc.
Cars or trucks parked in a busy location exhibiting smoke coming from inside the vehicle; a heavy load on the suspension; wires in uncommon areas; and odd electronic equipment such as cell phones wired to other items. Storage Facilities and other private spaces-things to notice may include:
Cash paid for short term rental of housing or storage facility
Computers, fans, and an abundance of pots, containers and cookware moved into housing, but little personal belongings
Odd smells coming from property By being alert, you can stop an attack at the most crucial time: before it starts. If you observe a terrorist threat or criminal activity, call 9-1-1.
What to do if an explosion occurs:
Not every explosion is a terrorist attack. Here are basic guidelines if you are near an explosion of any type:
On the street
Regain your bearings. Determine if you are injured and where the blast occurred.
Move immediately in the opposite direction of the blast
Do not walk close to buildings-glass and debris may still be falling
Once you are out of the danger area (at least three blocks away), try to remember and write down everything you can about the event. This information could be helpful later on.
In a building
Regain bearings. Determine if you are injured and note structural damage.
Quickly note secondary hazards - fire, smoke, toxic fumes and the smell of gas.
Determine whether you should evacuate or shelter in place.
Once clear of the danger area, record all information
On a train
Regain bearings. Determine if you are injured and note structural damage.
Quickly note secondary hazards - fire, smoke, toxic fumes.
Both the tunnel and the train will be dark - move as slowly as is practical.
Upon exiting the train, be careful to avoid the charged rail.
Move as group away from train
2. Radiation Exposure
In the unlikely event that radiation is released in the City, specially trained experts are prepared to respond with equipment to test if levels of radiation are present.
If radiation is present, officials may recommend decontamination (removing clothing and washing with water and soap). The Chicago Fire Department and area hospitals are prepared to set up facilities to do this. Depending on the type of radiation exposure, health officials may also recommend additional treatment.
If you believe you have been exposed to radiation, stay where you are. Watch TV, listen to the radio or check the Internet often for official news and instructions.
Supporting Information Facts