Protocol - Transit Safety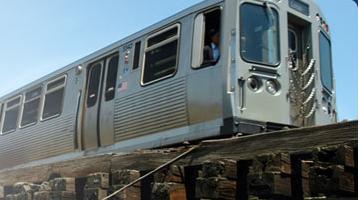 Mass transit systems (i.e., Metra, CTA, Pace, Nictd, and AMTRAK) may be vulnerable to both accidents and terrorist incidents. Chicago mass transit customers should be aware and vigilant. Be well informed and know your surroundings, to ensure that you travel safely.
Travel Guidelines:
If you see something, say something. Report all suspicious parcels, bags or containers, (especially if they are left unattended) to the nearest employee.
Be alert. Take note of fire extinguishers and exits and read posted safety instructions.
In an emergency, try to stay calm. Listen to and follow instructions from transit employees or emergency personnel.
If able, try to help those around you. Assist people with disabilities, seniors, and small children.
Only exit the train or the subway if you are in immediate danger or instructed to do so.
Subway tracks are dangerous and should be avoided! Never exit the train onto the tracks unless instructed to do so by emergency personnel. Avoid the third rail, which carries a dangerous electrical current.
The train/bus operator is your best source for information since they are in constant communication with control centers. If the Public Address system malfunctions, a crew member will walk through the transit cars and instruct patrons on evacuation procedures.
Only use cell phones if you absolutely must as they could interfere with emergency personnel equipment. Cell phones are unlikely to work in underground tunnels.
For Additional Information:
Supporting Information Facts