Safe Chicago
Safe Chicago is a public safety program launched by OEMC in partnership with the Chicago Fire Department, Chicago Police Department, the Chicago Department of Assets, Information & Services, along with the American College of Surgeons Stop the Bleed initiative.
Safe Chicago's mission is to improve the safety of municipal employees by making life-saving bleeding control equipment and training readily available for anyone to use in the event of an emergency. Bleeding control kits are being installed at every occupied, city-owned or leased facility. To date, 550 Stop The Bleed kits have been installed in 350 locations in Chicago.
Marketing Material and Press Release
Stop the Bleed
STOP THE BLEED® is the result of a collaborative effort led by the American College of Surgeons Committee on Trauma (ACS COT) to bring knowledge of bleeding control to the public. The purpose of the STOP THE BLEED® campaign is to make our nation more resilient by better preparing the public to save lives if people nearby are severely bleeding. This preparation is being done by raising awareness and teaching people how to learn three quick actions to control serious bleeding including pressure, elevation, and the use of tourniquets and wound packing as means to save lives before first responders arrival to an emergency scene.

Life-threatening bleeding emergencies can be the result of falls, auto-accidents, penetrating injuries, gunshot wounds, and more. Knowing how to control bleeding from a serious injury is essential to your safety and the safety of those around you.

Bleeding Control Kits
One wall-mounted kit is designed to treat eight victims before EMS arrives. Each kit includes a tourniquet, compressed gauze, trauma dressing bandage, trauma shears, gloves, space blanket, a marker, and an instruction manual.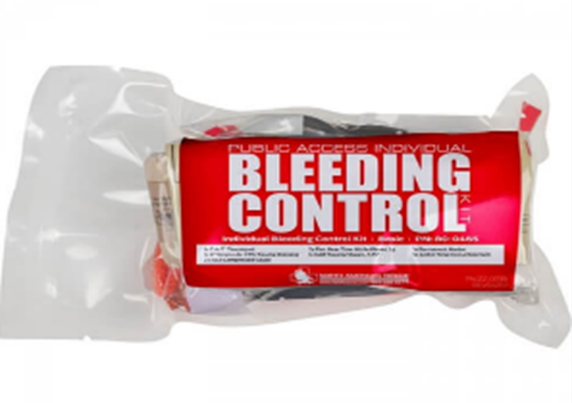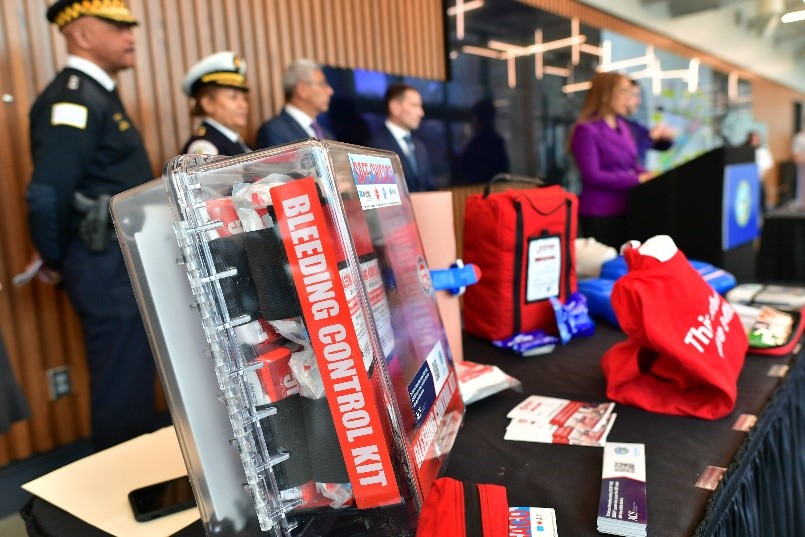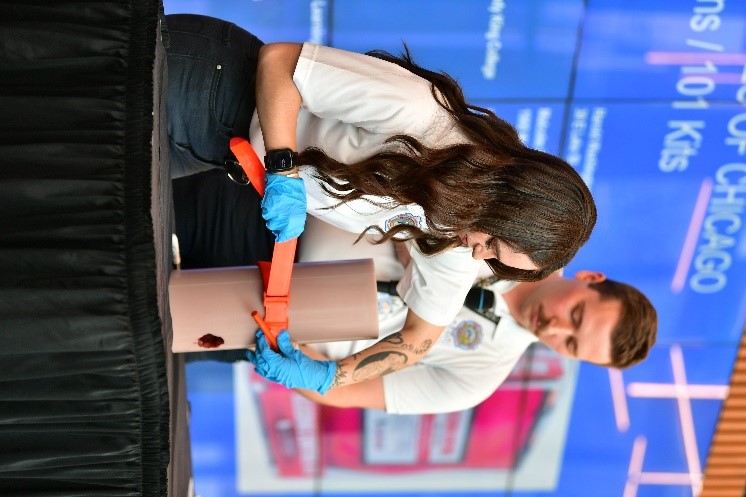 AED - Automated External Defibrillator
American Heart Association CPR and First Aid Training
AED Implementation | American Heart Association CPR & First Aid
Safe Chicago Bleeding Control Kit Locations - Map | City of Chicago | Data Portal