Chicago Energy Benchmarking Homepage
The City of Chicago Department of Business Affairs and Consumer Protection (BACP) is reminding building owners that properties that were due for data verification in 2020 were expected to do so by June 1, 2020. However, BACP understands that on-site data verification has been difficult during the COVID-19 outbreak. As such, BACP is using its enforcement discretion to suspend enforcement of the Data Verification Requirement until June 1, 2021.
The next scheduled date that your property is required to complete data verification will be listed on the most recent Covered Buildings List. Please note, the compliance deadline for 2020 benchmarking reports did not change from June 1, 2020.
Questions? We can help! Call the Chicago Energy Benchmarking Help Center at (855) 858.6878 (M-F 9am-5pm) or email Info@ChicagoEnergyBenchmarking.org.
Frequently Asked Questions:
Do I need to verify my data by June 1, 2020?
Yes. Properties due for data verification by June 1, 2020, are expected to comply with the requirement if such verification can be done consistent with COVID-19 orders. However, BACP will not be enforcing the data verification requirements until June 1, 2021. Properties due for data verification in 2020 may face enforcement measures if compliance is not achieved by June 1, 2021.
Can data verification be completed remotely?
Due to limitations associated with undertaking data verifications without on-site access to properties, we advise subject properties to wait until proper data verification can be conducted.
What timeframe of data should be verified if I am due for verification in 2020, but cannot verify until 2021?
Regardless of whether or not there is a significant change to building operating conditions, properties are encouraged to verify the most recent full calendar year (12 months) of available aggregated data reported to the City, even if it is data from the previous year. In this case, facilities may submit data verification for either calendar year 2019 or 2020 reporting periods.
If data verification is performed for a calendar year reporting period more than 6 months in the past, the submitted report should detail how any instances of substantial operational changes between the 12-month reporting period and the observed conditions on the date of the onsite verification visit were substantiated through alternative means. For example, if observed occupancy during the site visit is significantly lower than the occupancy included in the 12-month reporting period, explain the process by which occupancy records, interviews with facilities staff, or similar means were used to validate the historic occupancy.
Chicago Energy Rating System
The new Chicago Energy Rating System, which improves the visibility and transparency of the information reported under Chicago Energy Benchmarking, is now in effect. A summary of the changes and some of the benefits are provided in this summary, and this FAQ document provides answers to frequently asked questions. The full ordinance can be downloaded here.
For more information, visit the Chicago Energy Rating System website.
Benchmarking Compliance
The compliance deadline for 2021 benchmarking reports is June 1, 2021. As a reminder, energy benchmarking reports are due annually from all properties, and data verification is required once every three years. To determine if you are required to verify data this year, check the compliance notification letter sent by the City, which you should receive by mid to late March. You can also find the year of next verification on the Covered Buildings List.
The City is now accepting 2021 benchmarking reports. If you are ready to report, click here to send your data via ENERGY STAR Portfolio Manager.
Please be advised that communications from unauthorized third party service providers may contain inaccurate information regarding City benchmarking requirements. If your building is not on the most recent Covered Buildings List and/or has not received an official notice to benchmark from the City of Chicago, your building is not required to benchmark. All official communications from the City regarding benchmarking compliance will be clearly marked as a "CITY OF CHICAGO OFFICIAL NOTIFICATION." If you receive benchmarking notifications from someone other than the City of Chicago, please report the messages to the Chicago Energy Benchmarking Help Desk at (855) 858.6878 (M-F 9am-5pm) or email Info@ChicagoEnergyBenchmarking.org so they may be reviewed and dealt with appropriately. As a reminder, the City of Chicago provides helpful tools and resources and a fully staffed Help Desk to assist building contacts meet Chicago energy benchmarking requirements, at no cost.
Taking Action on Energy Efficiency
Have you benchmarked one or more buildings, and are looking to take the next steps on energy efficiency? Click here to learn about suggestions and resources for starting to improve the energy performance of your property(ies).
Quick Links:
---
The menu below provides a full list of the resources available on this website. Click one of the buttons below for an Overview, or find detailed Instructions, Training, Request Forms, or Results & Analysis:
Chicago Energy Benchmarking Ordinance Background
Chicago Energy Benchmarking Ordinance Requirements
Key Definitions

Compliance Overview
Guidance Documents
Covered Buildings List
Obtain Whole-Building Data
Use ENERGY STAR Portfolio Manager
Fulfill the Data Verification Requirement
Find a Service Provider
Submit Data to the City
Additional Instructions for Buidings with Errors or Missing Data

Online Chicago Energy Benchmarking Training Videos
Trainings: Dates & Info
Office Hours: Dates & Info
ENERGY STAR Portfolio Manager Support & Resources

Request a Chicago Energy Benchmarking ID
Request an Exemption
Request a Special Space Use Waiver
Apply for Pro-Bono Data Verification

Building-Specific Data
Building Energy Performance Map
2018 Infographic (Report coming soon)
2017 Report and Infogaphic
2016 Report and Infographic
2015 Report and Infographic
2014 Report and Infographic
Questions? We Can Help!
Call the Chicago Energy Benchmarking Help Center at 855.858.6878 (M-F, 9am-5pm) or email Info@ChicagoEnergyBenchmarking.org.
Additional Information
2019 Chicago Building Energy Benchmarking Report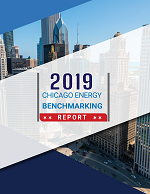 ---
2019 Chicago Building Energy Benchmarking At-A-Glance (Infographic)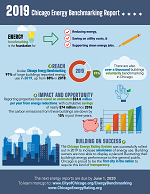 ---
2018 Building Energy Data - Chicago Data Portal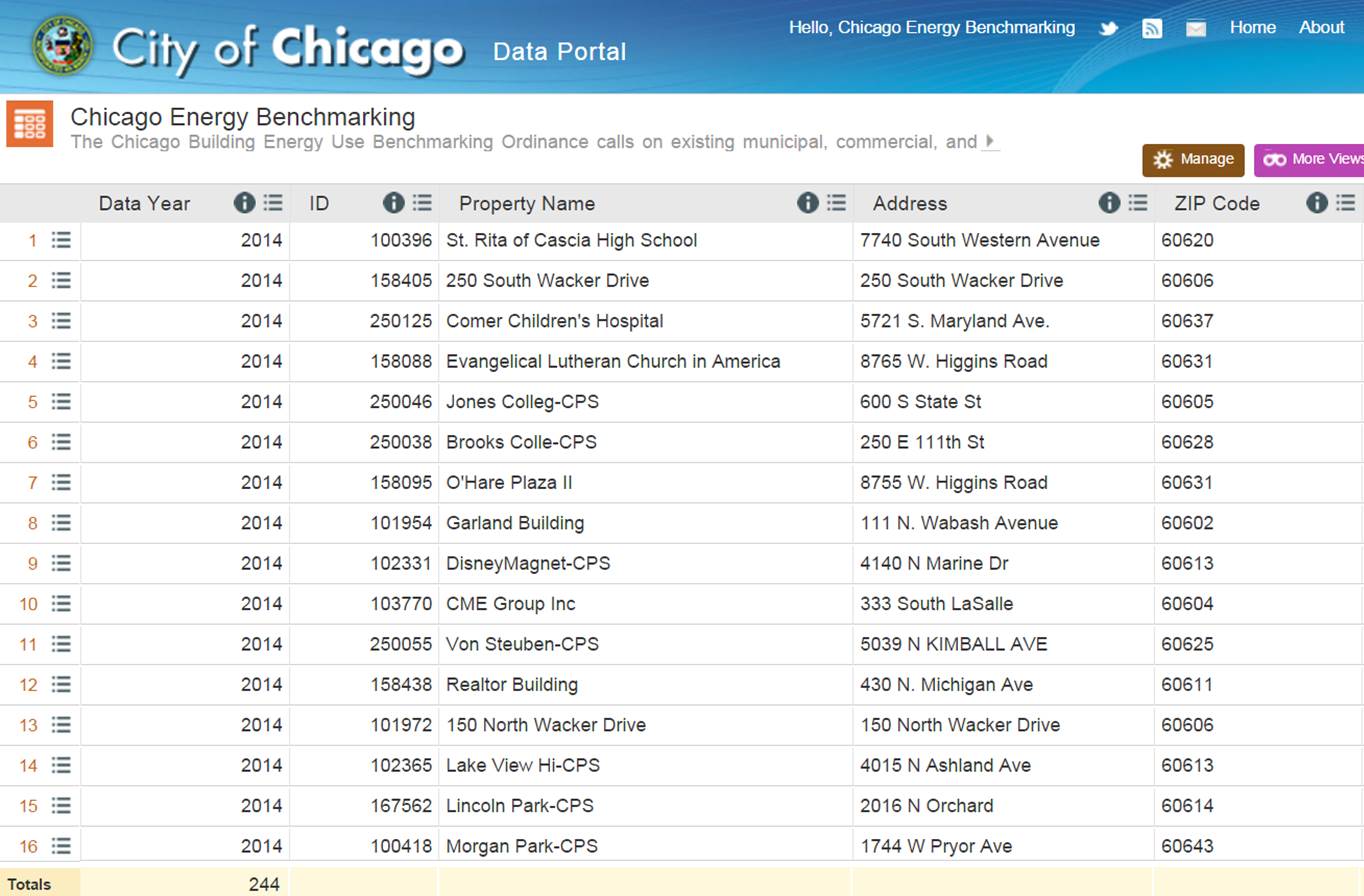 ---
2017 Building Energy Performance Map - City Energy Project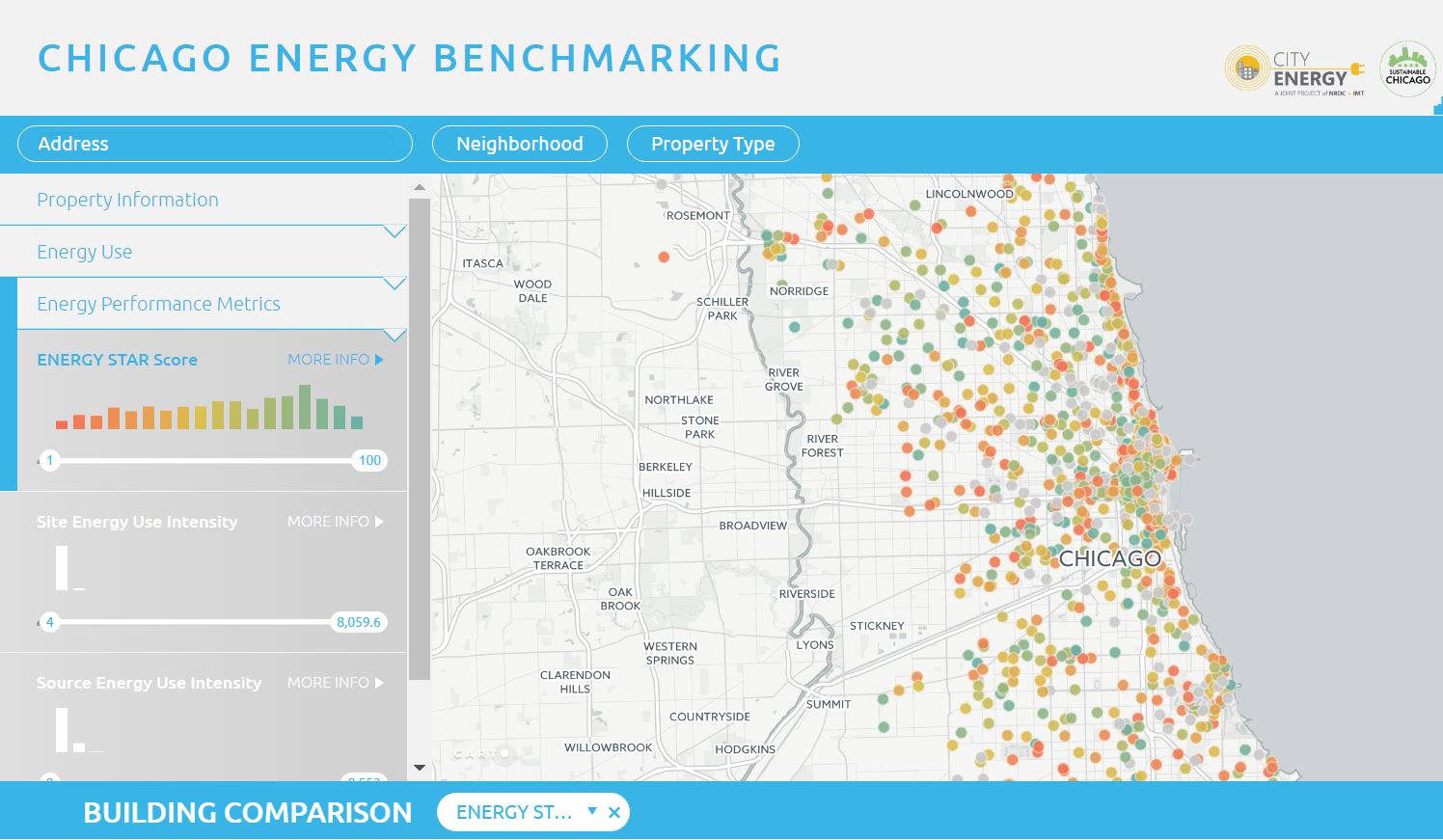 ---
Chicago Energy Benchmarking Support
"This ordinance will help to capture the information to enable better informed real estate decisions and unlock the market for energy efficiency. We believe that this ordinance addresses key business and policy priorities in our sector, including saving money, creating local jobs, protecting our health, and promot[ing] Chicago's position as a leading sustainable city to attract new business and succeed in the global market place."
– Commercial and Residential Real Estate Management Executive
"Energy efficiency is not a passing fad; it has become a core value and operating principle for many of Chicago's largest corporate tenants, condo owners, and residential tenants."
– Commercial and Residential Real Estate Manager
"Energy [benchmarking and] disclosure [across our management portfolio of more than 1,000 buildings] has helped [condominium] board members feel comfortable making decisions to improve efficiency because they have more accurate data on which to base their decision. They are also able to better quantify the investment and return they will generate. We have found that the more informed owners are about their building's environmental impact, the more empowered they are to improve it."
– Residential Portfolio Director of Operations