Construction / Renovation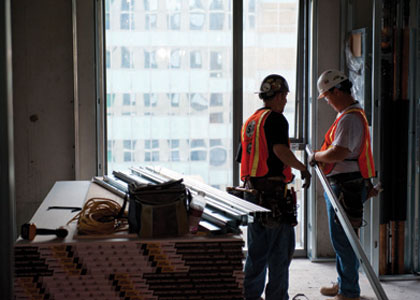 The content on this page is meant to provide information and links to necessary services and applications for larger construction projects requiring plan review and or developer services. For small home renovation or other smaller projects please click the following link to the Chicago Department of Buildings Easy Permit Program . If you are unsure if your project qualifies for the easy permit process the following link provides a brief overview of the easy permit process as well as common projects covered under this process. Easy Permit Process Overview
Developer / Architects / Engineers Resource Center
Developer Services is the Permit Process for projects that are Medium to Large in scale. Reviews are performed by private Architectural and Engineering firms that have contacts with the City of Chicago. The process is designed to be predictable and flexible. The permit process is managed by a Project Administrator that will assist the client through the complete permit process. More information regarding developer services can be found here.
Additional links for assistance in beginning the developer services process
Department of Streets and Sanitation Recycling Requirements
In accordance with §11-4-1905 (Construction or demolition site waste recycling) of the Chicago Municipal Code, new construction and demolition or renovation that meet the requirements of the code are required to recycle or reuse at least 50 percent of construction or demolition debris, as measured by weight, produced on site. Further information on the requirements of the ordinance, regulations, forms, recycling service providers, and other assistance can be found on Streets and Sanitation's (Construction and Demolition Debris Recycling).