February 1–April 27, 2014
Chicago Cultural Center, Chicago Rooms, 2nd Floor North + Building-wide
Chicago Cultural Center > Visual Art Program > Exhibitions > Past Exhibitions > Jan Tichy: aroundcenter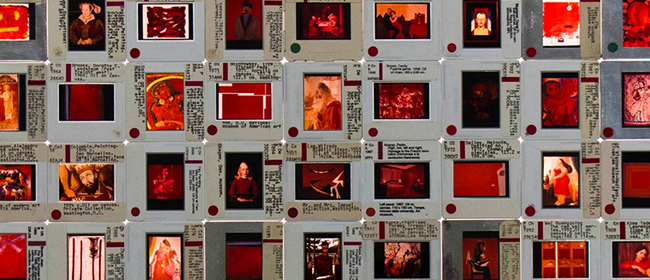 (click on image to enlarge)
aroundcenter is a site-specific exhibition composed of nine installations, each of which stands on its own, yet at the same time relate, deriving from and leading to the others. Through this exhibition, Tichy will lead visitors to a more integrated experience of the Chicago Cultural Center, including access to unrevealed areas and resources of the building. Using light as his primary expressive tool – through a variety of media including photography, sculpture, video and video projection – Tichy illuminates and makes accessible the history and current mission of the landmark building.
Upon entering the Randolph St. side of the building, a neon sculpture created by the artist, installed and encased between the doors, will lure visitors to the building and once inside, the building's history comes alive with an installation of artifacts from the Chicago Cultural Center storage.
Other installations include History of Painting, which features more than 9,000 color 35mm slides covering three massive windows on the building's fifth floor on the Washington St. side, creating a color spectrum – and Vault, a video display from inside a secret vault within the executive offices of the Department of Cultural Affairs and Special Events.
Public Programs
aroundcenter Panel & Chicago Projections Book Launch
February 18, Panel: 6pm; Reception: 7-9pm – Claudia Cassidy Theater & Chicago Rooms
Come celebrate the opening of Jan Tichy's exhibition aroundcenter and the launch of his new book, Chicago Projections, published by US Equities and the Museum of Contemporary Photography, which charts Tichy's work with nine architectural icons in Chicago. Curator Daniel Schulman will lead a panel discussion with Jan Tichy and Karen Irvine, author of the book and curator at MoCP.
Film Screenings
Join us for a series of films that explore the narrative and aesthetic themes of the exhibition on Sunday afternoons.
The Untouchables February 16, 2-4pm – Claudia Cassidy Theater
Enjoy Brian De Palma's Oscar-winning film The Untouchables (1987) in the original setting it was shot. Remember to stop by Tichy's Untouchable (2014) installation after the screening.
The Labyrinth of Color & Light March 16, 2-4pm – Claudia Cassidy Theater
Explore films and videos from various filmmakers curated with Tichy's light installations in mind. Treat your eyes and ears to works that explore the aesthetic elements of light and color, including the last film from László Moholy-Nagy and his students at Institute of Design.
Chicago Documentaries April 27, 2-4pm – Claudia Cassidy Theater
After visiting the Chicago Rooms to see Changing Chicago 2014 curated by Tichy, come to witness the changing cityscape of Chicago and the landmark buildings with various documentaries such as Moving Pictures created for CITY 2000.
Performances and Tours
The exhibition encourages guests to view, navigate, and experience the Chicago Cultural Center in new ways. Spoken word performances highlight the words, language, and knowledge that are imbedded in the building, from its history as a library, to the language incorporated as architectural details.

2nd Story "Around the Way"
March 17, 6-8pm – Randolph Square
Join 2nd Story's Bobby Biedrzycki, Nic Kay and L'Oreal Patrice Jackson as they lead a collaborative team of established Chicago spoken word poets in the performance of seven poems inspired by Jan Tichy's installations.

Flashlight Tour* Sold Out
April 8, 11pm – Randolph Square
City of Chicago Cultural Historian Tim Samuelson will lead a nighttime flashlight tour of the Chicago Cultural Center. Come explore Jan Tichy's exhibition as Tim offers insight into the mysterious history of the building.

Young Chicago Authors, Remix the Chicago Cultural Center
April 19, 11:30am-12:30pm – Chicago Rooms
Young Chicago Authors (YCA) poets will Remix the Chicago Cultural Center using found text in the architecture of the building as a construction site for new poems about the current and future state of Chicago culture. This New Chicago Cultural Center Remix project is facilitated by poet and Artistic Director Kevin Coval and YCA teaching artist and poet Jamila Woods.
Workshops
The Hand Knows a Secret: Doodling, Music & New Ways of Representation
February 26, 11:45am; Tour: 1:15pm – Preston Bradley Hall
What do John Keats, Sylvia Plath, Thomas Jefferson and Samuel Beckett have in common? They doodled. Studies have shown that doodling is an inventive and effective response to rich sensory offerings. Come listen to the popular Dame Myra Hess Memorial Concert performance while adding your own inspirations to Jan Tichy's exhibition. Participants will use a series of prompts to create doodles in a musical environment led by poet, artist and teacher, Alice George.
Light Workshop*
March 8, 1-3pm – Chicago Rooms
Come explore the behavior of light, the phenomenon that makes our visual life possible. By building kaleidoscopes and camera obscuras, participants in this optical workshop will experiment with the reflective and projective properties of light, its color spectrum, and the images it enables. Have fun navigating the Chicago Cultural Center and Jan Tichy's aroundcenter exhibition with an optical keepsake.
Build Your Own Chicago Workshop*
April 5, 2-4pm – Chicago Rooms
As part of Matt Bergstrom's paper model series of prominent Chicago buildings, Tichy and Bergstrom will inaugurate the Chicago Cultural Center into the paper pantheon. Participants in this workshop will cut and fold their own model Chicago Cultural Center and other Chicago landmarks, gaining an intimate appreciation of their architecture.
Some public programming was designed and developed by students in the Arts Administration and Policy program of the School of the Art Institute of Chicago in collaboration with the artist.
Some areas of the Chicago Cultural Center may be unavailable to the public due to private events.

---
Visit us:

Admission is FREE
Monday–Friday, 10am–7pm
Saturday–Sunday, 10am–5pm
(Closed Holidays)
Find us:
Chicago Cultural Center
78 E. Washington St.
Chicago, IL 60602
Take CTA to Chicago Cultural Center
From the elevated lines: exit at Washington/Wabash and walk east.
From the subway: exit at Lake (Red Line) or Washington (Blue Line) and walk east.
Served by Michigan Avenue buses 3, 4, 19, 20, 26, 60, 66, 124, 143, 147, 151, 157 and Washington St. buses 4, J14, 20, 56, 66, 147