Wright Before the "Lloyd"
January 1–April 11, 2014
Chicago Cultural Center, Landmark Chicago Gallery, 1st Floor North
Chicago Cultural Center > Visual Art Program > Exhibitions > Past Exhibitions > Wright Before the "Lloyd"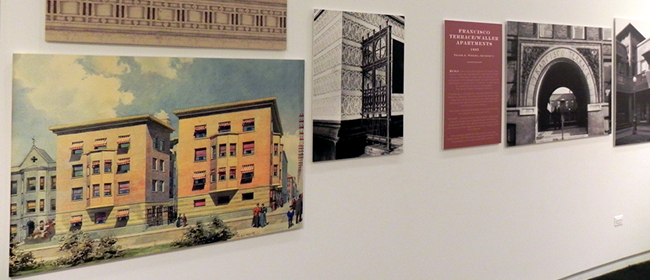 (click on image to enlarge)
Mention the name Frank Lloyd Wright, and modern architecture immediately comes to everyone's mind. But as a young Chicago architect of the 1890s, signing his work with a less dramatic "Frank L. Wright" his early work included many and diverse influences – some of which look back to classical antiquity, English tudor and other unexpected sources. This exhibit explores seldom discussed early projects that demonstrate how Wright's path to becoming a modern architect had deep and far-reaching roots.

---
Visit us:
Admission is FREE
Monday–Friday, 10am–7pm
Saturday–Sunday, 10am–5pm
(Closed Holidays)
Find us:
Chicago Cultural Center
78 E. Washington St.
Chicago, IL 60602
Take CTA to Chicago Cultural Center
From the elevated lines: exit at Washington/Wabash and walk east.
From the subway: exit at Lake (Red Line) or Washington (Blue Line) and walk east.
Served by Michigan Avenue buses 3, 4, 19, 20, 26, 60, 66, 124, 143, 147, 151, 157 and Washington St. buses 4, J14, 20, 56, 66, 147
Supporting Information Facts