Chakaia Booker Exhibition
April 30, 2016—April 15, 2018
Millennium Park, Boeing Galleries
Millennium Park > Exhibitions > Chakaia Booker Exhibition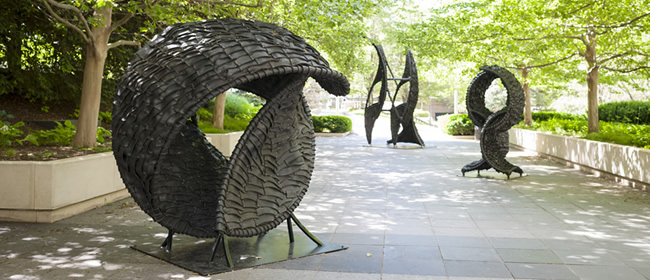 (click on images to enlarge)
PASS THE BUCK 2008, rubber tires & stainless steel
Millennium Park will unveil six recent sculptures by American artist Chakaia Booker in a new exhibition in the Boeing Galleries—running April 30, 2016, through April 2018. A seventh, site-responsive sculpture (a new work) will be added in September 2016 in the South Boeing Gallery.
Chakaia Booker is the first African American artist to be showcased in the Boeing Galleries.
Ranging in height from 96 to 192 inches and weighing up to a ton, the exhibited works are created using rubber tires and stainless steel. As the New York Times describes, "Old tires never die, but in Ms. Booker's hands they become pure poetry." The Plain Dealer says, "The art of Chakaia Booker, who creates spectacular sculptures from discarded tires, melts expectations like burning rubber on pavement". The installation beginning at the end of April includes the works Gridlock (2008), One Way (2008), Pass the Buck (2008), Take Out (2008), ShapeShifter (2012) and LBD Duty Free (2014).
Booker's work is inspired by a fusion of cultural and aesthetic influences including texture, movement, softness, power and strength. Her work translates simple materials into complex images that stimulate the viewer to reconsider the expressive nature of art. Booker began her career making wearable sculpture in the 1980s, and those early explorations can be seen in the woven, textile-like qualities of her current work.
Chakaia Booker was born in Newark, New Jersey in 1953. She received her BA in Sociology from Rutgers University (New Brunswick, New Jersey), and her MFA from the City College of New York. Based in NYC, Booker maintains a studio in a former commercial laundry in Allentown, Pennsylvania. She has received numerous awards and fellowships including a Guggenheim Fellowship for Creative Arts in 2005. Featured in the Whitney Biennial, her work has been featured in numerous solo and group shows around the world and is in the permanent collection at the Metropolitan Museum of Art and the Studio Museum in Harlem among many others. Locally, Booker's work is currently on view at Governor's State University (University Park, Illinois) and on The 606—Chicago's innovative park and trail system, featuring the elevated Bloomingdale Trail (Chicago, Illinois).
To learn more about the Chakaia Booker sculpture on The 606 (through Summer 2017), visit The606.org—and to see three of her works at the Nathan Manilow Sculpture Park at Governor's State University (through October 2017), visit govst.edu/sculpture. Both are free to the public.
The Chakaia Booker exhibition at Millennium Park is FREE—co-curated by the Chicago Department of Cultural Affairs and Special Events and made possible by the Millennium Park Foundation.
Exhibition support to the Millennium Park Foundation is made possible by the Boeing Endowment with additional support from the Richard Driehaus Endowment. The curatorial committee is managed by the Millennium Park Foundation.

---
Visit us:

Admission is FREE
Open Daily 6am–11pm
Welcome Center 9am–5pm
Plan Your Visit Here
---
Find us:
Millennium Park
201 E. Randolph St.
Chicago, IL 60601
---
Take CTA to Millennium Park
From the elevated lines: exit at Washington/Wabash and walk east.
From the subway: exit at Lake (Red Line) or Washington (Blue Line) and walk east.
Served by buses 3, 4, 6, J14, 20, 56, 60, 124, 146, 147, 151, 157
If parking, Millennium Garages are located at Millennium Park Garage and Millennium Lakeside Garage at 5 S. Columbus Drive, Grant Park North Garage at 25 N. Michigan Ave. and Grant Park South Garage at 325 S. Michigan Ave. Pre-purchase parking online and save up to 50% off drive-up rates.