CHGO DSGN: Recent Object and Graphic Design
May 31–November 2, 2014
Chicago Cultural Center, Exhibit Hall, 4th Floor North
Chicago Cultural Center > Visual Art Program > Exhibitions > Past Exhibitions > CHGO DSGN: Recent Object and Graphic Design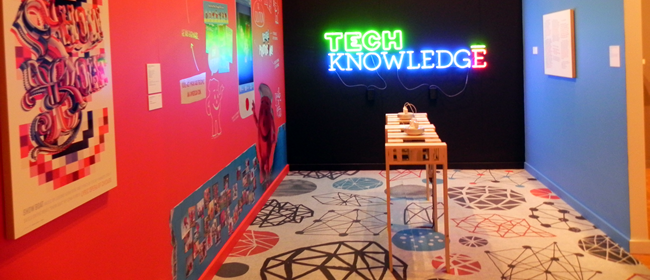 (click on image to enlarge)
CHGO DSGN [Chicago Design] is a major exhibition of recent object and graphic design by 100+ of the city's leading designers. Chicago has long been regarded as an international center for design, and this retrospective celebrates the region's creative and innovative spirit. The exhibition is curated by Rick Valicenti, 2011 recipient of the prestigious Smithsonian Cooper-Hewitt National Design Award, with displays designed by Tim Parsons, Associate Professor of Designed Objects at the School of the Art Institute.
Public Programs
Preview
Friday, May 30, 6–10pm
Gallery Talks
First Thursday and second Saturday of each month through November 2, with Rick Valicenti
Thursdays, 5:30pm
Saturdays, 12:30pm
Panel Discussions
Claudia Cassidy Theater
We are excited to announce a panel-discussion series on CHGO DSGN! We'll be exploring a variety of design-related topics and with some of our very own CHGO DSGNrs.
First up, we'll be talking about Expressive Innovation with Jason White/Leviathan, John Pobojewski/Thirst, Matt Wizinsky/Studio Junglecat, and Claire Warner/Volume Gallery. Moderated by CHGO DSGN Curator Rick Valicenti.
Saturday, August 16, 2014, 1:30-3:30pm

Expressive Innovation
Jason White / Leviathan
John Pobojewski / Thirst
Matt Wizinsky / Studio Junglecat
Claire Warner / Volume Gallery
Moderated by Rick Valicenti
Saturday, September 6, 2014, 1:30-3:30pm
Collaborations at the Intersection of Design and Art
Ugo Casati & Jonathan Nesci
Felicia Ferrone & Christopher Gentner
Tim Parsons & Jessica Charlesworth
Moderated by Rick Valicenti
Saturday, October 11, 2014, 1:30-3:30pm
Speculative Design
David Hartt & James Goggin
Jay Sae Jung Oh
Renata Graw & Jeremiah Chiu / Plural
Ania Jaworska
Moderated by Rick Valicenti

---
Visit us:

Admission is FREE
Monday–Friday, 10am–7pm
Saturday–Sunday, 10am–5pm
(Closed Holidays)
Find us:
Chicago Cultural Center
78 E. Washington St.
Chicago, IL 60602
Take CTA to Chicago Cultural Center
From the elevated lines: exit at Washington/Wabash and walk east.
From the subway: exit at Lake (Red Line) or Washington (Blue Line) and walk east.
Served by Michigan Avenue buses 3, 4, 19, 20, 26, 60, 66, 124, 143, 147, 151, 157 and Washington St. buses 4, J14, 20, 56, 66, 147