Drawn by its beauty and the fabulous free public events, hundreds of thousands of visitors come to the Chicago Cultural Center every year, making it one of the most visited attractions in Chicago. The stunning landmark building is home to two magnificent stained-glass domes, as well as free music, dance and theater events, films, lectures, art exhibitions and family events. Read More
Rediscover The People's Palace
The Welcome Center, Exhibitions, G.A.R. Hall and Rotunda, Preston Bradley Hall's Tiffany Dome and more.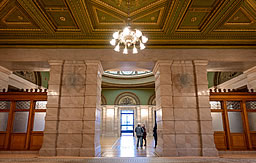 Take a tour the historic Chicago Cultural Center in-person, virtually or on a video tour with cultural historian Tim Samuelson.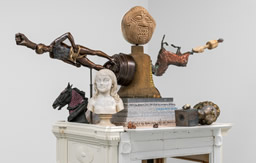 A wide range of diverse and engaging exhibitions devoted to the visual arts and contemporary culture are presented.
Public Media Institute's shop in the Chicago Cultural Center that gives Chicago's artists and small manufacturers a place to showcase and sell their goods and artwork.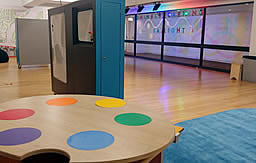 The Learning Lab is an interactive studio that offers sights, sounds, and experiences for visitors of all ages and a wide range of abilities.
Visit the Welcome Center, site of CULTURE SNAPS, off the Randolph Street (North) lobby for a cultural orientation featuring DCASE programming.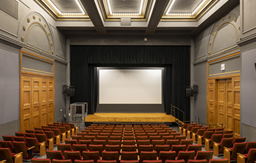 This 200-seat multi-purpose theater has been transformed with all new theater seats and major technology upgrades.
Host your next event at the Chicago Cultural Center. The stunning landmark offers a variety of options for large and small gatherings.
Constructed over 100 years ago as the Chicago Public Library and a Civil War memorial, the Chicago Cultural Center reflects the best of Chicago.

---
Visit us:

Admission is FREE
Hours: Daily 10am–5pm
Exhibitions close 15 minutes before the building closes
(Closed Holidays)
---
Find us:
Chicago Cultural Center
78 E. Washington St.
Chicago, IL 60602
---
Parking:
Nearby parking garages are located at Grant Park North Garage (25 N. Michigan Ave.), Grant Park South Garage (325 S. Michigan Ave.) and Millennium Park Garage & Millennium Lakeside Garage (5 S. Columbus Dr.).
Pay in person at each garage location or pre-pay online for discounted parking. Visit www.millenniumgarages.com/rates or call 312.616.0600 for 24/7 customer service.
Public Transportation:

Take CTA to the Chicago Cultural Center
From the elevated lines: exit at Washington/Wabash and walk east.
From the subway: exit at Lake (Red Line) or Washington (Blue Line) and walk east.
Served by Michigan Avenue buses 3, 4, 19, 20, 26, 60, 66, 124, 143, 147, 151, 157 and Washington St. buses 4, J14, 20, 56, 66, 147.
For travel information, visit www.transitchicago.com. For fare information or to purchase fares in advance, visit www.ventrachicago.com.