A Designed Life: Contemporary American Textiles, Wallpapers, and Containers & Packaging, 1951–1954
June 12–September 19, 2021
Chicago Cultural Center, Room 108, 1st Floor South
DCASE Homepage > Chicago Cultural Center > Exhibitions > A Designed Life

COVID-19 Update
For the health and safety of our visitors and staff, DCASE is taking necessary precautions for all its programs and venues. Please wear face coverings and keep your social distance. Learn more about the City's response to COVID-19 and its vaccination efforts at chicago.gov/covid.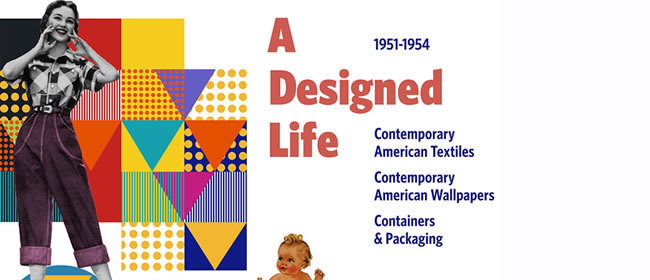 (click on image to enlarge)
The Design Museum is thrilled to bring the traveling exhibition, A Designed Life: Contemporary American Textiles, Wallpapers, and Containers & Packaging, 1951–1954, from University of Maryland, Baltimore County's Center for Art, Design and Visual Culture (CADVC) to Chicago.
A Designed Life is an exhibition based on three historically significant traveling exhibitions of contemporary, mass-produced, American-designed consumer goods that were commissioned by the U.S. Department of State in the early 1950s. It recreates those early Cold War exhibitions — featuring American textiles, wallpapers, containers, and packaging — restating and interpretin part of each display as it might have appeared in the early 1950s.
By this time, the United States and Soviet Union were engaged in the Cold War. Extensive propaganda campaigns were part of both countries' strategy for extending their spheres of influence. As part of this strategy, the United States Department of State developed a series of elaborate traveling exhibits that created an attractive portrait of contemporary America. The three exhibits organized in 1951 by the Traveling Exhibition Service that are recreated in A Designed Life include:
Contemporary American Textiles, designed by Florence Knoll;
Contemporary American Wallpapers, designed by Tom Lee;
Containers and Packaging, designed by Will Burtin

---
Visit us:
Admission is FREE
Hours (as of June 2, 2021): Daily 11am–4pm
Exhibitions close 15 minutes before the building closes
(Closed Holidays)
Find us:
Chicago Cultural Center78 E. Washington St.Chicago, IL 60602
Chicago Cultural Center Map
---
Take CTA to Chicago Cultural Center
From the elevated lines: exit at Washington/Wabash and walk east.
From the subway: exit at Lake (Red Line) or Washington (Blue Line) and walk east.
Served by Michigan Avenue buses 3, 4, 19, 20, 26, 60, 66, 124, 143, 147, 151, 157 and Washington St. buses 4, J14, 20, 56, 66, 147
Supporting Information Facts
Department:
Programs & Initiatives: