Carlos Rolón/Dzine: I Tell You This Sincerely…
April 9–July 31, 2016
Chicago Cultural Center, Chicago Rooms, 2nd Floor North
Chicago Cultural Center > Visual Art Program > Exhibitions > Past Exhibitions > Carlos Rolón/Dzine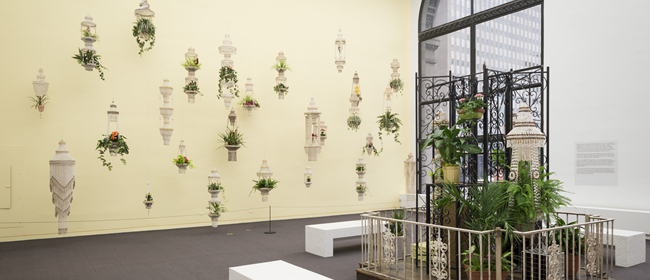 (click on image to enlarge)
Internationally recognized for his elaborately crafted paintings, ornate sculptures and site-specific installations that incorporate social practice, Carlos Rolón/Dzine returns home for his first Chicago solo exhibition in 12 years. In some of his most personal work to date, several installations compose immersive environments that reflect the artist's memories and distinctive biography while incorporating carefully crafted objects, paintings and sculptures – still investigating with notions of conspicuous consumption and urban artifact.
Among the works debuting in Chicago is a large-scale installation dedicated to the tactility and performative qualities of boxing sport and culture. In a recreated blue collar trophy den, complete with wood paneling and vintage memorabilia, visitors can watch the historic NO MAS fight between Roberto Duran and Sugar Ray Leonard among trophy-inspired paintings and fabric works influenced by grandiose boxing apparel.
Bochinche creates a reimagined Caribbean courtyard and the beauty of social space before smartphones and social media. Guests are invited to gossip amongst themselves while sitting on marble benches surrounded by wrought iron sculptural work, handmade shell macramé, as well as never-before-seen floral oil paintings and shattered tempered glass works evoking the night sky.
In the newest body of work on view, Rolón references The Young Lords Puerto Rican activist movement of the 1960s through a super 8mm video installation, neon sculpture and an 8ft hot pink afro comb.
One of the highlights of the exhibition will be the return of the Nomadic Habitat (Hustleman) Cart, a collaboration with Chicago street vendor Garland Gantt. Originally created for the Chicago Architecture Biennial in connection with the Arts Incubator / Arts + Public Life program at the University of Chicago, the work brings the urban street into the white cube of the gallery with a readymade commercial cart enterprise.
Public Programs
Exhibition Preview with the Artist
Thursday, April 7, 1–3pm
Join artist Carlos Rolón/Dzine in a preview of the exhibition, in conjunction with the Latino Art Now! conference.
Chicago Rooms, 2nd Floor North
Panel Discussion + Artist Reception
Saturday, May 14, 3:30-5pm
As part of the Lake FX Summit + Expo, Carlos Rolón joins a conversation about the role of Latino artists in the contemporary art market with Chicago artist and gallerist Edra Soto, painter Enoc Perez and curator of the Pérez Art Museum Miami, María Elena Ortiz; moderated by president of Expo Chicago Tony Karman.
Artist reception to follow. Rolón will collaborate with famed recording label Fania Records and curate a selection of music from its vaulted Latin music catalog. Chicago DJ Lugo Rosado will mix the selection at the event.
Claudia Cassidy Theater, 2nd Floor North
Photo Gallery

---
Visit us:

Admission is FREE
Monday–Friday, 10am–7pm
Saturday–Sunday, 10am–5pm
(Closed Holidays)
Find us:
Take CTA to Chicago Cultural Center
From the elevated lines: exit at Washington/Wabash and walk east.
From the subway: exit at Lake (Red Line) or Washington (Blue Line) and walk east.
Served by Michigan Avenue buses 3, 4, 19, 20, 26, 60, 66, 124, 143, 147, 151, 157 and Washington St. buses 4, J14, 20, 56, 66, 147