Matthew Girson: The Painter's Other Library
May 24–August 10, 2014
Chicago Cultural Center, Chicago Rooms, 2nd Floor North
Chicago Cultural Center > Visual Art Program > Exhibitions > Past Exhibitions > Matthew Girson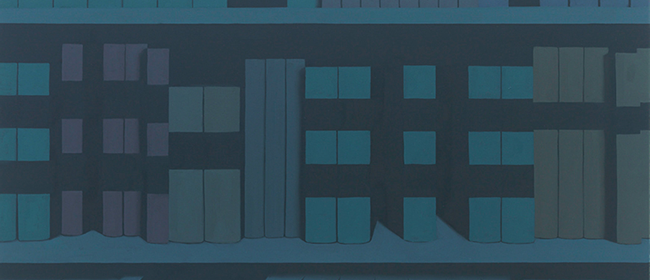 (click on image to enlarge)
The Painter's Other Library is a meditation on silence. The quiet of the library is evoked in the paintings as well as the history of the building and the galleries that house the exhibit. Themes in the work are also drawn from research into the Holocaust and the destructive program of the Nazis. While none of the work in the show explicitly states any of these histories, the formal choices of color, image and surface implicitly beg questions about how we perceive books and paintings and how we access and conceive knowledge. A painter keeps a library to engage these subjects. The Painter's Other Library provides models for giving them form.
Public Programs
Gallery Talk
Wednesday, June 4, 12:15pm; Thursday, July 17, 12:15pm
With Matthew Girson and Curator Greg Lunceford
Panel Discussion
Saturday, June 28, 1pm
With Paul Jaskot, Lise McKean and Matthew Girsonwith Paul Jaskot, Lise McKean and Matthew Girson
Musical Performance
Saturday, August 2, 7pm
Coppice will perform compositions for live electronics and bellows in the galleries exhibiting The Painter's Other Library. Chicago-based musicians, Noé Cuéllar and Joseph Kramer of Coppice investigate "breathturns" as they explore musical articulations of air across edges. In addition to performing in Chicago and the US, Coppice has exhibited in Iceland, Sweden, Greece, and the Netherlands. Its recordings are available through Quakebasket Records (US), caduc. (CA), Consumer Waste (UK), and Senufo Editions (IT).

---
Visit us:

Admission is FREE
Monday–Friday, 10am–7pm
Saturday–Sunday, 10am–5pm
(Closed Holidays)
Find us:
Chicago Cultural Center78 E. Washington St.Chicago, IL 60602
Take CTA to Chicago Cultural Center
From the elevated lines: exit at Washington/Wabash and walk east.
From the subway: exit at Lake (Red Line) or Washington (Blue Line) and walk east.
Served by Michigan Avenue buses 3, 4, 19, 20, 26, 60, 66, 124, 143, 147, 151, 157 and Washington St. buses 4, J14, 20, 56, 66, 147