Industry of the Ordinary: Sic Transit Gloria Mundi
August 17, 2012—February 17, 2013
Chicago Cultural Center, Sidney R. Yates Gallery, 4th Floor North
Chicago Cultural Center > Visual Art Program > Exhibitions > Past Exhibitions > Industry of the Ordinary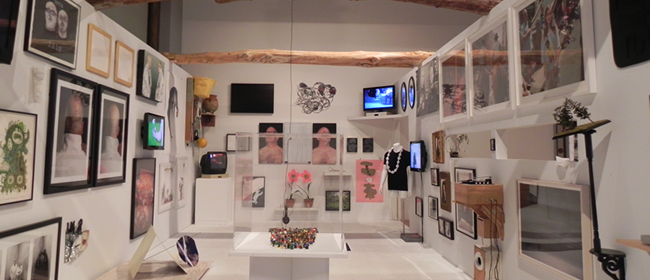 (click on image to enlarge)
While their work takes many forms, it is largely performative and seeking to engage the viewer as an inclusive display. The show includes a sampling from over 80 of the Industry of the Ordinary (IOTO) projects displayed with objects, photos and video documentation that includes "Line in the Sand" which engaged the public directly as the artists drew a line on State Street with a flesh-colored crayon to encourage on-lookers response.

Brooks and Wilson were raised in England but have been living and working in Chicago for many years and they will be sharing some of the exhibit with local artists including the platform stage which will change throughout the show.
Brooks and Wilson have solicited a number of Chicago-based artists to be part of Industry of the Ordinary: Sic Transit Gloria Mundi creating their portrait in a wide variety of media. IOTO will also produce Everyone 2012 , an animated scroll listing of all of the artists in Chicago.

---
Visit us:

Admission is FREE
Monday–Friday, 10am–7pm
Saturday–Sunday, 10am–5pm
(Closed Holidays)
Find us:
Chicago Cultural Center
78 E. Washington St.
Chicago, IL 60602
Take CTA to Chicago Cultural Center
From the elevated lines: exit at Washington/Wabash and walk east.
From the subway: exit at Lake (Red Line) or Washington (Blue Line) and walk east.
Served by Michigan Avenue buses 3, 4, 19, 20, 26, 60, 66, 124, 143, 147, 151, 157 and Washington St. buses 4, J14, 20, 56, 66, 147