Jean-Luc Mylayne: The Millennium Park Chapel
May 22–December 31, 2015
Millennium Park, Lurie Garden East Walkway
Millennium Park > Exhibitions > Jean-Luc Mylayne: The Millennium Park Chapel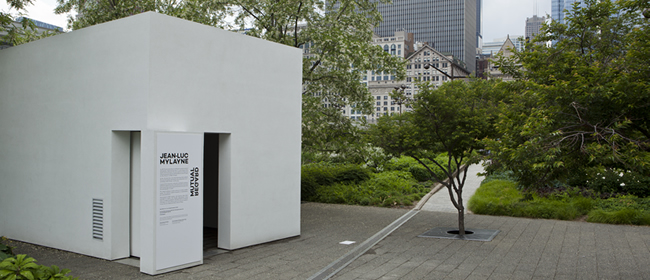 (click on image to enlarge)
French artist Jean-Luc Mylayne, acclaimed for his enigmatic color photographs of birds, has created a temporary Chapel building with a 30-foot photo mural on its ceiling. In a hushed and darkened space, these brilliantly lit images show a sparrow, miraculously perched on the exact corner of a square roof, seemingly just over our heads. The pavilion accompanies a new exhibition of photographs by Mylayne at the Art Institute of Chicago (May 22–August 23, 111 S. Michigan Ave.) and The Arts Club of Chicago (May 22–August 13, 201 E. Ontario St.).
Exhibit Events
The Air We Breathe
June 26-Aug. 21, 6pm
Join us for this series of sound performances by Chicago artists all working with breath to create a sonic landscape to complement Jean-Luc Mylayne's experience of breathing with a bird in order to photograph it.

Performances begin promptly at 6pm. Arrive early so you don't miss it—like a breath! Performances range from 5–20 minutes.
Performances in the series:
Friday, June 26: Claire Chase
Friday, July 3: Alejandro Acierto
Friday, July 17: Douglas Ewart
Friday, July 24: Graham Stephenson
Friday, August 7: Carol Genetti
Friday, August 14: Katherine Young
Friday, August 21: Nomi Epstein and Kenn Kumpf
Fancy Flying Feet
June 27, 11am-2pm
Under the watchful gaze of the sparrows perched in Jean-Luc Mylayne's chapel, children will create fantastic flying feet by designing high-flying felt wings for their sneakers!

All materials provided. Activities are best for kids ages 4–12, accompanied by an adult.

Presented with the Smart Museum of Art

---
Visit us:

Admission is FREE
Open Daily 6am–11pm
Welcome Center 9am–5pm
Plan Your Visit Here
---
Find us:
Millennium Park
201 E. Randolph St.
Chicago, IL 60601
---
Take CTA to Millennium Park
From the elevated lines: exit at Washington/Wabash and walk east.
From the subway: exit at Lake (Red Line) or Washington (Blue Line) and walk east.
Served by buses 3, 4, 6, J14, 20, 56, 60, 124, 146, 147, 151, 157
If parking, Millennium Garages are located at Millennium Park Garage and Millennium Lakeside Garage at 5 S. Columbus Drive, Grant Park North Garage at 25 N. Michigan Ave. and Grant Park South Garage at 325 S. Michigan Ave. Pre-purchase parking online and save up to 50% off drive-up rates.
Supporting Information Facts