OVERRIDE | A Billboard Project
September 17–October 7, 2018
Citywide • In collaboration with EXPO CHICAGO
Chicago Cultural Center > Visual Art Program > Exhibitions > Past Exhibitions > OVERRIDE | A Billboard Project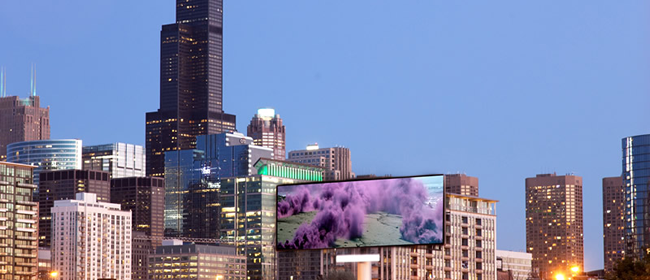 (click on image to enlarge)
EXPO CHICAGO, The International Exposition of Contemporary & Modern Art (September 27– 30, 2018), announces the full list of international artists featured in the third annual program for OVERRIDE | A Billboard Project, curated by the exposition's Director of Programming Stephanie Cristello, Exhibitor Relations & Programming Coordinator Alexis Brocchi and Chicago's Department of Cultural Affairs and Special Events (DCASE) Program Director Daniel Schulman. Aligning with the seventh exposition, this significant citywide public art initiative, on view September 17 – October 7, 2018, will feature the work of 12 artists represented by major local, national and international galleries exhibiting at the exposition displayed throughout Chicago's City Digital Network (CDN) of citywide billboards.
As part of a dedicated site-specific installation series, Chicago-based artist Theaster Gates will display his latest series Black Madonna (2018) exclusively on the billboard located at 515 W. Ida B. Wells Dr. (the recently renamed Congress Pkwy.). Running continuously on this single screen, the series interrogates and delves into the Johnson Publishing Archives, a collection of more than 15,000 items donated to Rebuild Foundation by Johnson Publishing Company including books, periodicals, ephemera, paintings and sculpture. The piece exposes and adopts the unique platform that the OVERRIDE program offers as a site both embedded in and critically engaged with the advertising language it adopts.

Unfolding at various points within the urban landscape, the OVERRIDE program builds upon the City of Chicago and DCASE's longstanding commitment to public art, and provides EXPO CHICAGO a key platform to showcase works by leading international artists beyond Navy Pier.

2018 OVERRIDE | A Billboard Project Participating Artists:
John Bankston | Rena Bransten Gallery, San Francisco
Olaf Breuning | Carbon 12, Dubai
Brian Calvin | Corbett vs. Dempsey, Chicago
Judy Chicago | Jessica Silverman Gallery, San Francisco and Salon 94, New York
Douglas Coupland | Daniel Faria Gallery, Toronto
Sam Durant | Praz-Delavallade, Paris, Los Angeles
Paul Heyer | Night Gallery, Los Angeles
Glenn Ligon | Luhring Augustine, New York, Brooklyn
Portia Munson | P.P.O.W, New York
Anahita Razmi | Carbon 12, Dubai
Lee Wan | 313 Art Project, Seoul
Amanda Williams and Andres L. Hernandez | Rhona Hoffman Gallery, Chicago
Theaster Gates | Richard Gray Gallery, Chicago, New York
View full list of titles, descriptions and images.
Supporting Information Facts
Additional Information