Pablo Helguera: Librería Donceles
January 30–May 29, 2016
Chicago Cultural Center, Garland Gallery, 1st Floor South
Chicago Cultural Center > Visual Art Program > Exhibitions > Past Exhibitions > Pablo Helguera: Librería Donceles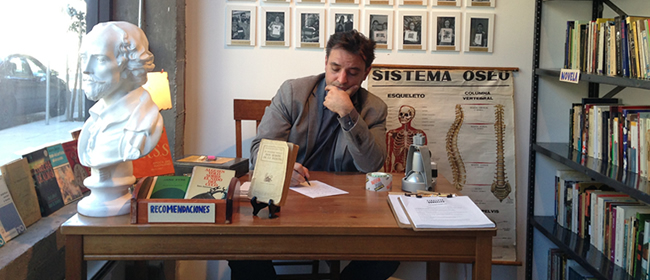 (click on image to enlarge)
Conceived by New York-based artist and educator Pablo Helguera, Librería Donceles is a traveling Spanish-language bookstore. Originating in Brooklyn in 2013 and named in reference to Mexico City's well-known street of book stalls, the second-hand bookstore has traveled to Miami, Phoenix, San Francisco and Seattle and draws attention to the dearth of access to books in Spanish. The store will be the locus of salon-like gatherings (tertulias) for conversations, performances and readings in partnership with literary center Contratiempo and others. After the close of the exhibition in Chicago, the installation will end and the books will be dispersed to Chicago schools and non-profit organizations.
30 de enero–29 de mayo 2016
Concebido por Pablo Helguera, artista y educador mexicano radicado en Nueva York, Librería Donceles es una librería en español itinerante. Iniciada en Nueva York en el 2013 y con nombre en referencia a la conocida calle de la Ciudad de México de librerías de viejo, Librería Donceles ha viajado a Miami, Phoenix, San Francisco y Seattle, y busca promover la literatura y cultura en la lengua española.
Public Programs
Bohemia / Jam Session
Every Tuesday / cada martes, 4:30–6:30pm
Todos están invitados a una convivencia en un ambiente de franca camaradería - donde la música, las canciones, los poemas, las anécdotas y sobre todo la espontaneidad, son el elemento principal. Están bienvenidos a participar ya sea cantando, haciendo coros, declamando o tocando algún instrumento musical. No es necesario saber cantar o tocar con virtuosismo sino con corazón. El programa será en español.
All are invited to share in the spirit of comradery - where music, song, poems, anecdotes and above all spontaneity are the principal elements. You are welcome to participate by singing, joining the chorus or playing your own musical instrument. It's not necessary to sing or play with grand expertise, but rather with heart. This program will be in Spanish.
Tertulia / Salon
Every Wednesday / cada miércoles, 4:30–6:30pm
Comparta con nosotros una tertulia, una reunión informal para discutir, debatir, informarse o compartir ideas y opiniones del tema literaria o artística. Estés tertulias semanales son basados en la tradición iberoamericana cuando reúnen en los cafés después de la comida del media día. Revisa la página web para informarse del tema de cada semana. Todas las tertulias serán en español.
Join us for a Tertulia, an informal salon to discuss, debate, inform, share ideas and opinions on topics of literary or artistic interest. These weekly salons or tertulias are based upon the Iberian American tradition of gathering in cafes following the main meal in the late afternoon. Check out the web page for weekly topics and speakers. Salons will be conducted in Spanish.
Talleres / Hands-on Workshops
Every Saturday/ cada sábado, 9:15am-12Noon
Aprenda español en un grupo pequeño, cortesia del Departamento de Familia & Servicios de Apoyo de Chicago (DFSS) - Renaissance Court.
Learn Spanish in a small group setting, courtesy of the Department of Family & Support Services – Renaissance Court.
Every Saturday/ cada sábado, 1-3 pm
Pásale por la oportunidad a crear una obra del arte influido por la exhibición y/o la cultura latinoamericana. Revisa la página web para informarse de las actividades de cada semana.
Drop in to make some art influenced by the exhibition and/or Latin American culture. Check out the web page for updated weekly activities.

---
Visit us:

Admission is FREE
Monday–Friday, 10am–7pm
Saturday–Sunday, 10am–5pm
(Closed Holidays)
Find us:
Chicago Cultural Center78 E. Washington St.Chicago, IL 60602
Take CTA to Chicago Cultural Center
From the elevated lines: exit at Washington/Wabash and walk east.
From the subway: exit at Lake (Red Line) or Washington (Blue Line) and walk east.
Served by Michigan Avenue buses 3, 4, 19, 20, 26, 60, 66, 124, 143, 147, 151, 157 and Washington St. buses 4, J14, 20, 56, 66, 147