Spontaneous Interventions: Design Actions for the Common Good
May 24–September 1, 2013
Chicago Cultural Center, Michigan Avenue Galleries, 1st Floor East
Chicago Cultural Center > Visual Art Program > Exhibitions > Past Exhibitions > Spontaneous Interventions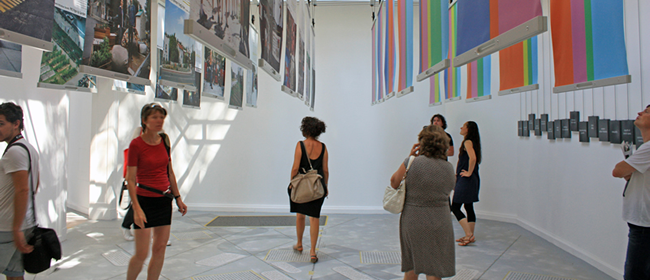 (click on image to enlarge)
Spontaneous Interventions: Design Actions for the Common Good featured 84 urban interventions initiated by architects, designers, planners, artists and everyday citizens that bring positive change to neighborhoods and cities.
Chicago is the first destination of the installation, which served as the U.S. representation at the 13th International Architecture Exhibition at the Venice Biennale (2012). The Chicago installation will recreate the lively exhibition design of pull-down banners, created by Brooklyn design studio Freecell and Berkeley-based communication design firm M-A-D. The contents of the exhibition have been updated to include more recent and more local projects. Among the 84 projects that will be presented, more than a dozen are from Chicago, including several that also appeared in Venice.
Spontaneous Interventions, organized by Cathy Lang Ho on behalf of the Institute for Urban Design, is devoted to the growing movement of architects, designers, artists, and everyday citizens acting on their own initiative to bring improvements to the urban realm, creating new opportunities and amenities for the public. The exhibition received over 178,000 visitors in Venice, and earned a Special Mention from the Golden Lion jury, the first time the United States has been honored in the history of the Venice Architecture Biennale.
Our goal with Spontaneous Interventions is to use the exhibition as a framework for understanding a larger movement, in which citizens all over the world are devising and implementing clever, low-barrier urban interventions to make their cities more inclusive, sustainable, pleasurable, and safer," said Cathy Lang Ho, a New York–based design journalist and curator. "For this reason, we have organized a rich roster of programs that will place the trend of tactical urbanism in the context local urban issues and citizen action." Program director is Samantha Topol, a Chicago editor and writer.
Artists and Organizations Featured in the Exhibition:
Candy Chang, Change Administration (Aurash Khawarzad), Center for Urban Pedagogy, COMMONstudio, CROP, Design 99, DSGN AGNC (Quilian Riano), Alexander Eisenschmidt with Cheng+Snyder, envelope a+d (Douglas Burnham), Experimental Station, Theaster Gates, Fritz Haeg, Hester Street Collaborative, LA Green Grounds, Latent Design, Public Media Institute (Ed Marzewski), Moving Design (Ric Valicenti and John Pobojewski), Neighborland, OpenPlans, Rockwell Group, Stamen, Street Plans Collaborative (Mike Lydon), Team Better Block, Jordan Seiler, WORKac, and more.

---
Visit us:

Admission is FREE
Monday–Friday, 10am–7pm
Saturday–Sunday, 10am–5pm
(Closed Holidays)
Find us:
Chicago Cultural Center
78 E. Washington St.
Chicago, IL 60602
Take CTA to Chicago Cultural Center
From the elevated lines: exit at Washington/Wabash and walk east.
From the subway: exit at Lake (Red Line) or Washington (Blue Line) and walk east.
Served by Michigan Avenue buses 3, 4, 19, 20, 26, 60, 66, 124, 143, 147, 151, 157 and Washington St. buses 4, J14, 20, 56, 66, 147