Strandbeest: The Dream Machines of Theo Jansen
February 6–May 1, 2016
Chicago Cultural Center, Exhibit Hall & Sidney R. Yates Gallery, 4th Floor North
Chicago Cultural Center > Visual Art Program > Exhibitions > Past Exhibitions > Strandbeest: The Dream Machines of Theo Jansen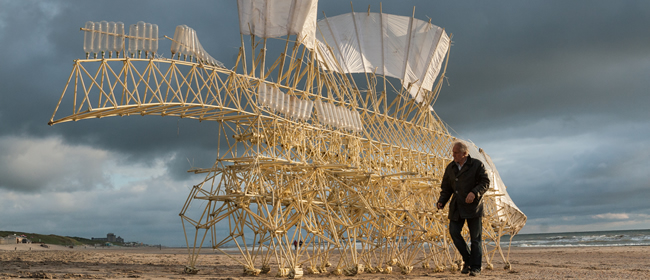 (click on image to enlarge)
In the first major American exhibition tour, Theo Jansen's wholly distinctive kinetic creations blur the lines of art, engineering, science and performance. The exhibition celebrates the thrill of the Strandbeests' locomotion and shows the processes that have driven their evolutionary development. The sculptures are accompanied by artist drawings, videos, daily demonstrations of the Strandbeests' movements, a display of retired "fossils" as well as photography by Lena Herzog, who spent more than seven years documenting the Strandbeests' evolution. Handlers will tend to the creatures and provide daily demonstrations of their animation and breath.
Reanimation Schedule
Daily demonstrations of the "beests"
Monday, Tuesday, Thursday, Saturday & Sunday

10:30–11am Walk with an Ordis
11:15am Suspendisse reanimation
11:30am–1pm Walk with an Ordis
1:30pm Segundas reanimation
2–3pm Walk with an Ordis
3:30pm Suspendisse performance
Wednesday & Friday
10:30am–1pm Walk with an Ordis
1:15pm Suspendisse reanimation
1:30–3pm Walk with an Ordis
3:30pm Segundas reanimation
4–5pm Walk with an Ordis
5:30pm Suspendisse performance

Strandbeest: The Dream Machines of Theo Jansen is organized by the Peabody Essex Museum (PEM), Salem, MA. Audemars Piguet, the tour's National Sponsor, provided generous support to PEM. Grant support provided to DCASE by the Consulate General of the Netherlands in New York, The Netherland-America Foundation and Peabody Essex Museum.

---
Visit us:

Admission is FREE
Monday–Friday, 10am–7pm
Saturday–Sunday, 10am–5pm
(Closed Holidays)
Find us:
Chicago Cultural Center
78 E. Washington St.
Chicago, IL 60602
Take CTA to Chicago Cultural Center
From the elevated lines: exit at Washington/Wabash and walk east.
From the subway: exit at Lake (Red Line) or Washington (Blue Line) and walk east.
Served by Michigan Avenue buses 3, 4, 19, 20, 26, 60, 66, 124, 143, 147, 151, 157 and Washington St. buses 4, J14, 20, 56, 66, 147
Photo Gallery
(Photo credit: James Prinz Photography)