"When we call the Earth by way of distinction a planet and the Moon a satellite, we should consider whether we do not, in a certain sense, mistake the matter. Perhaps - and not unlikely - the Moon is the planet and the Earth the satellite! Are we not a larger moon to the Moon, than she is to us?" by Christine Tarkowski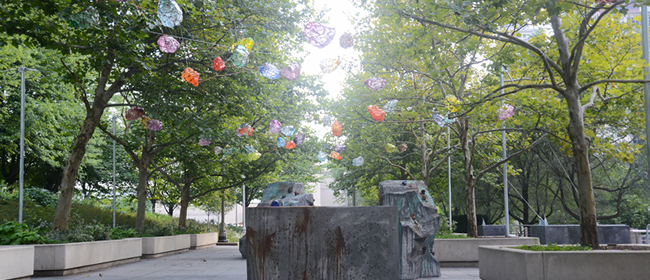 (click on image to enlarge)
Christine Tarkowski's work is as extravagantly conjured as its title, taken from the 18th-century British astronomer William Herschel. The startling presence of candy-colored hand blown glass boulders suspended above and about earthbound boulders evokes a strange, yet elemental landscape–ironically similar to our environment, both natural and built. The installation, set down in the midst of the highly manicured garden of Millennium Park, seems a gentle critique of how cities build, manipulate, and re-present natural forms.
Christine Tarkowski is a Chicago-based artist who works in a variety of mediums including sculpture, printed matter, photography and song. Her works range in scale from the ordinary to the monumental. Equally variable is her scope of production which incorporates the making of permanent architectural structures, cast models, textile yardage and temporary printed ephemera. Many of her recent works point toward the flotsam of western culture relative to systems of democracy, religion and capitalism. Her solo exhibitions include Whale Oil, Slave Ships & Burning Martyrs at Priska Juschka Fine Art in New York, Imitatio Dei at the Museum of Contemporary in Chicago and Last Things Will Be First And First Things Will Be Last at the Chicago Cultural Center. She is a professor in the Fiber and Material Studies Department at the School of the Art Institute of Chicago.

---
Visit us:

Admission is FREE
Open Daily 6am–11pm
Welcome Center 9am–5pm
Plan Your Visit
---
Find us:
Millennium Park
201 E. Randolph St.
Chicago, IL 60601
---
Take CTA to Millennium Park
From the elevated lines: exit at Washington/Wabash and walk east.
From the subway: exit at Lake (Red Line) or Washington (Blue Line) and walk east.
Served by buses 3, 4, 6, J14, 20, 56, 60, 124, 146, 147, 151, 157
If parking, Millennium Garages are located at Millennium Park Garage and Millennium Lakeside Garage at 5 S. Columbus Drive, Grant Park North Garage at 25 N. Michigan Ave. and Grant Park South Garage at 325 S. Michigan Ave. Pre-purchase parking online and save up to 50% off drive-up rates.