Love for Sale: The Graphic Art of Valmor Products
April 25–August 2, 2015
Chicago Cultural Center, Exhibition Hall, 4th Floor North
Chicago Cultural Center > Visual Art Program > Exhibitions > Past Exhibitions > Love for Sale: The Graphic Art of Valmor Products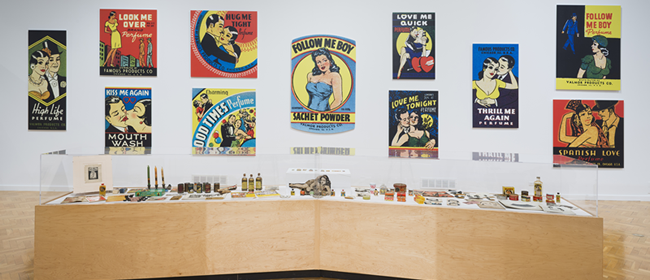 (click on image to enlarge)
Everybody wants love. And who doesn't want to have good luck and success in life? Or to look their best? Quietly operating from Chicago's South Side between the 1920s and 1980s, the Valmor Products Company offered all these things and more. Perfumes, hair pomades, incense, and a wide variety of other products came packaged in small bottles and tins with eye-catching labels affirming the mystical powers of the products within. Produced in small quantities and targeted to minority consumers, the distinctive graphic designs of Valmor's products were nearly forgotten. But in a lucky circumstance of historical "lost and found", the Chicago Cultural Center is displaying the first comprehensive exhibition of these remarkable works of graphic design. Tiny labels – some no bigger that a postage stamp - will be enlarged to poster-size using contemporary imaging technology. Also displayed will be vintage bottles, product containers and original artwork which in themselves embody complex stories of cultural history.
Public Programs
Exhibition Preview
April 24, 5:30–7:30pm
Gallery Talk
Saturday, July 18, 2pm
Gallery Talk with exhibition curator Tim Samuelson
Symposium
Race, Magic, Mojo: Explorations of Culture, Identity and Spirituality Download (PDF)
Friday, July 24, 6–8pm; Saturday, July 25, 12 Noon–5:30pm
A free, two-day Symposium examining the ongoing connections between race, appearance, social desirability and economic mobility in popular art, design and visual culture from the Valmor Products Company's heyday on Chicago's South Side (1920s-1980s) to now.

---
Visit us:

Admission is FREE
Monday–Friday, 10am–7pm
Saturday–Sunday, 10am–5pm
(Closed Holidays)
Find us:
Chicago Cultural Center78 E. Washington St.Chicago, IL 60602
Take CTA to Chicago Cultural Center
From the elevated lines: exit at Washington/Wabash and walk east.
From the subway: exit at Lake (Red Line) or Washington (Blue Line) and walk east.
Served by Michigan Avenue buses 3, 4, 19, 20, 26, 60, 66, 124, 143, 147, 151, 157 and Washington St. buses 4, J14, 20, 56, 66, 147