OEMC Encourages a safe Labor Day Weekend as citywide events continue including Bike The Drive, Chicago Jazz Festival, Arc Music Festival and the Chicago Football classic at Soldier Field
August 31, 2023
The Office of Emergency Management and Communications Encourages Residents to Stay Vigilant and Report Suspicious Activity by Calling 9-1
Another busy weekend in Chicago with the Chicago Triathlon as well as multiple festivals and concerts happening throughout the city. The Office of Emergency Management and Communications (OEMC) is advising residents and visitors to be aware of street closures, additional crowds, increased traffic and to plan accordingly.
This weekend, the City of Chicago will have citywide deployments to ensure the safety and security of the public. The OEMC will monitor weekend events and weather conditions citywide from the Operations Center and will coordinate public safety resources with critical stakeholders as needed. Traffic Control Aides (TCAs) will be on hand at select events citywide to direct flow and impacts from increased traffic.
Heat returns the weekend with temperatures going into the 90s but with lower heat indices. Residents and visitors are encouraged to hydrate, seek shade or air-conditioned spaces.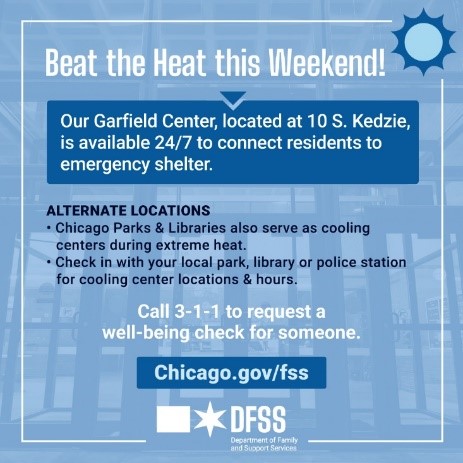 Report Suspicious Activity: If You See Something, Say Something™ OEMC reminds the public to be aware of their surroundings and to report suspicious activity – especially in large gatherings. If you notice something suspicious, notify onsite security or call 9-1-1. If You See Something, Say Something™ is a national anti-terrorism public awareness campaign that emphasizes the importance of reporting suspicious activity to law enforcement authorities.
Although the City has not received actionable threats, the Department of Homeland Security released an advisory on May 24, 2023 - National Terrorism Advisory System Bulletin. DHS emphasizes the continued heightened threat environment across the United States. It notes that "lone offenders and small groups motivated by a range of ideological beliefs and personal grievances continue to pose a persistent threat to the United States."
Chicago OEMC App – Know Before You Go
For safety and preparedness at your fingertips, residents and festival goers are encouraged to download the Chicago OEMC App. The public safety tool provides safety information, preparedness tips, emergency alerts, weather information and more in the palm of your hand. Users will also have access to current forecasts, radar, and other weather-related information as well. The app is available through the Apple App and Google Play stores or visit the website, Chicago.gov/OEMC.
Bike the Drive – DuSable Lake Shore Drive and Grant Park - Sunday, September 3
Bike the Drive is a popular highlight of the summer with bike riders on DuSable Lake Shore Drive from Hollywood to 57th Street on Sunday from 6:30 a.m. to 10:30 a.m., with a Festival wrapping up the event until 12:30 p.m. in Grant Park. Helmets are required for all bike riders on the course. Motorists should expect the closure in the morning and find alternate routes. For additional details, visit BiketheDrive.org.
Event Times and DuSable Lake Shore Drive Closures and Reopening
6 a.m.: DuSable Lake Shore Drive cleared of traffic
6:30 a.m.: Official Start Time
6:35–10:25 a.m.: Riders pass through Fullerton Ave and Oakwood Blvd checkpoints
10:30 a.m.: Bicycle Closures Begin
10:35 –10:45 a.m.: Checkpoints Redirected
10:45–11:15 a.m.: Rolling Re-Openings Begin
11:30–11:45 a.m.: Vehicular traffic fully restored to DuSable Lake Shore Drive
Chicago Jazz Festival – Millennium Park: Thursday, August 31 – September 3
The Chicago Jazz Festival kicks off at the Chicago Cultural Center at 11a.m. before moving to Millennium Park on today at 6:30 until 9 p.m. Festival hours for the Friday, September 1 – Sunday, September 3 are 11 a.m. – 9 p.m. For additional details, visit ChicagoJazzFestival.us.
Millennium Park Safety and Security Policies:
Guests will be required to enter all Pritzker Pavilion events through special entrances off Randolph and Monroe streets. Visit Cloud Gate, Crown Fountain, and other attractions via entrances off Michigan Avenue.
Guest under the age of 18 must be accompanied by an adult (21 years and older) after 6pm, Thursday through Sunday — and may be asked to present a valid ID. The adult must be present for the duration of the visit and may escort up to four young people.
Outside alcohol will not be allowed. Alcohol will be available for purchase inside the venue.
Arc Music Festival – Union Park: Friday, September 1 – Sunday, September 3
Arc Music Festival is located at Union Park at 1501 W. Randolph St, Friday through Sunday from 2 p.m. to 10 p.m.
Street Closures:
Randolph St – Ogden Ave to Lake St
Washington Blvd – Ashland Ave to Randolph St
Warren Blvd– Ogden Ave to Ashland Ave
Ashland Ave – Ogden Ave to Warren Blvd (Curb lane closures only)
For additional details, visit arcmusicfestival.com
Taste of Polonia – Friday, September 1 – Sunday, September 3
Located at the Copernicus Center, 5216 W. Lawrence on Friday, September 1, 5 p.m.- 10:30 p.m.; Saturday, September 3 and Sunday, September 3, noon – 10:30 p.m. and Monday, September 4, noon - 9:30 p.m. For additional details, visit topchicago.org/schedule/ .
25th Annual Chicago Football Classic – Soldier Field on Saturday, September 2
The 25th annual Chicago Football Classic and associated events will take place over Labor Day weekend. This year the Mississippi Valley State University will take on Central State University. Kickoff is at 3 p.m., parking lot opens at 11 a.m. and gates open 1 p.m. For additional details, visit chicagofootballclassic.org
Labor Day Parade and Eddie Festival – Pullman (George) Park, Saturday, September 2
Organized and run by the Chicago Federation of Labor, the parade seeks to celebrate union pride, solidarity, and community togetherness. The parade will step off at noon at 108th and Cottage Grove and marching south to 113th Street. Eddie fest will begin immediately following at noon until 6p.m. For additional details, visit chicagolaborparade.com.
Navy Pier Fireworks
Saturday, September 2, 10 p.m.
For complete details, visit NavyPier.org
Taste of Chicago Closures Begin Tuesday, September 5th
Taste of Chicago in Grant Park begins Sunday, September 8 and runs through September 10; however, street closures will be in place beginning at 10 a.m. on Tuesday, September 5 and all streets reopen on Monday, September 11 by 4 p.m.
Columbus from Balbo to Monroe
Ida B Wells from Michigan to Columbus.
Jackson from Michigan to Lake Shore.
Chicago White Sox vs Detroit Tigers at Guaranteed Rate Field
Friday, September 1 at 7:10 p.m., Saturday, September 2 at 6:10 p.m., and Sunday, September 3 at 1:10 p.m.
Public Transportation: For all large events, public transportation is encouraged. Public transit is the most affordable, convenient, and environmentally friendly way to get to and from summertime events. For more information, visit CTA and Metra.com. Metra will operate a Sunday/Holiday schedule on Monday, September 4 - Labor Day. Alcohol will be prohibited on all Metra trains.
Although the excessive heat Is not part of the forecast this weekend, it's important to stay hydrated during outdoor activities and to plan ahead before heading out.
Weather and Public Safety: OEMC will monitor events through a collaboration with public safety partners. OEMC advises Chicagoans to be aware of weather conditions and to follow instructions and heed all warnings from public safety officials. Residents are encouraged to check the weather before heading out. For the most up-to-date information, please tune into local media or download a weather app.
OEMC issues alerts and notifications needed to keep residents and attendees up to date on weather conditions and emergencies.
Sign up for NotifyChicago alerts at org
CHILAKE: For lakefront notices, TEXT "CHILAKE" to 7-8-0-1-5
CHIBIZ: For alerts affecting businesses, TEXT "CHIBIZ" to 6-7-2-8-3
Grant Park and Lakefront Poles Markers/Location Identifiers: For public safety on the lakefront, residents and visitors are reminded to be aware of the numbers attached to the light poles throughout the Grant Park area and along the lakefront. The green signs with white letters and numbers are also located from 2400 N. DuSable Lake Shore Drive to 6600 S. DuSable Lake Shore Drive, and on the lakefront from Oak Street to Fullerton and Montrose to Foster Avenue to help residents reference their location within the park to friends, family and first responders if there is an emergency and you call 9-1-1.
For additional information on emergency preparedness information, visit the OEMC website at Chicago.gov/OEMC. Follow the Office of Emergency Management and Communications on Facebook (@coemc), Twitter (@ChicagoOEMC) and Instagram (chicago_oemc_911).
# # #
About OEMC
Chicago's Office of Emergency Management and Communications (OEMC) oversees several functions that support public safety and provides assistance to residents 24 hours a day, 365 days a year. The OEMC manages the following operational areas for the city: 9-1-1 call taking and dispatch; the 3-1-1 call center; emergency management; and traffic management. The OEMC coordinates with departments citywide, including the Chicago Police Department and Chicago Fire Department, in addition to various other local, state, and federal agencies as it relates to public safety planning and coordination for everything from large-scale special events to public safety emergencies and disasters.