National Preparedness Month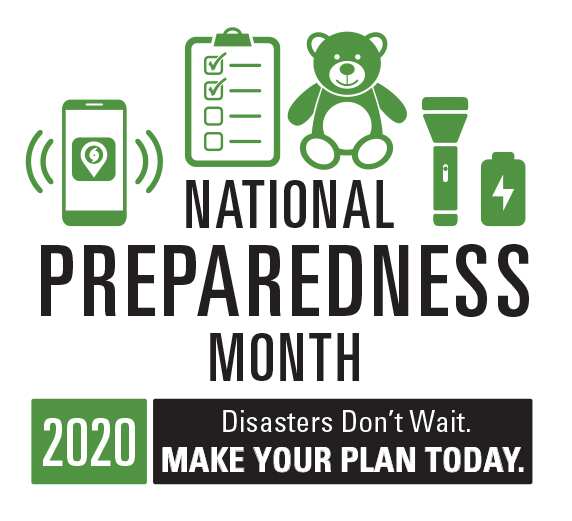 The Chicago Office of Emergency Management and Communications (OEMC) in conjunction with the Federal Emergency Management Agency (FEMA) is encouraging residents to participate in National Preparedness Month throughout the month of September. National Preparedness Month (NPM) is recognized each year to promote family and community disaster planning now and throughout the year.
The 2020 National Preparedness Month theme is "Disasters Don't Wait. Make Your Plan Today." Each week will offer an activity residents can perform on their own or with family and friends. OEMC will also present videos and outreach to educate residents throughout the city. Emergency preparedness information, tips and helpful links are available on OEMC's website at Chicago.gov/OEMC.
• September 1-5: Make A Plan: Know how to prepare for disasters that include how you will communicate with family and friends during disasters, reviewing insurance papers, and much more.
• September 6-12: Build A Kit: You'll need items to survive during a disaster that includes supplies you may need at home as well as a go kit of items you may need if you must evacuate quickly to a safer location.
• September 13-19: Prepare for Disasters: Find out the best way to limit the impacts a disaster may have, like having the right insurance coverage or what can you do to your home to make it stronger and more resilient.
• September 10-26: Teach Youth About Preparedness: Take the time now and talk with your children to reassure them. Teach them lessons on preparedness. Make family preparedness a fun annual event.
• September 1-30: Sign-up for Smart911 – www.Smart911.com
• September 24: Public Safety Vendor Fair on WebEx hosted by OEMC
• September 24: See Something, Say Something Campaign with DHS

Smart911 – Create a Safety Profile TODAY!
To better assist those needing 9-1-1 services, create a free, secure Safety Profile for yourself and household that includes information you want 9-1-1 and first responders to have in the event of an emergency. A Smart911 profile immediately provides the call taker with details that can be used to facilitate a quick response and added information emergency personnel should know when responding to save time in order to save lives.
To create a Smart911 profile, download the Smart911 mobile app or to learn more, go to www.Smart911.com or connect via OEMC's website at www.Chicago.gov/OEMC.
The Chicago Department of Health will also provide actions residents should complete in the event of a public health emergency caused by a snow storm, an outbreak of infectious disease like COVID-19 or a lengthy power outage that limits access to supplies and services for several days, especially those who are medically dependent on electricity. Details can be found at www.chicago.gov/prepare. For tips and updates on the COVID-19 pandemic, visit www.Chicago.gov/coronavirus
Link to @ChicagoOEMC (Twitter)
Link to OEMC on Facebook
Link to OEMC on Instagram
Supporting Information Facts
Department:
Programs & Initiatives: