The Chicago Department of Cultural Affairs and Special Events (DCASE) offers more than 2,000 high-quality free exhibitions, concerts, theatrical and dance performances, films, lectures and discussions, family events and other programs each year at the historic Chicago Cultural Center, Millennium Park, Grant Park, and other venues throughout the city.
The Visual Art Program at the Chicago Cultural Center is dedicated to presenting compelling exhibitions of fine art in all media, encompassing historic as well as contemporary art. Special emphasis is placed on emerging and underrepresented artists, particularly those who live and work in the Chicago area. Visit our Visual Art Program page for more information.
DCASE also presents some of Chicago's most popular Festivals and special events, including Taste of Chicago, Chicago Blues Festival, Chicago SummerDance, Chicago Jazz Festival, World Music Festival and others. Visit our Chicago Festivals page for more information.
Several attractions and venues managed by DCASE are also available for private rental. Visit our Rental Services page for more information.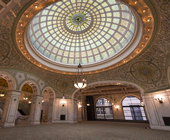 Drawn by its beauty and the world-class free public events, hundreds of thousands of visitors come the Chicago Cultural Center every year, making it one of the most visited attractions in Chicago. Every year, the Chicago Cultural Center presents more than 700 free music, dance and theater events, films, lectures, art exhibitions and family events, providing a showcase where the public can enjoy and learn about the arts.
Visit the Chicago Cutural Center website for more information.

Millennium Park is an award-winning center for art, music, architecture and landscape design. Among the park's prominent features are the Jay Pritzker Pavilion, the Crown Fountain, the Lurie Garden and the Cloud Gate sculpture. Hundreds of free concerts, performances, art exhibitions, and family events are presented on the Pritzker Pavilion stage and in other parts of the park each year. Free winter ice skating is also offered.
Visit the Millennium Park website for more park and event information.
Whether it's highlighting the season with Halloween activities or hosting solemn occasions such as the Memorial Day wreath laying ceremony, this is where the city and its people come together. Ethnic festivals are featured year round with music and dance performances, food specialties and cultural traditions.
Noontime Performance Application
Under The Picasso Monthly Schedule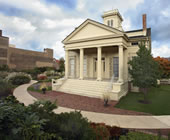 Built in 1836 for Henry B. Clarke, the Clarke House Museum is Chicago's oldest house. This Greek Revival style house shows what life was like for a middle-class family in Chicago during the city's formative years before the Civil War. It has survived fires and two moves, and is now located in the Prairie Avenue Historic District.
Visit the Clarke House website for more information.