Alexis Rockman: The Great Lakes Cycle
June 2–October 1, 2018
Chicago Cultural Center • Exhibit Hall, 4th Floor North
Chicago Cultural Center > Visual Art Program > Exhibitions > Past Exhibitions > Alexis Rockman: The Great Lakes Cycle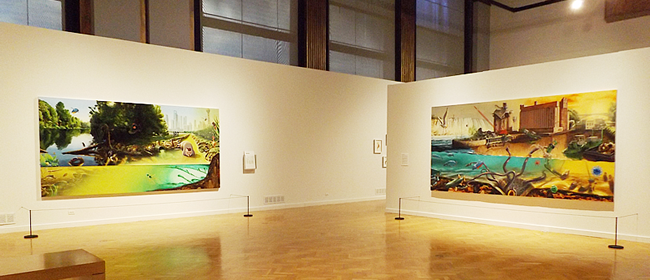 (click on image to enlarge)
This multi-faceted project explores the past, present and future of North America's Great Lakes – one of the world's most emblematic and ecologically significant ecosystems. Painted in Rockman's signature, meticulous but visionary hyper-realist style, the works in the exhibition are anchored by five mural-sized (72" x 144") oil paintings, each exploring a theme that emerged during Rockman's field research and engagement with lake experts. Alexis Rockman: The Great Lakes Cycle is organized by the Grand Rapids Art Museum.
For more information on Alexis Rockman, visit www.artmuseumgr.org.
Public Programs
Gallery Talk with Daniel Schulman
Thursday, September 6, 12:15pm
Exhibit Hall, 4th Floor North
Panel Discussion: Looking Closely, Leaping In
Sunday, September 9, 2–3:30pm
Exhibit Hall, 4th Floor North
In conjunction with the exhibition Alexis Rockman: The Great Lakes Cycle, seven Chicagoans working in creative fields gather to discuss the impact of Lake Michigan on their work and lives: Alison Cuddy, Paul D'Amato, Barbara Koenen, Jin Lee, Louise LeBourgeois, Ovetta Sampson and David Travis.
Gallery Talk on Current Chicago Cultural Center Exhibitions
Thursday, September 20, 12:15pm
Starts in the Chicago Rooms, 2nd Floor North

---
Visit us:

Admission is FREE
Monday–Friday, 10am–7pm
Saturday–Sunday, 10am–5pm
(Closed Holidays)
Find us:
Chicago Cultural Center
78 E. Washington St.
Chicago, IL 60602
Take CTA to Chicago Cultural Center
From the elevated lines: exit at Washington/Wabash and walk east.
From the subway: exit at Lake (Red Line) or Washington (Blue Line) and walk east.
Served by Michigan Avenue buses 3, 4, 19, 20, 26, 60, 66, 124, 143, 147, 151, 157 and Washington St. buses 4, J14, 20, 56, 66, 147