Phyllis Bramson: Under the Pleasure Dome
June 4–August 28, 2016
Chicago Cultural Center, Exhibit Hall, 4th Floor North
Chicago Cultural Center > Visual Art Program > Exhibitions > Past Exhibitions > Phyllis Bramson: Under the Pleasure Dome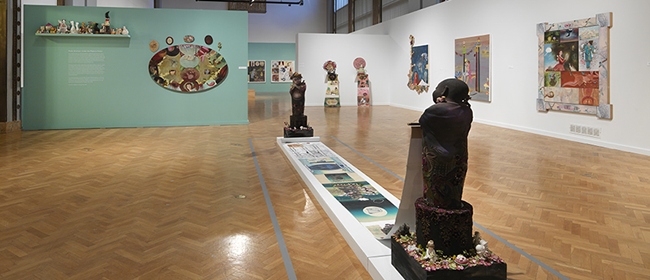 (click on image to enlarge)
Phyllis Bramson is an enigmatic and influential artist and professor in the Chicago art world. Her lush colors, coy figuration and wholehearted embrace of the decorative in the service of masterfully composed assemblages and paintings that draw the viewer ever further in to many layered stories are continuous threads in her decades long practice of artmaking and teaching. Bramson's use of kitsch objects, erotic overtones and Orientalist references creates lightly veiled, deeply complex works. The Chicago Cultural Center's exhibition "Under the Pleasure Dome" is a wide selection of paintings and assemblages drawn from the artist's collection and illustrative of her work over many years including examples of her most recent "scroll" series.
Public Programs
Exhibition Preview with the Artist
Friday, June 3, 5–7pm
Exhibit Hall, 4th Floor North
Panel Discussion "Coming to Terms with Orientalism: Forbidden Terrain for Artists?"
Tuesday, June 14, 6–7:30pm
Claudia Cassidy Theater, 2nd Floor North
Panelists: Lisa Yun Lee, Director of the School of Art and Art History, University of Illinois Chicago; Laura Kina, Artist and Professor of Art, Media and Design, DePaul University; Lynne Warren, curator, Museum of Contemporary Art Chicago; Doug Stapleton, Artist and Associate Curator of Art, Illinois State Museum Chicago Gallery; and moderated by Phyllis Bramson.
Michigan Avenue Landscaping
In a special tribute this summer, the Chicago Department of Transportation will take inspiration from Phyllis Bramson's artwork for the design and color palette of the median landscaping along Michigan Avenue from Roosevelt Road to Oak Street. Starting in June, the swirls of colored plantings will grow and change throughout the season.
For more information about this landscape project download the PDF or visit the CDOT website.

---
Visit us:

Admission is FREE
Monday–Friday, 10am–7pm
Saturday–Sunday, 10am–5pm
(Closed Holidays)
Find us:
Chicago Cultural Center78 E. Washington St.Chicago, IL 60602
Take CTA to Chicago Cultural Center
From the elevated lines: exit at Washington/Wabash and walk east.
From the subway: exit at Lake (Red Line) or Washington (Blue Line) and walk east.
Served by Michigan Avenue buses 3, 4, 19, 20, 26, 60, 66, 124, 143, 147, 151, 157 and Washington St. buses 4, J14, 20, 56, 66, 147