Chicago Architecture Biennial
September 19, 2019—January 5, 2020
Chicago Cultural Center, Building Wide
Chicago Cultural Center > Visual Art Program > Exhibitions > Past Exhibitions > Chicago Architecture Biennial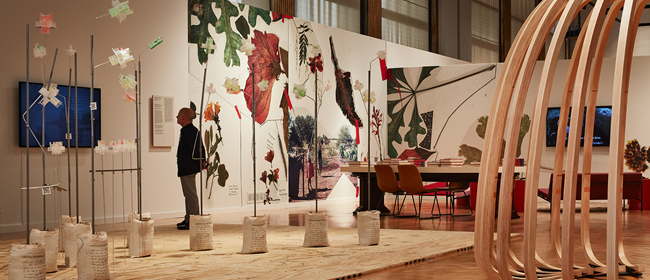 (click on image to enlarge)
See exhibitions, performances, films and talks at the 2019 Chicago Architecture Biennial and explore how architecture shapes our communities, cities and environment. The main exhibition at the Chicago Cultural Center is free and open to the public from September 19, 2019 through January 5, 2020.
As the largest exhibition of contemporary art, architecture, and design in North America, the third edition of the Biennial features over 80 contributors from more than 20 countries. More than 40 sites and 100 organizations across Chicago will partner with the Biennial, serving as host venues and producing independent exhibitions and programs throughout the neighborhoods.
For more information, visit chicagoarchitecturebiennial.org.

---
Visit us:

Admission is FREE
Monday–Friday, 10am–7pm
Saturday–Sunday, 10am–5pm
(Closed Holidays)
Find us:
Chicago Cultural Center
78 E. Washington St.
Chicago, IL 60602
Take CTA to Chicago Cultural Center
From the elevated lines: exit at Washington/Wabash and walk east.
From the subway: exit at Lake (Red Line) or Washington (Blue Line) and walk east.
Served by Michigan Avenue buses 3, 4, 19, 20, 26, 60, 66, 124, 143, 147, 151, 157 and Washington St. buses 4, J14, 20, 56, 66, 147
Photo Gallery
(Photo credit: Kendall McCaugherty)