Paul Catanese: Visible From Space
July 9–September 27, 2016
Chicago Cultural Center, Sidney R. Yates Hall, 4th Floor North
Chicago Cultural Center > Visual Art Program > Exhibitions > Past Exhibitions > Paul Catanese: Visible From Space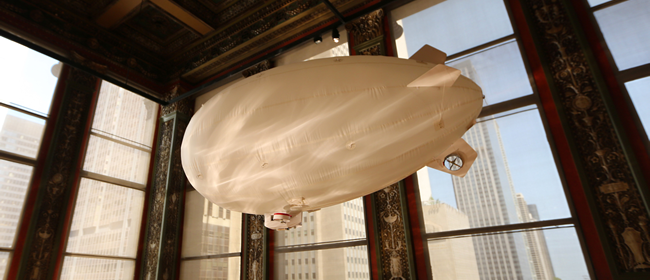 (click on image to enlarge)
For his premier solo exhibition in Chicago, artist Paul Catanese creates an interdisciplinary artwork that ponders the creation of Earthly drawings as seen from the Moon. Following experiments involving camera-equipped aerial vehicles – from kites to rockets to drones – flown over high desert settings, this artist residency and exhibition will create both operating theater and theater of operations in an embrace of the scientific, military and pedagogic connotations of these terms. The artist will compose large-scale diagrammatic drawings on the ground level using various props and then, at regularly scheduled intervals, pilot a 12-foot helium-filled blimp to fly over, observe, project and record aerial footage of the evolving "viewed from the moon" works. Viewers are encouraged to visit multiple times to witness the evolution of this project intermingling an artists' studio, film set, black box theater and site-specific installation.
Internationally-exhibited hybrid media artist Paul Catanese blurs the lines between visual, performing and media arts in a diverse range of works that include installation, printmaking, sculpture, handmade paper, artists' books, video and projections. His work has been exhibited at the Whitney Museum of American Art (New York, NY), the New Museum of Contemporary Art (New York, NY), SFMOMA Artist's Gallery (San Francisco, CA), La Villette (Paris, France) and the China Academy of Art (Hangzhou, China) and screened at the Bangkok Experimental Film Festival (Bangkok, Thailand), Stuttgart Filmwinter (Stuttgart, Germany), FILE (Sao Paulo, Brazil), ANIMAC (Barcelona, Spain), ExUrban Screens (Melbourne, Australia), New Forms Festival (Vancouver, Canada) and ISEA2014 (Dubai, UAE). He has received commissions from Rhizome.org and Turbulence.org and, most recently, was awarded a 2014 Efroymson Contemporary Arts Fellowship. Catanese is Associate Professor of Art & Art History and Director of the Interdisciplinary Arts & Media MFA Program at Columbia College Chicago.
Public Programs
Artist working on site
Tuesdays–Saturdays, 10am–5pm
Scheduled blimp flights
Tuesdays, Thursdays & Saturdays, 12 Noon
Exhibition Preview with the Artist
Friday, July 8, 5–7pm
Sidney R. Yates Hall, 4th Floor North
Conversation: A Lunch Hour of Curiosities with City of Chicago Cultural Historian Tim Samuelson
Wednesday, July 20, Noon
Sidney R. Yates Hall, 4th Floor North
Artist Talk
Wednesday, August 17, 12–1pm
Sidney R. Yates Hall, 4th Floor North
Performance
Music For Blimps
During the scheduled blimp flight, Paul Catanese and visiting artist Chris Kallmyer will improvise a sound composition using blimp, woodblock, brass bell, blacksmith bellows and trumpet.
Saturday, September 10, 12–1pm
Sidney R. Yates Hall, 4th Floor North
Lecture
Aereality: How We See the World from Above by William L. Fox of the Center for Art + Environment at the Nevada Museum of Art in Reno
Tuesday, September 13, 6:30–8pm
Claudia Cassidy Theater, 2nd Floor North
Special Event
Live Stream World Local
Visit paulcatanese.com/live at 3pm, 7pm and 11pm CST to experiences a series of blimp flights and online Q&A with the artist. Extended gallery hours until 9pm will allow Chicago audiences to witness the 3pm and 7pm flights in person.
Friday, September 16, 3pm, 7pm & 11pm
Sidney R. Yates Hall, 4th Floor North

---
Visit us:

Admission is FREE
Monday–Friday, 10am–7pm
Saturday–Sunday, 10am–5pm
(Closed Holidays)
Find us:
Chicago Cultural Center78 E. Washington St.Chicago, IL 60602
Take CTA to Chicago Cultural Center
From the elevated lines: exit at Washington/Wabash and walk east.
From the subway: exit at Lake (Red Line) or Washington (Blue Line) and walk east.
Served by Michigan Avenue buses 3, 4, 19, 20, 26, 60, 66, 124, 143, 147, 151, 157 and Washington St. buses 4, J14, 20, 56, 66, 147