Cleveland Dean: Recto/Verso – Duality of a Fragile Ego
February 3–July 29, 2018 (February 9, 5–8pm: Exhibition Open House)
Chicago Cultural Center • Michigan Avenue Galleries, 1st Floor South
Chicago Cultural Center > Visual Art Program > Exhibitions > Past Exhibitions > Cleveland Dean: Recto/Verso – Duality of a Fragile Ego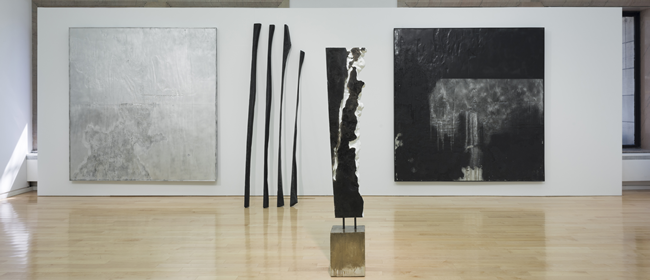 (click on image to enlarge)
The abstract and conceptual works by Cleveland Dean are presented through a wide range of prosaic materials executed in mixed-media on panels and sculptures. The charred and highly reflective surfaces, grids, wood, cement and resin create tension-filled objects that invite the viewer to reflect into their own psyche and remind them that they are greater than they may believe.
Public Programs
Meet the Artist Activity
Fridays, July 6 & 20, 10am-2pm
Learning Lab, 1st Floor West
Artist Talk
Thursday, July 12, 5:30-6:30pm
Michigan Avenue Galleries, 1st Floor East
Artist Cleveland Dean will speak about his artwork, his creative process and how he seeks to engage viewers.

---
Visit us:

Admission is FREE
Monday–Friday, 10am–7pm
Saturday–Sunday, 10am–5pm
(Closed Holidays)
Find us:
Chicago Cultural Center
78 E. Washington St.
Chicago, IL 60602
Take CTA to Chicago Cultural Center
From the elevated lines: exit at Washington/Wabash and walk east.
From the subway: exit at Lake (Red Line) or Washington (Blue Line) and walk east.
Served by Michigan Avenue buses 3, 4, 19, 20, 26, 60, 66, 124, 143, 147, 151, 157 and Washington St. buses 4, J14, 20, 56, 66, 147
Photo Gallery
(Photo credit: James Prinz Photography)