Art and Race Matters: The Career of Robert Colescott
December 4, 2021–May 29, 2022
Chicago Cultural Center, Exhibit Hall, 4th Floor North
DCASE Homepage > Chicago Cultural Center > Exhibitions > Art and Race Matters: The Career of Robert Colescott
COVID-19 Update
For the health and safety of our visitors and staff, DCASE is taking necessary precautions for all its programs and venues. Please wear face coverings and keep your social distance. Learn more about the City's response to COVID-19 and its vaccination efforts at chicago.gov/covid.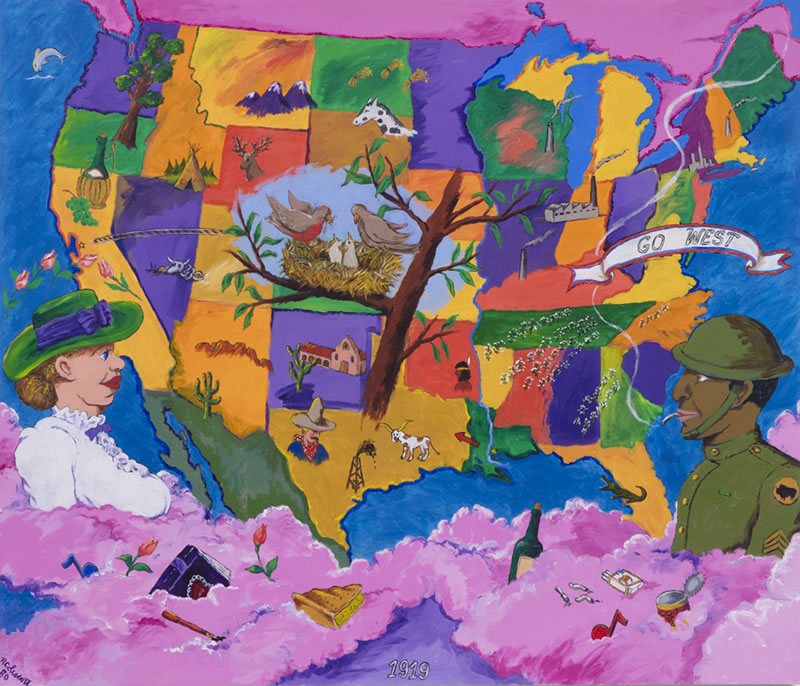 (click on image to enlarge)
GO WEST, 1980. Acrylic on canvas. Courtesy of The Robert H. Colescott Separate Property Trust and Blum & Poe, Los Angeles/New York/Tokyo. Photo Credit: Joshua White. © 2021 The Robert H. Colescott Separate Property Trust / Artists Rights Society (ARS), New York.
Art and Race Matters: The Career of Robert Colescott is the first comprehensive retrospective of one of America's most compelling and controversial artists, Robert Colescott (1925-2009). In his large-scale paintings, Colescott confronted deeply embedded cultural hierarchies involving race, gender, and social inequality in America with fearless wit and irony.
Advisory: This exhibition contains mature content including nudity — and uses the language of visual and verbal stereotype to critique and expose racism and sexism in American culture.
Exhibition Programming
Gallery Talks
Wednesdays, February 16 and April 13, 12:15–1pm
With Daniel Schulman, DCASE Director of Visual Arts, in the Exhibit Hall
Known for his imaginative paintings that exposed society's failures and shortcomings in matters of race and sex, Robert Colescott (1925-2009) broke new ground in contemporary art through his colorful, humorous and often stinging visual satires. From the vantage points of a performance artist, an art historian and a scholar of literature, theater and performance studies, a panel of discussants will reflect on Colescott's brilliant, provocative art, especially in the context of performativity, artistic subversions of racial stereotypes and Black cultural "satiracy."
Colescott Night: comedy and performances curated and hosted by Melissa DuPrey
Monday, December 13, 6-9:30pm
Main program in Preston Bradley Hall featuring Taneshia "Just Nesh" Rice, Calvin Evans and Windy Indie (7–8:30pm)
DJ sets by Sadie Woods in the Exhibit Hall (6–7pm and 8:30–9:30pm)
A screening of Colescott's Dulacrow's Masterpiece mockumentary (6–7pm) in Preston Bradley Hall
Art and Race Matters: The Career of Robert Colescott exhibition open 10am-9:30pm
Artist bios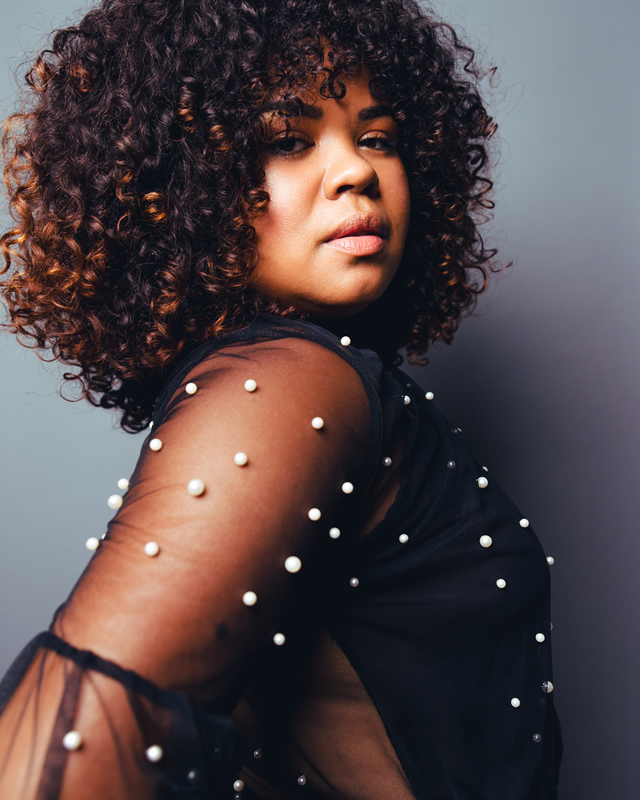 Melissa DuPrey (Colescott Night curator and emcee) is a multidisciplinary artist with roots from Chicago's Humboldt Park. She is a critically-acclaimed solo artist whose work spans over a decade, highlighting the intersections of Blackness, queerness, healing, and sexuality. She has performed stand-up comedy in Chicago, New York, New Jersey, Philadelphia, and Los Angeles. Her stage appearances include work with Court Theater, Goodman Theater, Steppenwolf, Sideshow Theater (as Artistic Associate), UrbanTheater Company (as Ensemble Member) and Oracle Theater. She can currently be seen as Dr. Sara Ortiz on Grey's Anatomy and has been on the cast of Empire, The Resident, Chicago PD, and The Chi.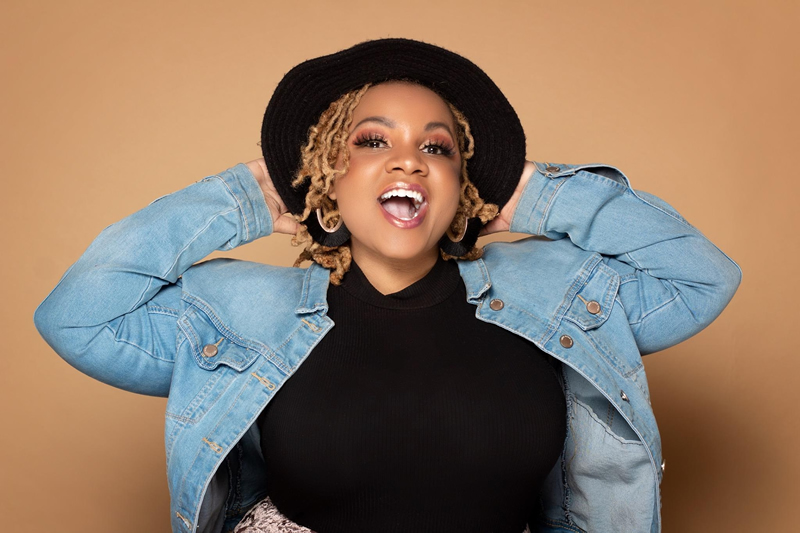 Taneshia "Just Nesh" Rice is a quickly rising standup comedian from Chicago with her boundless energy and easily relatable nature making her a hit for audiences across the country. Nesh's first big break came in 2016 when she was selected to be a part of the first season of Comedy Central's Kevin Hart Presents: Hart of the City -- her set was so well received that Hart and Comedy Central quickly offered her own half-hour special, The Next Level. In 2018 Nesh appeared in Russell Simmons' stand-up showcase All Def Comedy, alongside comedy heavyweights DeRay Davis, Deon Cole, and more. Nesh has also made appearances on Laff Tracks and, most recently, on Mo'Nique & Friends comedy special.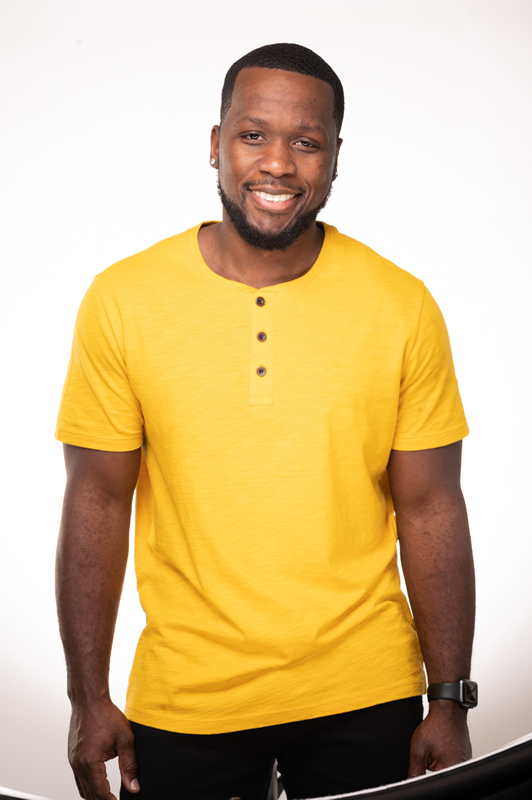 After beginning his comedy life in college, Chicago native Calvin Evans' returned home and was named Chicago's Next Big Comic. He received a Puma Scholarship to attend The Second City Training Center, and upon completing their Improv Conservatory program, was awarded a Bob Curry Fellowship. With stand-up as his focus, Calvin traveled the country performing at colleges and clubs. In 2017 he was recognized as a New Face at the Just For Laughs Comedy Festival in Montreal. In 2018 he was a finalist in the nationwide NBC Standup competition. His television credits include APB, Chicago PD, Sherman's Showcase and Shameless, and in a recurring role on the hit show Southside. Calvin has performed stand-up on Kevin Hart's Hart of The City, LOL @ JFL, Laff Tracks, Bring the Funny and Conan, and his half hour Unprotected Sets special released in 2020 on EPIX.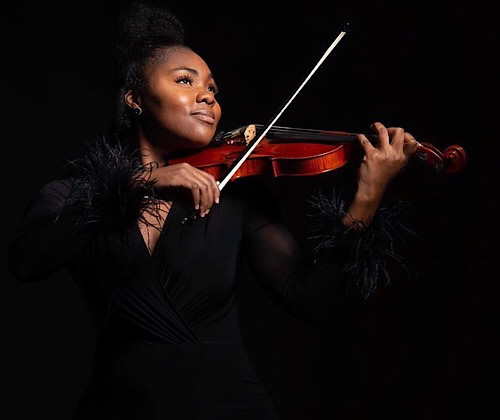 A classically trained violinist hailing from the West Side of Chicago, Windy Indie is an artist aspiring to bridge the gap between music and education. Through her work—which is a soulful blend of Hip-Hop, Pop, Classical, and Folk music—she articulates her vision with a sharp musicality, composing fresh ideas to all demographics to widen their range of sound. Coming from a family of educators, Windy Indie is also a teachign artist in schools and youth programs across Chicago. Windy Indie has performed performing at the Chicago Blues Festival, the House of Blues and at a plethora of private venues and shows, and has had multiple TV appearances on Empire. With dreams of opening a music school and ideals helmed in philanthropy, Windy Indie strives to connect with people on a universal scale.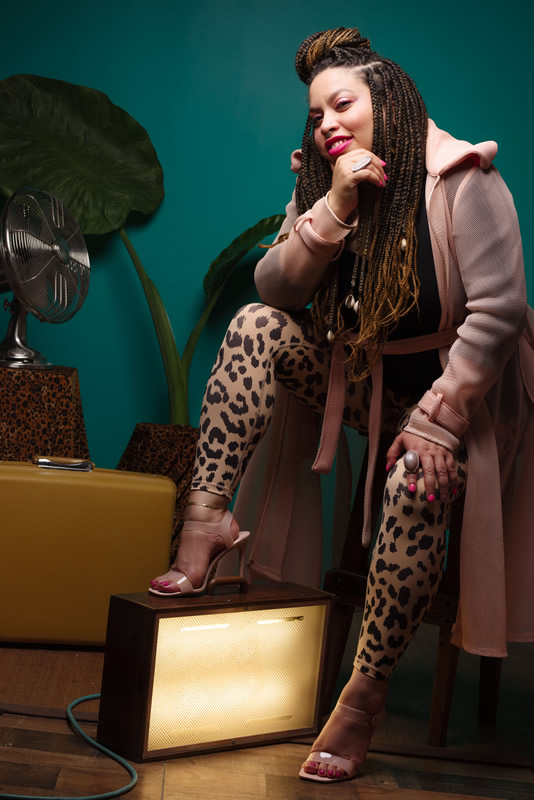 Sadie Woods is an award winning post-disciplinary artist, independent curator, and deejay. Her work focuses primarily on social movements, liberatory practices, cultural memory, and producing collaborations within communities of difference. She also deejays under the moniker Afrodjia, focusing on diasporic music and culture of the Americas and the Global South. Sadie has participated in national and international artist and curatorial residencies, publishing projects and performances. She received her BA from Columbia College and MFA from The School of the Art Institute. Sadie is a 2020 recipient of the City of Chicago's Department of Cultural Affairs and Special Events Esteemed Artist Award, is the Co-Founder and Creative Director of The Petty Biennial, Co-Founder and Creative Director of Selenite Arts Advisory, Faculty at the School of the Art Institute, and Resident Deejay at Lumpen Radio 105.5FM (CHI), Vocalo 91.5FM (CHI) and Wave Farm 90.7FM (Acra, NY).
Additional Programming
Watch for additional programming in 2022 including a "Streamable Learning" virtual field trip on January 11 at 1pm CST; a conversation with Dr. Richard Powell, Professor of Art and Art History at Duke University, in February (date TBA); and a program with exhibition curator Lowery Stokes Sims in the spring.
Exhibition Catalog
The exhibition catalog is available for purchase in our BUDDY shop. Art and Race Matters: The Career of Robert Colescott (Edited by Raphaela Platow and Lowery Stokes Sims, Contributions by Matthew Weseley) is the most comprehensive volume devoted to the life and work of pioneering African American artist Robert Colescott, accompanying the largest traveling exhibition of his work ever mounted.

---
Visit us:

Admission is FREE
Open Daily, 10am–5pm
Exhibitions close 15 minutes before the building closes
(Closed Holidays)
Find us:
Chicago Cultural Center
78 E. Washington St.
Chicago, IL 60602
Take CTA to Chicago Cultural Center
From the elevated lines: exit at Washington/Wabash and walk east.
From the subway: exit at Lake (Red Line) or Washington (Blue Line) and walk east.
Served by Michigan Avenue buses 3, 4, 19, 20, 26, 60, 66, 124, 143, 147, 151, 157 and Washington St. buses 4, J14, 20, 56, 66, 147
Photo Gallery
(Photo credit: James Prinz Photography)
Supporting Information Facts
Department:
Programs & Initiatives:
Additional Information
Art and Race Matters: The Career of Robert Colescott is organized by the Contemporary Arts Center, Cincinnati, OH.
Major support of the exhibition has been provided by the Henry Luce Foundation, the National Endowment for the Arts, and Richard Rosenthal; the Andy Warhol Foundation for the Visual Arts for the research phase of the exhibition and the exhibition itself; and the Harold & Arlene Schnitzer CARE Foundation for its support of the catalogue.
The exhibition is made possible by the Terra Foundation for American Art.