CHICAGO: Where Comics Came to Life (1880-1960)
June 19, 2021–January 9, 2022
Chicago Cultural Center, Sidney Yates Gallery, 4th Floor North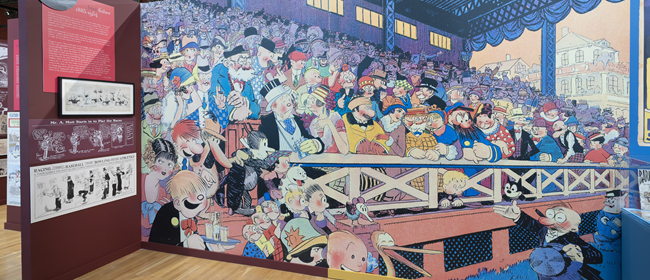 (click on image to enlarge, Photo credit: James Prinz Photography)
A significant but often overlooked contribution to American art and culture is Chicago's role in the development of the early comic strip. Through its countless newspapers and its publishing industry, Chicago led the transformation of comics from daily fantasy and joke features into ongoing stories grounded in the textures and details of real life, its first real step towards legitimacy as an expressive language and semi-literary art form.
The exhibition focuses on the origins of the comics in popular publishing, the immeasurable importance of African-American cartoonists and publishing, the first woman cartoonists and editors, the first daily comic strip, and finally the art and comics of undeservedly forgotten Frank King, who with "Gasoline Alley" captured not only the rhythms and tone of everyday existence in his characters that aged not only at the same daily rate as its newspaper readers, but were also fictionalized versions of real people.
Curated by artist and author Chris Ware, and Chicago Cultural Historian Emeritus, Tim Samuelson, this exhibition is designed and planned as an intentional historical companion to the concurrently appearing survey of contemporary Chicago comics at the Museum of Contemporary Art, in which Ware's work also appears.

This exhibition is made possible through support from the Terra Foundation for American Art.

---
Visit us:

Admission is FREE
Open Daily, 10am–5pm
Exhibitions close 15 minutes before the building closes
(Closed Holidays)
Find us:
Chicago Cultural Center
78 E. Washington St.
Chicago, IL 60602
Take CTA to Chicago Cultural Center
From the elevated lines: exit at Washington/Wabash and walk east.
From the subway: exit at Lake (Red Line) or Washington (Blue Line) and walk east.
Served by Michigan Avenue buses 3, 4, 19, 20, 26, 60, 66, 124, 143, 147, 151, 157 and Washington St. buses 4, J14, 20, 56, 66, 147
Photo Gallery
(Photo credit: James Prinz Photography)