African American Designers in Chicago: Art, Commerce and the Politics of Race
October 27, 2018—March 3, 2019
Chicago Cultural Center • Exhibit Hall, 4th Floor North
Chicago Cultural Center > Visual Art Program > Exhibitions > Past Exhibitions > African American Designers in Chicago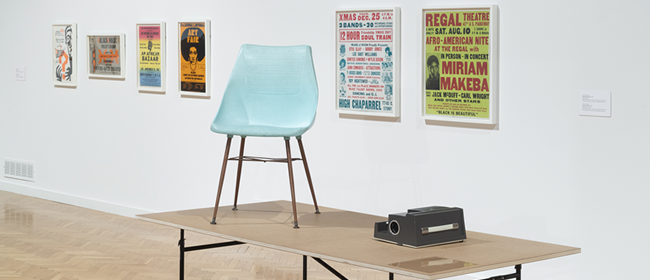 (click on image to enlarge, photo credit: James Prinz Photography)

Featuring work from a wide range of practices including cartooning, sign painting, architectural signage, illustration, graphic design, exhibit design and product design, this exhibition is the first to demonstrate how African American designers remade the image of the black consumer and the work of the black artist in this major hub of American advertising/consumer culture.

This exhibition is funded in part by the Terra Foundation for American Art and The Richard H. Driehaus Foundation, as part of Art Design Chicago, an exploration of Chicago's art and design legacy.
Exhibition Guides
Public Programs
Gallery Talk with Curator Daniel Schulman
Thursdays, November 1, 12:15–1pm
Symposium & Exhibition Opening: The Designs of African American Life
November 2–3
Chicago Cultural Center, Claudia Cassidy Theater, 2nd Floor North
Friday, November 2
5–6pm: Curator-led tours
6:30–8:30pm: Exhibition Opening Reception
Saturday, November 3
9:30–10:30am: Print and Power
10:45–11:45am: Commerce and Community
1–2pm: Aesthetics and Being
2:15–3:15pm: Canons and Archives
3:30–4:30pm: Closing Keynote: "Craft/Freedom: Regarding the Value(s) of African American Design" by Adam Green, University of Chicago

---
Visit us:

Admission is FREE
Monday–Friday, 10am–7pm
Saturday–Sunday, 10am–5pm
(Closed Holidays)
Find us:
Chicago Cultural Center
78 E. Washington St.
Chicago, IL 60602
Take CTA to Chicago Cultural Center
From the elevated lines: exit at Washington/Wabash and walk east.
From the subway: exit at Lake (Red Line) or Washington (Blue Line) and walk east.
Served by Michigan Avenue buses 3, 4, 19, 20, 26, 60, 66, 124, 143, 147, 151, 157 and Washington St. buses 4, J14, 20, 56, 66, 147
Chicago Humanities Festival: Midcentury Design and Opportunity
Sunday, November 11, 3–4pm
Chicago Cultural Center, Preston Bradley Hall, 3rd Floor South
Art historian Maggie Taft, artist David Hartt, modern architecture and design historian Jonathan Mekinda and the exhibitions co-curator Chris Dingwall explore the social, artistic, entrepreneurial and political opportunities to be found within midcentury design in Chicago.
Gallery Talk with Curator Daniel Schulman
Thursday, November 15, 12:15pm
Gallery Talk with Curator Daniel Schulman
Thursday, December 6, 12:15pm
Gallery Talk with Curator Chris Dingwall

Thursday, January 3, 12:15pm
Panel Discussion: The Archive, the Gallery and the Practices of Public History

Saturday, January 5, 1:30–3pm
Historians and archivists discuss the use of archival documents in an exhibition context. The panel will include Davarian L. Baldwin, Trinity College; Skyla S. Hearn, DuSable Museum of African American History; Chris Dingwall, Oakland University; Ashley Finigan, University of Chicago. Organized in association with the American Historical Association
Gallery Talk with Curator Daniel Schulman
Thursday, January 17, 12:15pm
A Designers Life: Tribute to Charles Harrison
Sunday, January 27, 2-3:30pm
A celebration of the life and accomplishments of industrial designer Charles Harrison (1931-2018), in conjunction with the exhibition African American Designers in Chicago: Art, Commerce and the Politics of Race, which features Harrison's sketches and finished products for Sears Roebuck and other manufacturers.
Gallery Talk with Curator Daniel Schulman
Thursday, February 21, 12:15pm
Lecture: "Common Things Surprise Us: Black Chicago's Artists and Models Balls and the Politics of Middlebrow(n) Taste"
Friday, March 1, 6-7:30pm
Chicago Cultural Center, Claudia Cassidy Theater, 2nd Floor North
Jacqueline Goldsby, Yale University, will discuss the South Side Community Art Center's legendary Artists and Models Balls as enactments of Black middlebrow taste, as a practice of vernacular and high design and as evidence of Black Chicago's special symbiosis of commerce and cultural production.
Photo Gallery
(Photo credit: James Prinz Photography)