February 2–April 7, 2019
Chicago Cultural Center • Michigan Avenue Galleries, 1st Floor East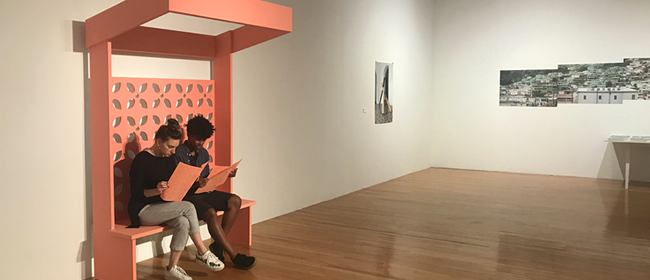 (click on image to enlarge)
Forgotten Forms is a collaborative exhibition between members of the Chicago Cultural Alliance, the National Museum of Puerto Rican Arts & Culture and the Ukrainian Institute of Modern Art. Investigating seemingly everyday objects to reveal a much greater story about neighborhood identity, placemaking and city life, the exhibition highlights the work of two emerging artists, both of whom explore structural elements of urban landscapes. Edra Soto revisits Puerto Rico's vernacular architecture through her GRAFT installations and architectural interventions, and Yhelena Hall touches on the history of Chicago and explores a marginal state of detritus becoming artifacts through her series Polished Remnants.
Forgotten Forms is a DCASE ArtsSpace collaboration, providing exhibition space and support to Chicago arts organizations through an application process.
Public Programs
Opening
Saturday, February 2, 2–4pm
Meet the Artist Activity
Friday, March 15, 12–2pm; Saturday, March 30, 1–3pm
Learning Lab, 1st Floor West
Chicago Cultural Alliance and the National Museum of Puerto Rican Art and Culture present artist Edra Soto. The artist will engage visitors in an activity which references architectural patterns and viewfinders. These elements figure prominently in her work on view at Forgotten Forms in the Michigan Avenue Galleries.

---
Visit us:

Admission is FREE
Open Daily, 10am–5pm
Exhibitions close 15 minutes before the building closes
(Closed Holidays)
Find us:
Chicago Cultural Center
78 E. Washington St.
Chicago, IL 60602
Take CTA to Chicago Cultural Center
From the elevated lines: exit at Washington/Wabash and walk east.
From the subway: exit at Lake (Red Line) or Washington (Blue Line) and walk east.
Served by Michigan Avenue buses 3, 4, 19, 20, 26, 60, 66, 124, 143, 147, 151, 157 and Washington St. buses 4, J14, 20, 56, 66, 147