In Flux: Chicago Artists and Immigration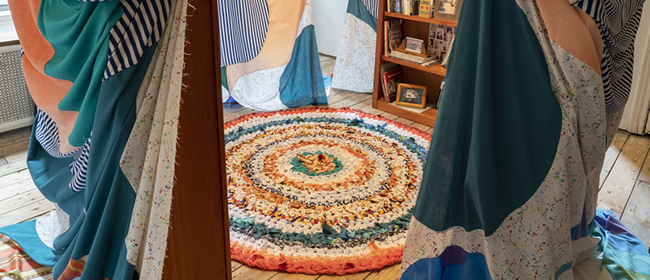 (click on image to enlarge)
First presented by 6018 North in spring 2019, under the title 'Living Architecture,' In Flux is a large-scale, multidisciplinary exhibition that highlights the influence and impact of immigrant artists on Chicago. The exhibition responds to the current political climate to highlight how Chicago was built with immigrant labor, particularly in the arts, and is continuously shaped today by exemplary immigrant artists. With over 20 contemporary artists, In Flux: Chicago Artists and Immigration illustrates a living and evolving legacy between past and present work by Chicago immigrants in art and design.
Curated by Tricia Van Eck, Director of 6018 North
Virtual Programming
Artist-led Tours
Monday, April 20, 7pm: Alberto Aguilar, Julietta Cheung, Rodrigo Lara Zendejas
Monday, April 27, 7pm: Amanda Assaley and Qais Assali, Óscar I González Díaz, Maryam Taghavi
Monday, May 4, 7pm: Jan Tichy, Roni Packer and others
Please join us for online Zoom tours of In Flux: Chicago Artists and Immigration artists as they walk you through the exhibition currently quarantined at the Chicago Cultural Center.
Friday, April 24, 7–8pm: Townhall Discussion with Caroline Ng and Ji Yang
Join Caroline and Ji in a town hall discussion of xenophobia, racism and 'otherness' as it relates to Chinese people and people of East Asian and Southeast Asian descent during the COVID-19 pandemic.
Saturday, April 25, 1–2pm: Mask Making with Aram Han Sifuentes
Join Aram to sew masks for Cook County Department of Corrections inmates.
Friday, May 1, 7–8pm & Saturday, May 9, 1–2:30pm: We are the Cure with Sabba Elahi
Sabba Elahi invites the public to "redraw a COVID-19 cure," creating a collective work of healing.
Saturday, May 2, 1–3pm: Zine Launch with Kolektiv Goluboy Vagon (Коллектив Голубой Вагон)
Join Kolektiv Goluboy Vagon for a zine launch exploring de-assimilation and co-liberatory practices across the queer Soviet Jewish Diaspora. We'll invite people to participate in a tea drinking ritual rooted in queer Soviet and Jewish tradition. Have a cup of hot water and tea leaves / tea bag ready!
Public Programs
Opening Event with Artists and Curators
Friday, February 14, 5–8pm
6pm & 7pm: Drum Performance by Kioto Aoki, Silk screen making by William Estrada
Curator Tour with Tricia Van Eck, director of 6018 North
Saturday, February 29, 11am–Noon

---
Visit us:

Admission is FREE
Monday–Friday, 10am–7pm
Saturday–Sunday, 10am–5pm
(Closed Holidays)
Find us:
Chicago Cultural Center
78 E. Washington St.
Chicago, IL 60602
Take CTA to Chicago Cultural Center
From the elevated lines: exit at Washington/Wabash and walk east.
From the subway: exit at Lake (Red Line) or Washington (Blue Line) and walk east.
Served by Michigan Avenue buses 3, 4, 19, 20, 26, 60, 66, 124, 143, 147, 151, 157 and Washington St. buses 4, J14, 20, 56, 66, 147
Photo Gallery
(Photo credit: James Prinz Photography)