February 2–April 7, 2019
Chicago Cultural Center • Michigan Avenue Galleries, 1st Floor South
Chicago Cultural Center > Visual Art Program > Exhibitions > Past Exhibitions > In Good Company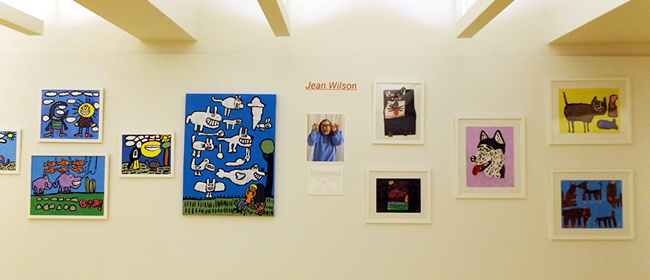 (click on image to enlarge)
In Good Company is a group exhibition presented by Arts of Life. This exhibition seeks to highlight the mutually beneficial relationships and connections that develop within the Arts of Life studios. In Good Company features seven Arts of Life studio artists and four community volunteers, and includes work that has been developed both independently and collaboratively. The ongoing collaborations between studio artists and community volunteers are fundamental to the success of both individual practices and the overall health of the organization. This exhibition showcases the way in which these partnerships develop and thrive around a person-centric model.

For more information, please visit artsoflife.org/events/in-good-company
In Good Company is a DCASE ArtsSpace collaboration, providing exhibition space and support to Chicago arts organizations through an application process.
Public Programs
Opening
Saturday, February 2, 2–4pm
Gallery Talk
Thursday, February 21, 5:30–6:30pm
Join select studio artist and collaborators in the gallery for a causal artist talk explaining their process of creating the work featured in the exhibition, moderated by Art Director Vincent Uribe.
Meet the Artist Activity
Friday, February 15, 12–2pm
Arts of Life presents Van Go Go. This Arts of Life North Shore band is a growing collaborative of musicians with and without developmental disabilities across the greater Chicago area. Join us as they entertain and engage with visitors of all ages.
Saturday, March 23, 1–3pm
Get creative with a hands-on demonstration and workshop in the Learning Lab building a collaborative project with others. Arts of Life artist will lead a love rope fiber demo creating a collaborative sculpture open for participants of all ages. In addition, we'll have coloring supplies available to design your own baby doll figure inspired by Arts of Life founding artist Veronica Cuculich.

---
Visit us:

Admission is FREE
Monday–Friday, 10am–7pm
Saturday–Sunday, 10am–5pm
(Closed Holidays)
Find us:
Chicago Cultural Center
78 E. Washington St.
Chicago, IL 60602
Take CTA to Chicago Cultural Center
From the elevated lines: exit at Washington/Wabash and walk east.
From the subway: exit at Lake (Red Line) or Washington (Blue Line) and walk east.
Served by Michigan Avenue buses 3, 4, 19, 20, 26, 60, 66, 124, 143, 147, 151, 157 and Washington St. buses 4, J14, 20, 56, 66, 147
Supporting Information Facts