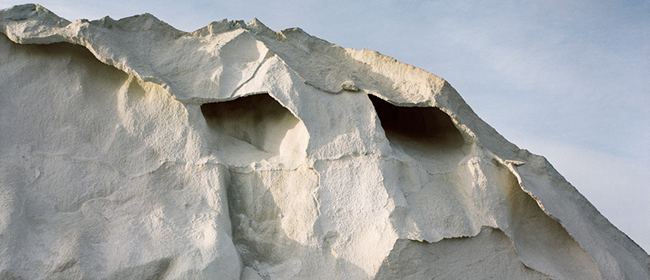 (click on image to enlarge)
This one-person exhibition by highly respected Chicago photographer Jin Lee features a series of photographs that closely examine landscapes and built environments around Chicago. The exhibition brings together four bodies of work: Train Views – images made during the artist's weekly 2-hour Amtrak commute between Chicago and Bloomington/Normal; Great Water – views of Lake Michigan taken from a single location on the South Side of Chicago; Salt Mountains – images of piles and mounds of salt and dirt found on storage sites around the city; and Weeds – a collection of portraits of wild plants that grow in alleys and empty lots in a neighborhood.
Gallery Talk
Wednesday, July 13, 12:15pm
Chicago Rooms, 2nd Floor East
Jin Lee Gallery Talk led by DCASE Program Director Daniel Schulman
Programming
Saturday, July 23, 1pm & 2pm

Michigan Avenue Galleries, 1st Floor East
Performance by Diane Christiansen, Steve Dawson and Alton Smith
Special Reception
Saturday, April 9, 10am-1pm
Michigan Avenue Galleries, 1st Floor East
Meet the artists on-site for Q & A.
Open to the public.
Photo Gallery
(Photo credit: James Prinz Photography)

---
Visit us:

Admission is FREE
Open Daily, 10am–5pm
Exhibitions close 15 minutes before the building closes
(Closed Holidays)
Find us:
Chicago Cultural Center
78 E. Washington St.
Chicago, IL 60602
Take CTA to Chicago Cultural Center
From the elevated lines: exit at Washington/Wabash and walk east.
From the subway: exit at Lake (Red Line) or Washington (Blue Line) and walk east.
Served by Michigan Avenue buses 3, 4, 19, 20, 26, 60, 66, 124, 143, 147, 151, 157 and Washington St. buses 4, J14, 20, 56, 66, 147