Keith Haring: The Chicago Mural
March 3–September 23, 2018
Chicago Cultural Center • Sidney R. Yates Gallery, 4th Floor North
The FREE admission exhibition will feature 36 original panels of the monumental mural created in 1989 by internationally-acclaimed artist Keith Haring with the assistance of 500 Chicago Public School students in Chicago's Grant Park. The mural is a reflection of Haring's incisive draftsmanship and symbolic characters (e.g. radiant baby, barking dog). Presented by the Chicago Department of Cultural Affairs and Special Events in partnership with the Chicago Public Schools, the exhibition will also feature a collection of photographs, correspondence, designs, plans, t-shirt drawings and much more.
Over five days, May 15–19, 1989, which the City of Chicago declared "Keith Haring Week," the renowned artist worked with approximately 500 Chicago Public School students from 63 area high schools to paint a monumental mural in his familiar energetic style. The 488-foot long mural, made up of 122 4x8-foot Masonite panels, stretched along the edge of Grant Park at Michigan Ave. between Randolph St. and Madison St. Without any sort of sketch or plan, Haring first painted his signature black outline drawings of figures and symbols. The students were then given five colors – red, orange, sky blue, light green and yellow – and minimal instructions to paint each section in a solid color and adjoining sections in different colors. Many students took creative license and included personal messages, from their own initials to support for their schools, to social messages.
The project was planned and managed with great dedication by Irving Zucker, a teacher at William H. Wells Community Academy, after meeting Haring at a dinner party in New York. The artist expressed interest in a project with kids in Chicago, and the planning began in 1987 for an innovative arts-in-education program to be developed by the Chicago Public Schools Bureau of Art and the Museum of Contemporary Art of Chicago (MCA).

---
Visit us:

Admission is FREE
Open Daily, 10am–5pm
Exhibitions close 15 minutes before the building closes
(Closed Holidays)
Find us:
Chicago Cultural Center
78 E. Washington St.
Chicago, IL 60602
Take CTA to Chicago Cultural Center
From the elevated lines: exit at Washington/Wabash and walk east.
From the subway: exit at Lake (Red Line) or Washington (Blue Line) and walk east.
Served by Michigan Avenue buses 3, 4, 19, 20, 26, 60, 66, 124, 143, 147, 151, 157 and Washington St. buses 4, J14, 20, 56, 66, 147
For a number of years, these 36 panels resided at Chicago's Midway Airport. Following the exhibition at the Chicago Cultural Center, the panels will be returned to the Chicago Public Schools for conservation and distribution to select schools. Other panels have already been placed at various schools and other locations throughout the city.
As one of the most significant artists of his generation, Keith Haring developed a love for drawing at a very early age. As an art student in New York City, Haring experimented with performance, video, installation and collage, but he found a highly effective medium on the unused advertising panels covered with matte black paper in subway stations. In the early 80s, commuters soon became familiar with his prolific chalk "subway drawings," as he could create as many as forty in a day. Haring achieved international recognition and participated in numerous group and solo exhibitions, including an acclaimed one-man exhibition at the Tony Shafrazi Gallery in 1982. During this period, he also participated in renowned survey exhibitions such as Documenta 7 in Kassel, the São Paulo Biennial and the Whitney Biennial.
Throughout his career, Haring devoted much of his time to public works, which often carried social messages. He produced more than 50 public artworks between 1982 and 1989, including the Chicago mural. Other projects included: the now famous Crack is Wack mural along New York's FDR Drive; a mural created for the 100th anniversary of the Statue of Liberty, on which Haring worked with 900 children, and a mural painted on the western side of the Berlin Wall three years before its fall.
Haring was diagnosed with AIDS in 1988. In 1989, he established the Keith Haring Foundation to provide funding and imagery to AIDS organizations and children's programs and to expand the audience for Haring's work through exhibitions, publications and the licensing of his images. Nine months after completing the mural in Chicago, Haring died of AIDS-related complications at the age of 31 on February 16, 1990. Since his death, his work has been the subject of numerous international retrospectives and can be seen in the collections of major museums around the world. Using universal concepts of birth, death, love, sex and war, featuring a primacy of line and directness of message, Haring was able to attract a wide audience and assure the accessibility and staying power of his imagery, which has become a universally recognized visual language of the 20th century.
For more information on Keith Haring, visit www.haring.com.
Programs
Gallery Talk on Current Chicago Cultural Center Exhibitions
Thursday, September 20, 12:15pm
Starts in Chicago Rooms, 2nd Floor North
YAS! Fest
Saturday, September 22
YAS Fest! - the youth arts showcase - will be the largest celebration of young artists in Chicago history, featuring the works of hundreds of creative youth showcased in dozens of events throughout the Millennium Park Campus.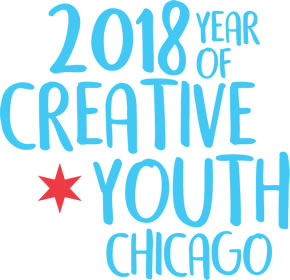 Keith Haring: The Chicago Mural is part of the Year of Creative Youth, a citywide celebration of Chicago's young artists and the mentors who inspire them. Learn more at cityofchicago.org/yocy
Photo Gallery
(Photo credit: James Prinz Photography)