Parsons & Charlesworth: Spectacular Vernacular
September 10, 2016—January 22, 2017
Chicago Cultural Center, Chicago Rooms, 2nd Floor North
Chicago Cultural Center > Visual Art Program > Exhibitions > Past Exhibitions > Parsons & Charlesworth: Spectacular Vernacular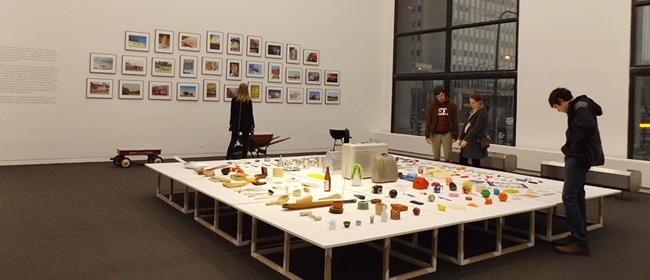 (click on image to enlarge)
Spectacular Vernacular is the first major solo exhibition of work by the design studio Parsons & Charlesworth, formally founded by British husband and wife Tim Parsons and Jessi­ca Charlesworth in 2014 after years of informal collaboration. Showing three distinct facets of their creative practice – observation, experimen­tation and speculation – the exhibition reveals how Parsons & Charlesworth mix their craft and industrial design backgrounds with influences from fiction, science and the arts. The multifaceted approach explores the rhetorical as well as the practical oppor­tunities of designed objects, making the case for independent design practice as a critical response and essen­tial adjunct to the corporate design world.
Public Programs
Observe, Experiment, Speculate – Parsons & Charlesworth in Conversation
Tuesday, December 13, 6pm
Zoë Ryan, John H. Bryan Chair and Curator of Architecture and Design at the Art Institute of Chicago, and writer Lee Ann Norman join Tim Parsons and Jessica Charlesworth in a conversation exploring the nature of Parsons & Charlesworth's independent design practice and discussing questions raised by the exhibition.

---
Visit us:
Admission is FREE
Monday–Friday, 10am–7pm
Saturday–Sunday, 10am–5pm
(Closed Holidays)
Find us:
Chicago Cultural Center78 E. Washington St.Chicago, IL 60602
Take CTA to Chicago Cultural Center
From the elevated lines: exit at Washington/Wabash and walk east.
From the subway: exit at Lake (Red Line) or Washington (Blue Line) and walk east.
Served by Michigan Avenue buses 3, 4, 19, 20, 26, 60, 66, 124, 143, 147, 151, 157 and Washington St. buses 4, J14, 20, 56, 66, 147
Supporting Information Facts